Since the spike of COVID-19 cases in Nigeria reported by the Nigeria Centre for Disease Control (NCDC), the Presidential Task Force (PTF) has officially declared that Nigeria is now experiencing the second wave of the Coronavirus with as many as 1000 cases as at December 24th. Last week, the federal government released new restrictions to safeguard Nigerians and prevent the occurrence of new cases. Restaurants have sadly been closed including bars, night clubs and lounges and there are reports of some major lounges/bar being sealed by the enforcement agencies for contravening COVOID-19 protocols.
With these in mind, it is evident that we would be having a rather laid-back year-end celebration as major fun spots are closed and events have been cancelled.
To help you make the most of the holidays regardless of these restrictions, we have put together a list of intimate and fun things to do with family and loved ones this period while putting into consideration all safety protocols. We strongly advise that you use a mask at all times, wash your hands and observe the right respiratory hygiene while you are out.
1. Staycation at an approved hotel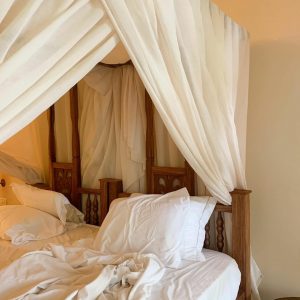 Take a time off and spend a night or two with a loved one or by yourself in one of the government-approved hotels in Lagos, to make it more fun, you can provide your own entertainment, treat yourself to exclusive meals and games. We recommend Blowfish Hotel, Victoria Island or Radisson Hotel, Ikeja for the mainlanders.
Budget: N50,000-N100,000
2. Indulge in a Pamper Day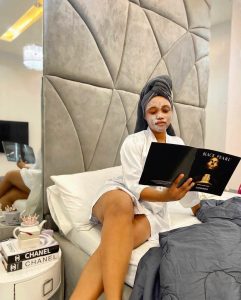 It's been a long year and you definitely deserve some 'me time' this period. Take your mind away from the drama and stress and treat yourself to a soothing and relaxing time of Selfcare and pampering. This will ensure you are rejuvenated for the new year and help you start off the year with Zen. You may choose to do this at home or at a spa.
Budget: N20,000-N50,000
3. Game Night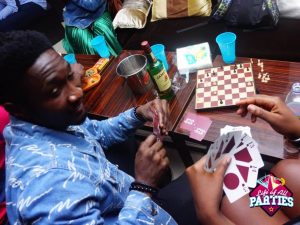 A game night is a fun way to unwind with your loved ones and test your intelligence through fun games. Just get some drinks, snacks, good music and of course cool games. You can try out card games, there are interesting local ones and drinking games as well as Jenga, Ludo or go local and try Ayo. You may choose to host your game night outdoor, indoors or even all night. But careful not to spill too many secrets.
Budget: N30,000-N50,000 for a group of 10 (excl. location charges)
4. Picnic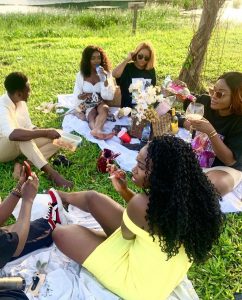 This is a great opportunity to enjoy the view of Lagos in a serene location. All you need to do is to find a nice and comfortable outdoor space that will help you forget that you are in Lagos for a moment. Once you secure the location, you could try different concepts like an outdoor tea party, owambe style picnic, or just enjoy a good time at a nice rooftop where you can watch the sunset.

Budget: N20,000-N50,000 for a group of 3
5. Paint and Sip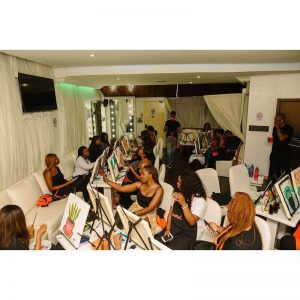 Here is another great way to enjoy the holidays. Uncover your creative side and try your hands on painting while enjoying some wine. Paint and Sip is also a great way to meet new people and network if you are single or bond with your partner if you have one. You get to take your artwork with you and you may exchange this art with your partner if you participated together.
Budget: N6,000-N10,000
6. Go Kayaking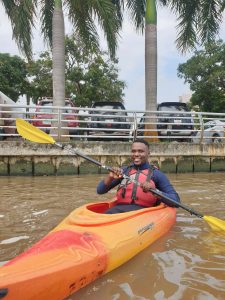 Since we have been told to observe social distancing, Kayaking presents an opportunity to enjoy the calmness of the water alone with distance from others. Just be sure you are kayaking alone in your own Kayak. This may not be for you if you are Aquaphobic, however, it is very easy to kayak if you are brave enough to get on the water. There are a number of Kayaking tours in Lagos. You might want to get in touch with Nothingtodoinlagos or WakawakaNg
Budget: N5,000-N10,000
7. Try Paintballing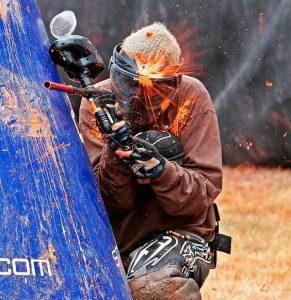 Not a lot of people know about paintballing in Lagos. It is a really exciting way to connect with loved ones and what better time to try it out than during the holidays. Paintballing is more enjoyable when you go as a team and it also encourages social distancing. You can try Leisure Sports Paintball in Victoria Island or Empire Sports Paintball in Elegushi, Lekki, Nigeria Ultimate Paintball, Magodo for the mainlanders.
Budget: 6,000-40,000 for a single player
What other fun alternative activities are you getting up to this period? Share your experience with us in the comments. Happy holidays!