Just because this isn't the 14th doesn't mean the month of love is over just yet. If you didn't get to go out, here's another chance to celebrate valentine with some of the events happening in Lagos this weekend. For those of you who aren't so keen on a valentine-themed event, we've got you covered too. 
To access other activities beyond events, download our e-guide, a must-have for those looking for a trusted plug to Lagos events.
To get your event featured on the weekend list for FREE, click here
Without further ado, this weekend presents; 
Thursday 16th
VALENTINE MOVIE DATE NIGHTS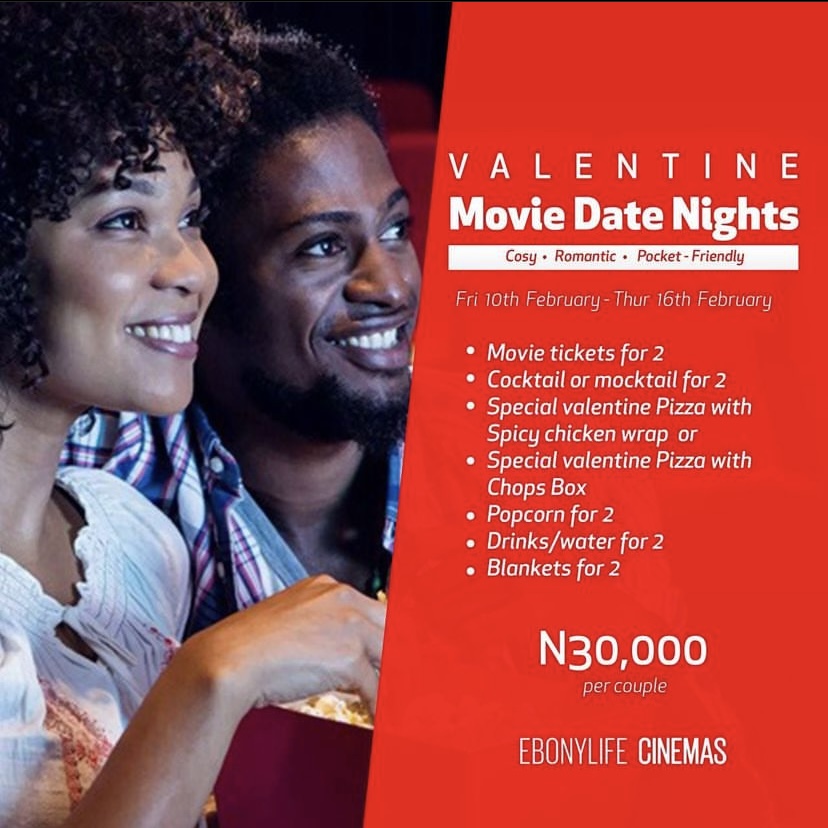 Don't break the bank celebrating Valentine this season. Take advantage of Ebony Life's Movie Date Nights Valentine package, and experience a cosy, intimate and romantic time with your special someone.
Date: Thursday 16th February 
Venue: Ebonylife Cinemas
Entry: 30k per couple
LADIES NIGHT: VALENTINE STRUCK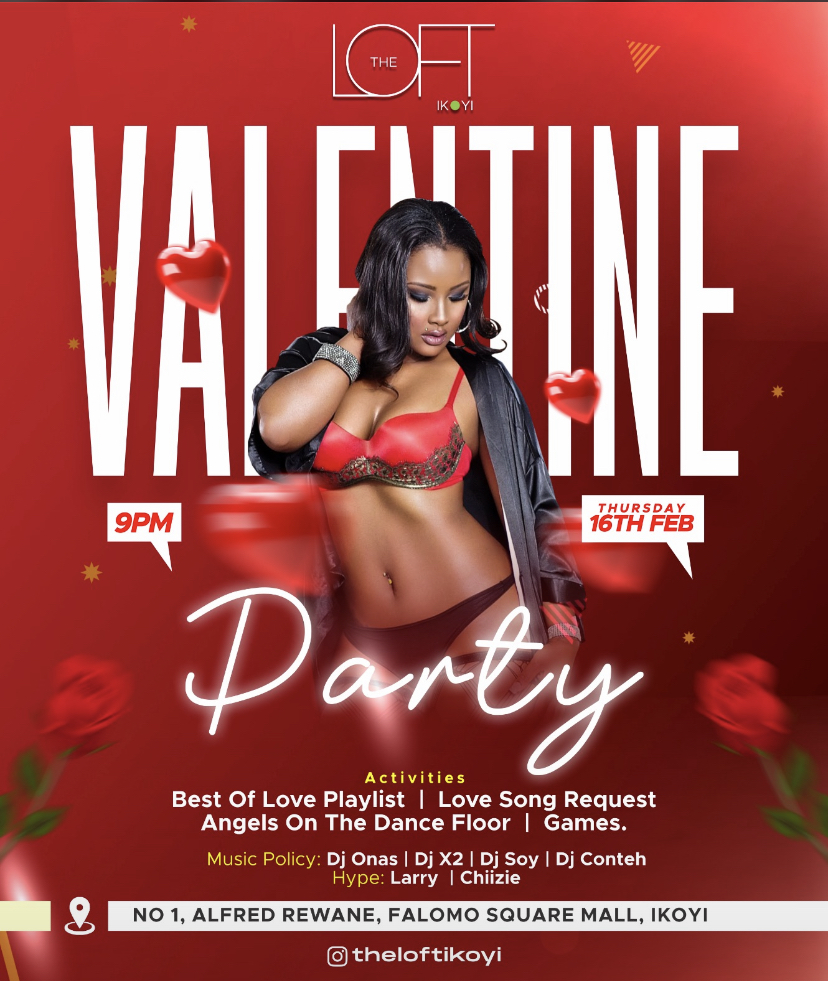 A Valentine special at the Loft with music and activities all for ladies🍷
Date: Thursday 16th
Time: 9PM
Venue: The Loft Ikoyi. NO 1, Alfred Rewane, Falomo Square Mall, Ikoyi
Entry: Free
Friday 17th
THE AFTER PARTY – BAD & BOUJEE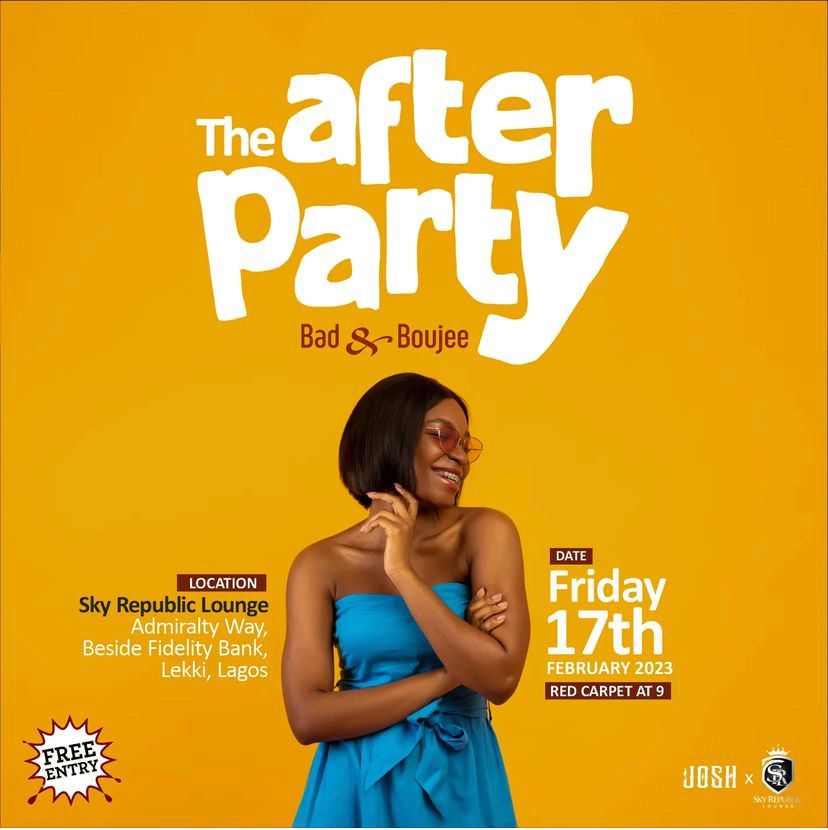 Boo'd Up, or Single… Just show up looking fly on Friday the 17th. The 'After Party' promises to be beyond exciting and entertaining .
Date: Friday 17th
Time: 9PM
Venue: Sky Republic lounge. Admiralty Way, Beside Fidelity Bank. Lekki, Lagos
Entry: Free
VALENTINE CHILLS PARTY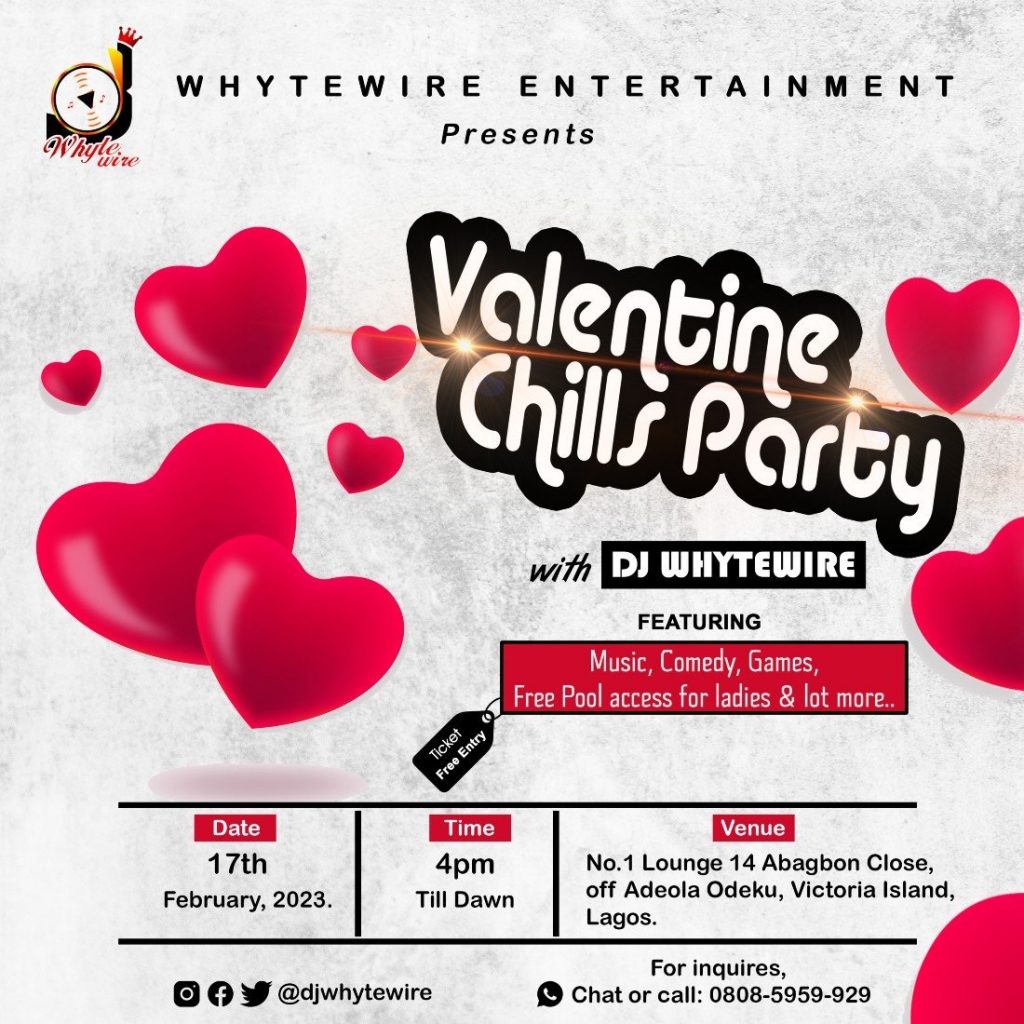 This promises to be a cool spot to chill with music, comedy, games and free pool access to the ladies. 
Date: Friday 17th
Time: 4PM
Venue: No. 1 Lounge. 14 Abagbon Close, off Adeola Odeku, Victoria Island 
Entry: Free
KARAOKE NIGHT WITH GIDI BURGER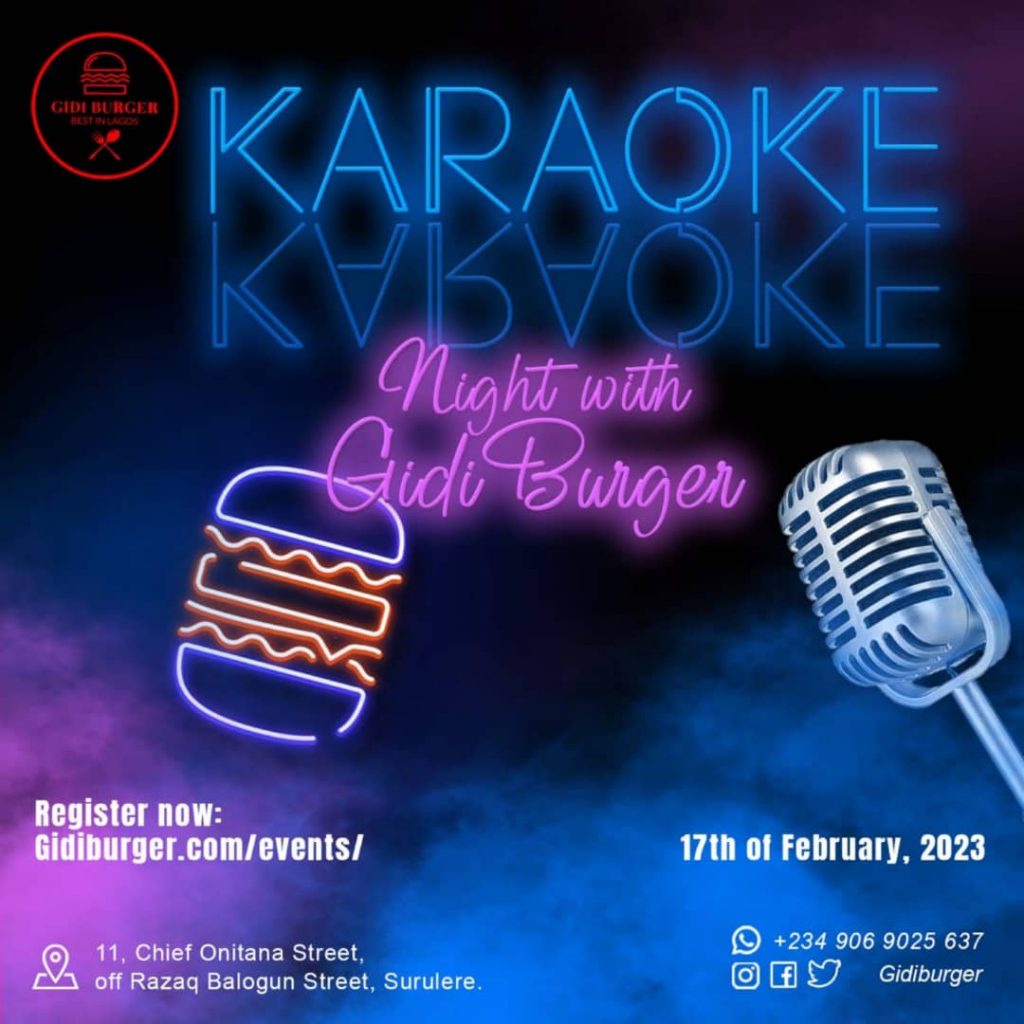 Sing your favourite songs with your friends and loved ones while you eat burgers.
Date: Friday 17th
Time: 6 pm
Venue: 11, Chief Onitana Street, off Razaq Balogun Street, Surulere
Entry: Free
LAGOS SINGLES FEST VOL. 2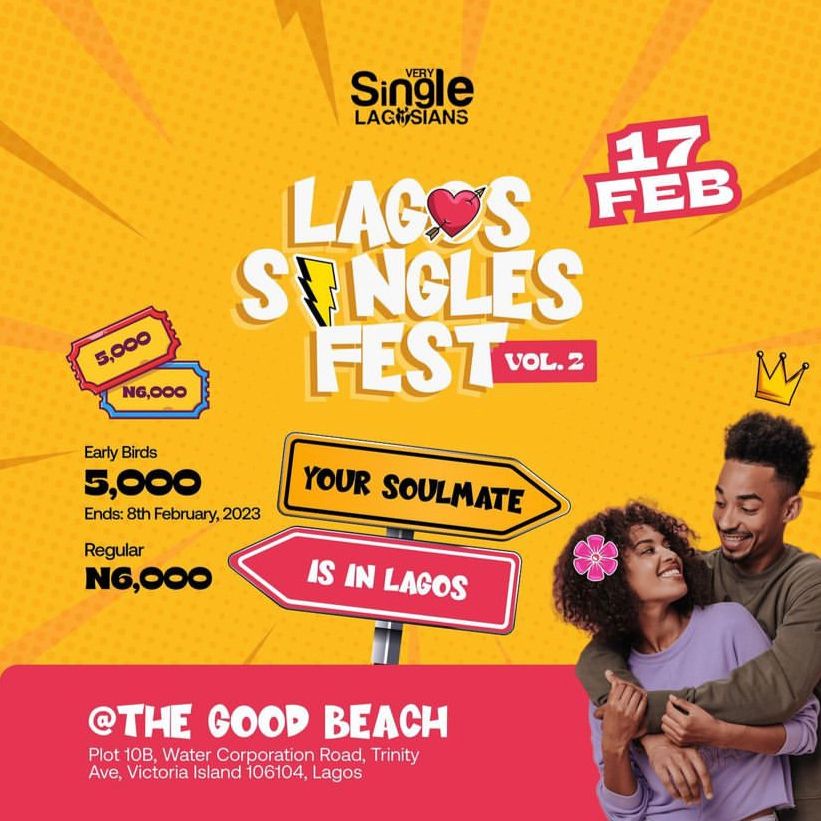 Looking for your spouse? Then you don't want to miss the Lagos Single Fest!
Date: Friday 17th
Time: 6 pm
Venue: The Good Beach. Plot 10B, Water Corporation Road, Trinity Ave, Victoria Island
Entry: Early birds – 5k, Regular – 6k
Saturday 18th
BOX SESSIONS BY B2TR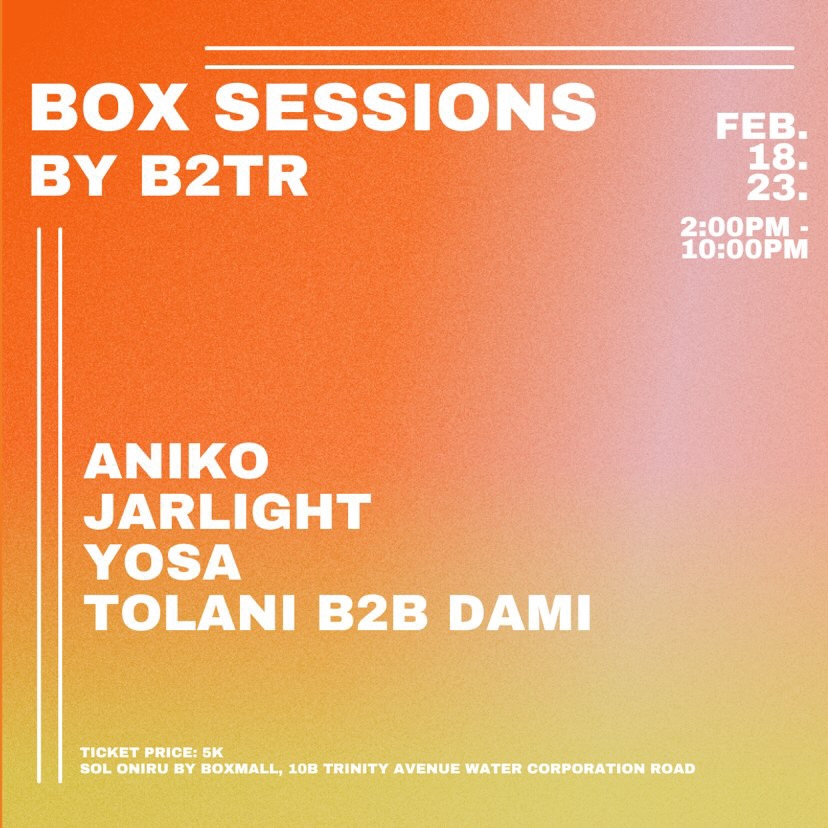 Are you ready for some premium beach vibes?
Date: Friday 18th
Time: 2pm-10pm
Venue: Sol Oniru by Boxmall, 10B Trinity Avenue Corporation Road
Entry: 5k
LOVE IS – THE MUSICAL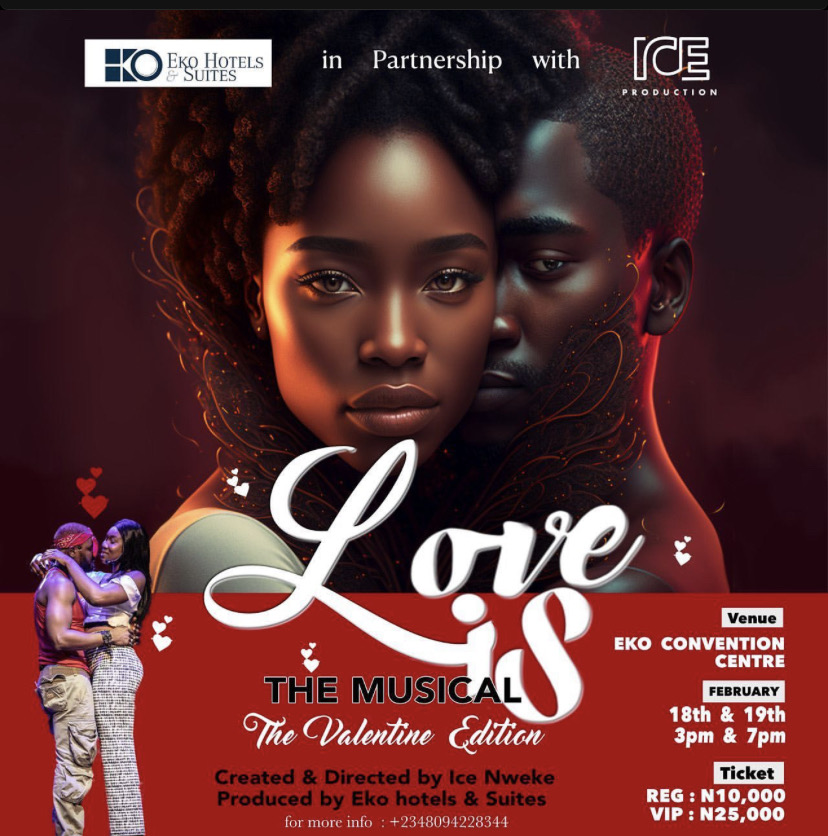 Love Is, The Musical…is back. This time, it's the Valentine edition. 
Date: Saturday 18th & Sunday 19th
Time: 3pm and 7pm 
Venue: Eko Convention Center
Entry: Regular – 10k, VIP – 25K
SILENT VIBE PARTY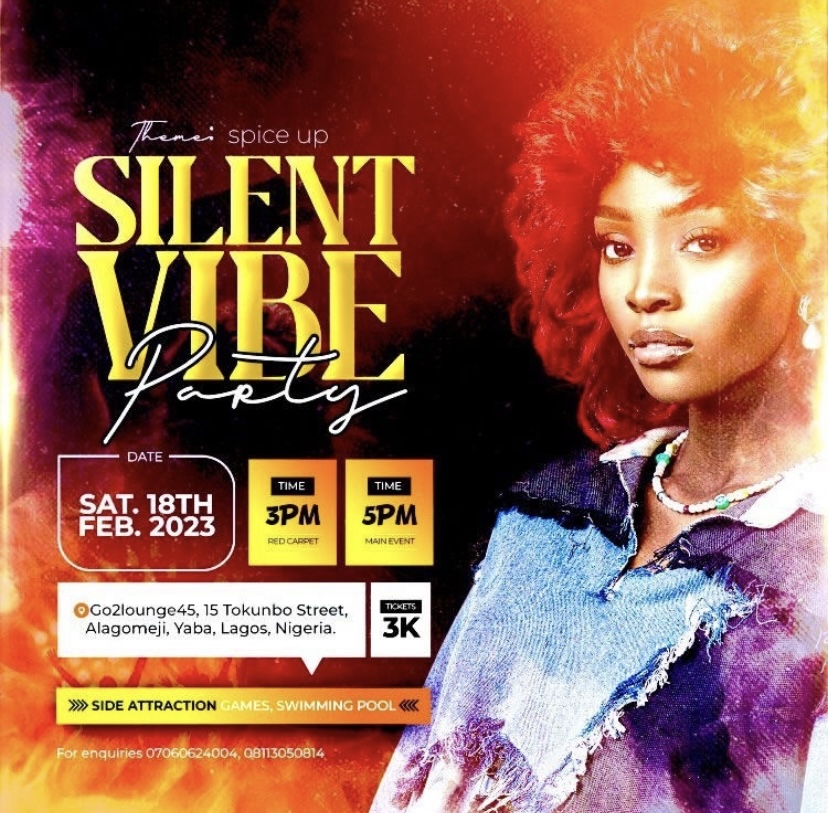 A second edition of the Silent Vibe Party is here with side attractions such as games and a swimming pool, and it promises to be better than the last.
Date: Saturday 18th 
Time: 3pm Red carpet, 5pm Main event
Venue: Go2Lounge45, 15 Tokunbo street, Alagomeji, Yaba
Entry: 3k
MOVIES & VIBEZ AT THE BEACH: CUPID EDITION
Something full of Vibez and mushiness for you and your Boo or Gang this February.
The monthly hangout at the beach has been rebranded from Movies & Games at the Beach to Movies & Vibez at the beach. There'll be movies, karaoke, popcorn & drinks, board & card games, breakfast, a bonfire and complimentary yoga meditation.
Date: Saturday 18th – Sunday 19th
Time: Boat moves by 4pm
Venue: Marina Jetty
Entry: Single – 12k, Couple – 22k, Optional tent – 6k
INTER7EPT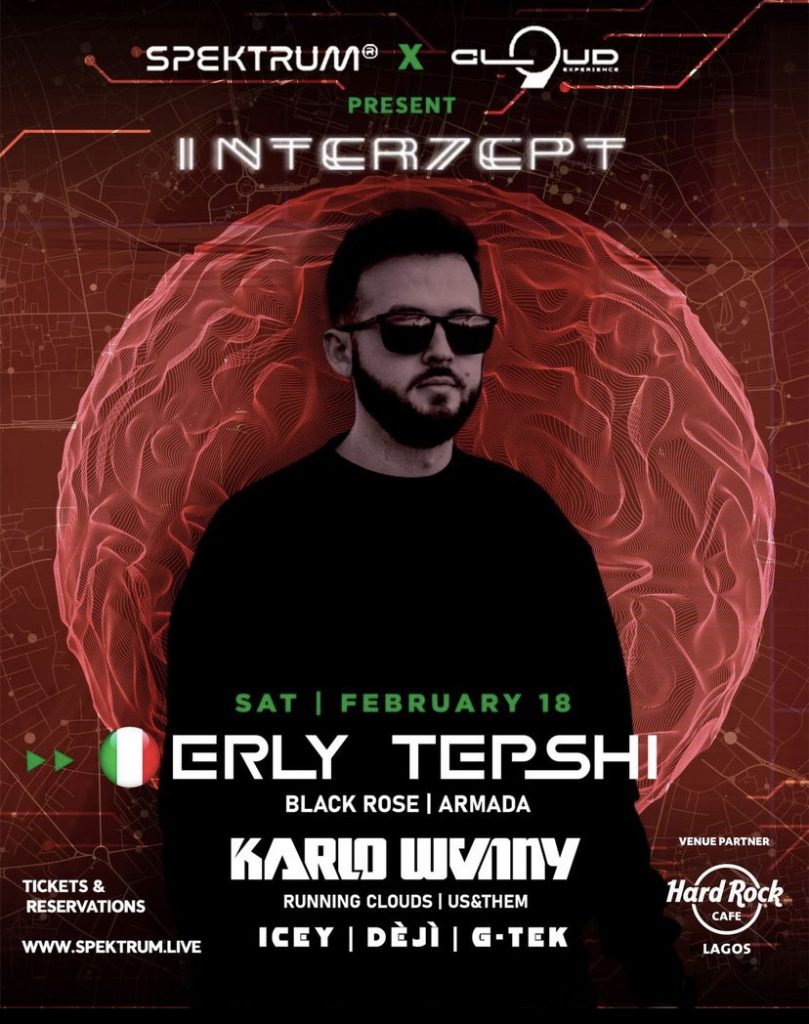 If you're a regular at 'Element House', you'll definitely love this. Erly Tepshi will be taking over alongside Karlo Wanny.
Date: Saturday 18th – Sunday 19th
Time: 11pm
Venue: Hard rock cafe, Landmark
Entry: Online – 7k, At the Job – 10k
Sunday 19th
BEACH HANGOUT 3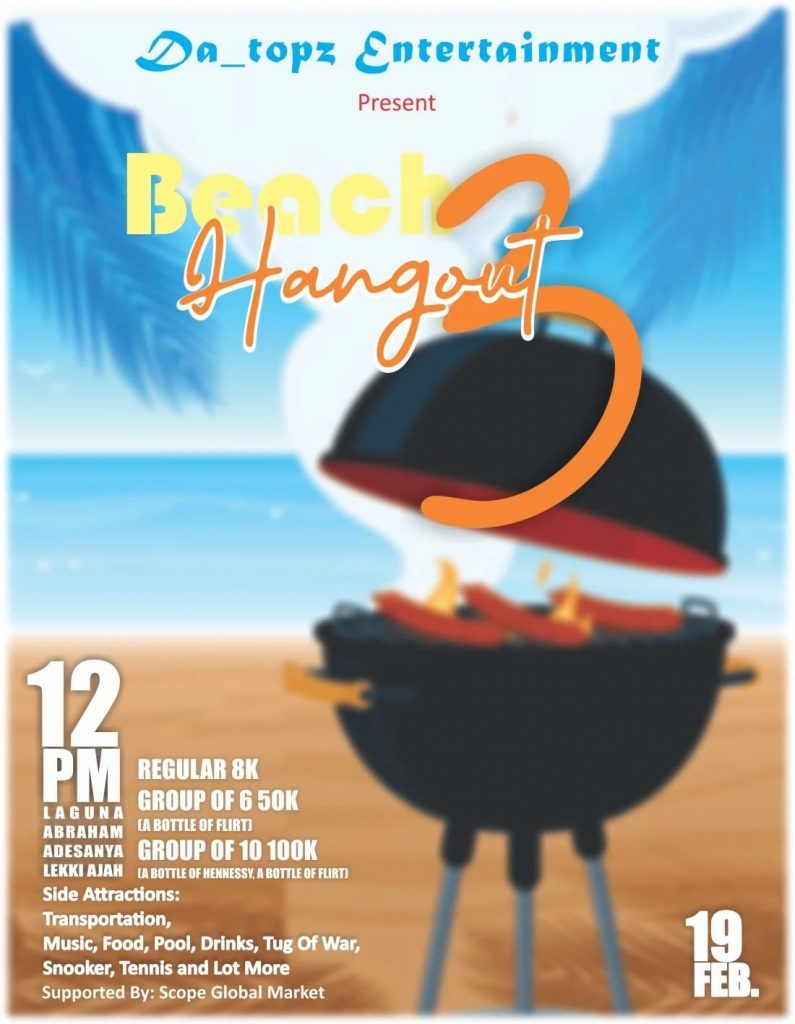 We bring to you BEACH HANGOUT SEASON 3 from Da_topz entertainment where you will get sand between your toes, salt in your hair and drinking out of a coconut. You will spend all day playing in the waves, building sand castles, perfecting that wind-tousled style. Enjoy your favourite boardwalk sweet and healthy treats like snacks, finger foods, drinks, the pool, snooker, table tennis and of course, you would be taking some of the best photos this side of the sandbar.
Please note: transportation is involved from obalende to the venue and from the venue to obalende 
Date: Sunday 19th
Time: 12PM
Venue: Laguna, Abraham Adesanya, Lekki Ajah 
Entry: Regular – 6k, Group of 6 – 50k, Group of 10 – 100k
We wish you the very best weekend with loads of love and laughter! Don't forget to come back next week for a brand new list of events.
See you then.