April and its many public holidays would be dearly missed but this doesn't mean the fun has to stop. You may have noticed that we are smack in the middle of the rainy season; a weather for the people who prefer to be indoors. Thankfully, we've got a run down of events if you want options of places to go to.
If you love our guide, you're going to love our content that covers activities beyond events. Download our e-guide, a must-have for those looking for a trusted plug for fun things to do in Lagos.
To get your event featured on the weekend list for FREE, click here
So, without further ado, here is the rundown for the weekend;
Friday, 5th May

BLACK OUT FRIDAY | NIGHTLIFE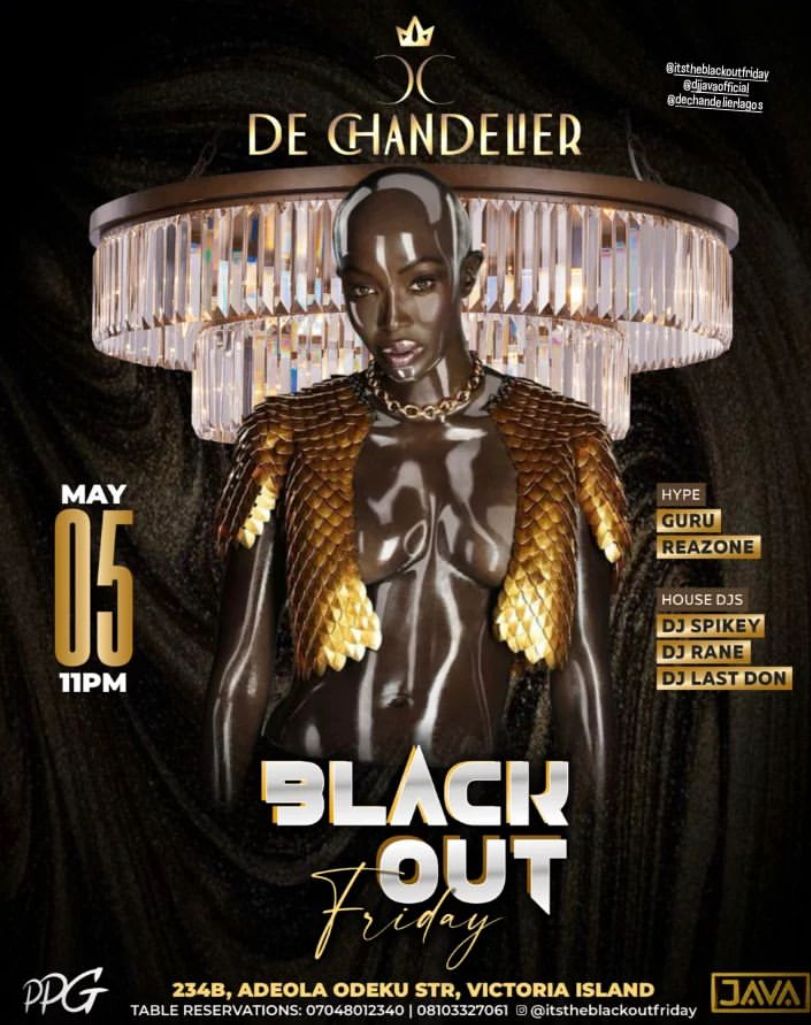 Black out or Tap out!!!! We're out again for the baddest Friday night party in Lagos City!
Want to experience a night of class, style, and pure entertainment? Catch us at DE Chandelier this Friday night
Date: Friday 5th May
Time: 11pm
Venue: De Chandelier
Entry: Free
CURVY BASH – PLUSSIZE FASHION WEEK | FASHION SHOW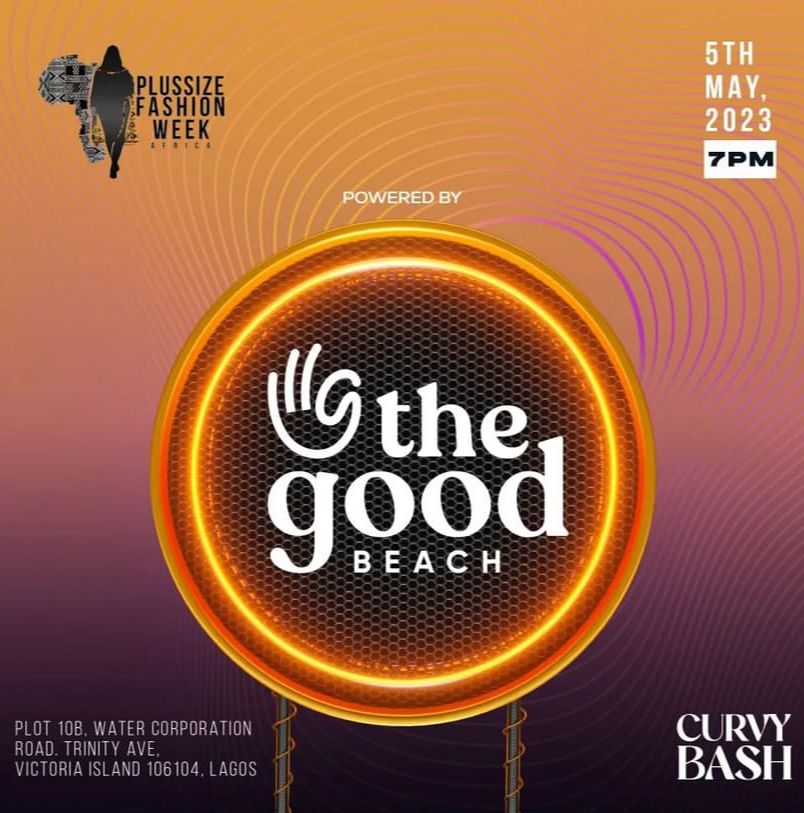 The Plussize Fashion Week Africa team is a fashion show happening at the good beach.
Date: Friday 5th May
Time: 7pm
Venue: The Good Beach
Entry: Good Beach gate fee
WHISKEY FRIDAYS | SOCIAL EVENT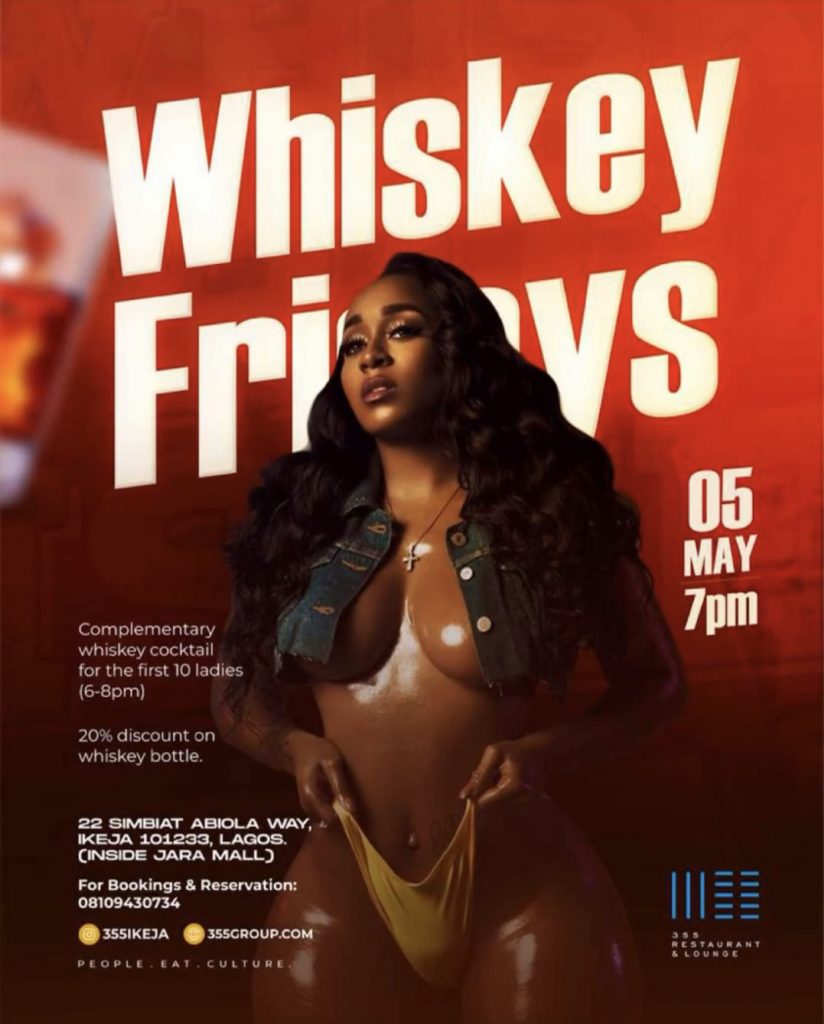 Whiskey & the best vibes in the city this Friday! Let's catch a wave! There is a discount on drinks for the Night.
Date: Friday 5th May
Time: 7pm
Venue: 355 Ikeja
Entry: Free
AMAPIANO DISTRICT | PARTY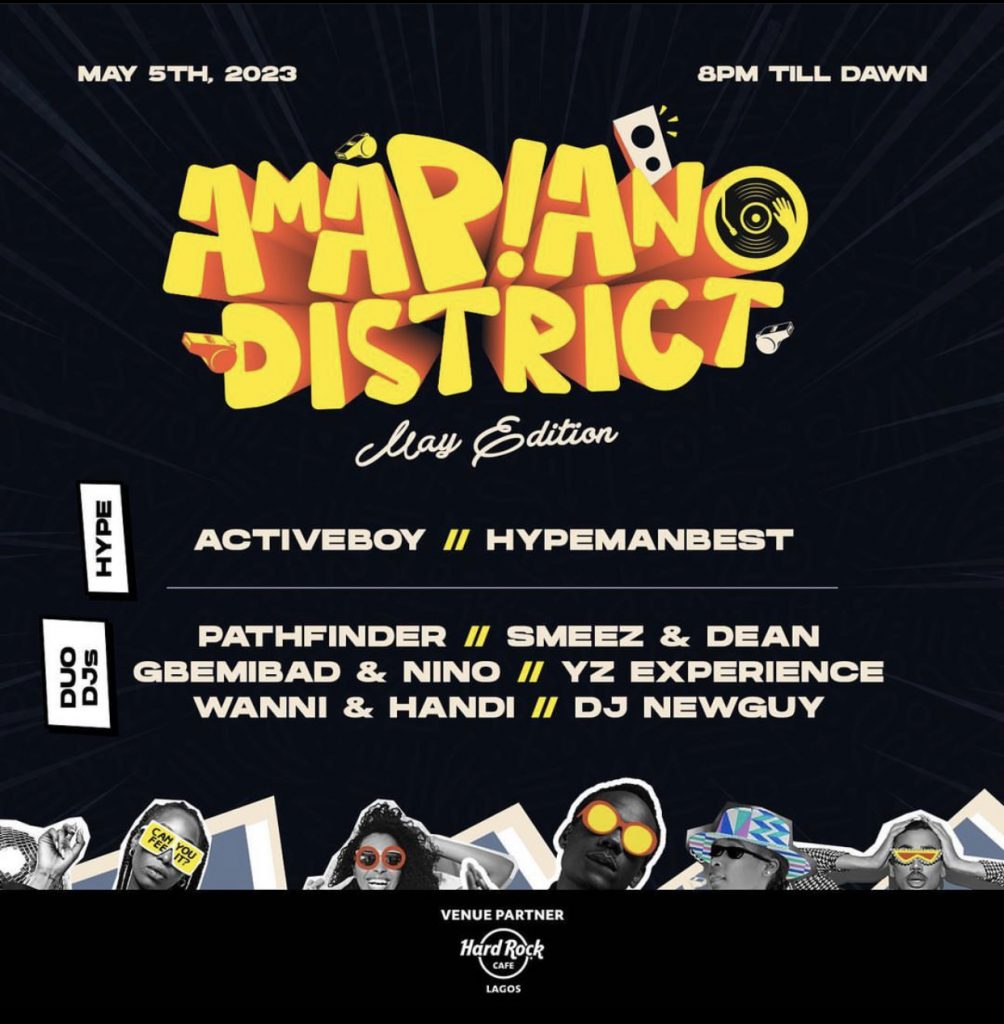 Another Edition of Amapiano district is here🥳🎉🎉THIS FRIDAY we'd be raising the roof at Hard Rock Cafe.There's always a lot in store for everyone! Crazy lineup as always!
Date: Friday 5th May
Time: 6pm till dawn
Venue: Hard Rock Cafe
Entry: N7,000
Saturday, 6th May
NO U-TURN | FILM SCREENING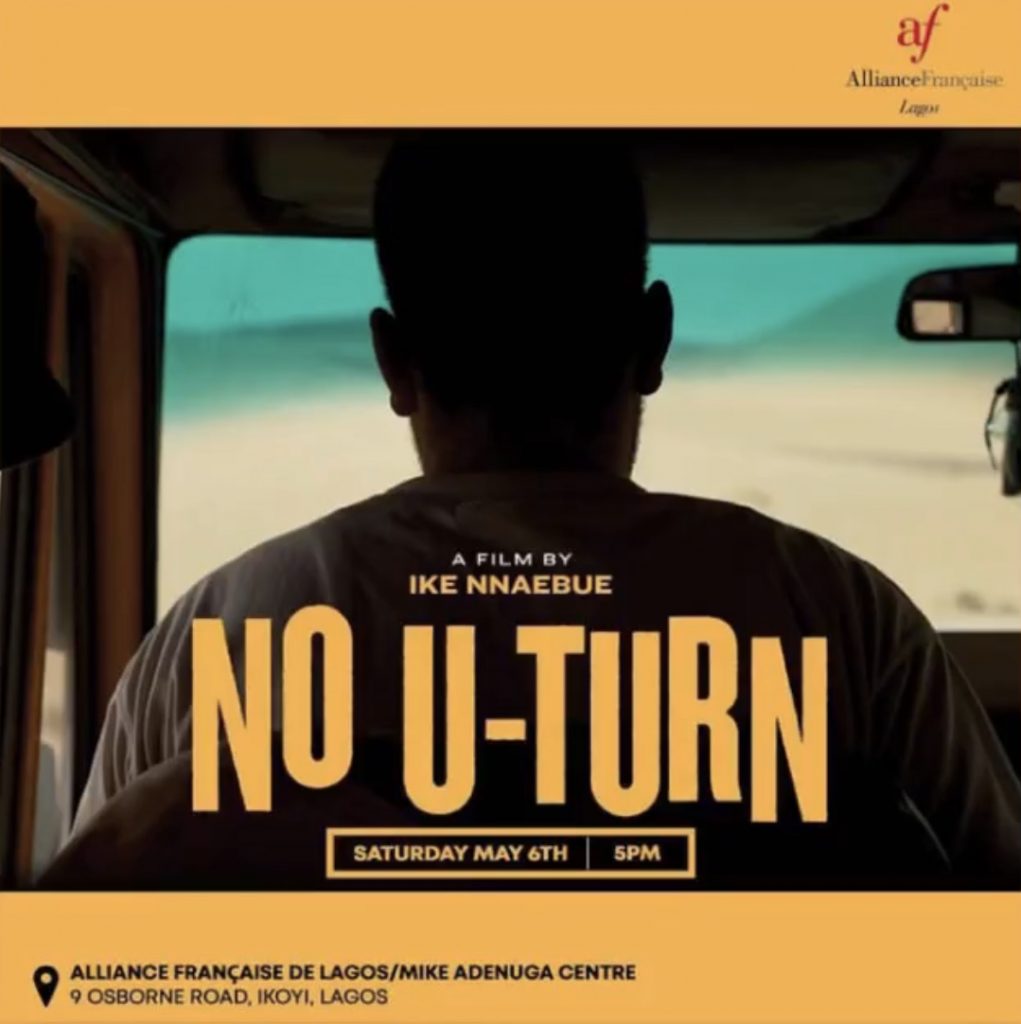 Since the premiere of "No U-Turn" in Berlinale, it has been screened in over 11 notable international film festivals and recently got awarded the highly coveted Artistic Bravery Award at Durban International Film Festivals. No U-Turn also won Africa Academy Awards for Best Documentary film in Africa (AMAA) and Best Documentary Film at Africa International Film Festival (AFRIFF), and Best Film on West African Integration. The movie is now coming to Alliance and we will have the presence of the highly celebrated Nigerian film director, screenwriter, producer, and cultural entrepreneur, Ike Nnaebue.
Date: Saturday 6th May
Time: 5pm
Venue: Alliance Francais De Lagos/ Mike Adenuga Centre
Entry: Free
BENIEMANIA GAMES NIGHT | GAMES NIGHT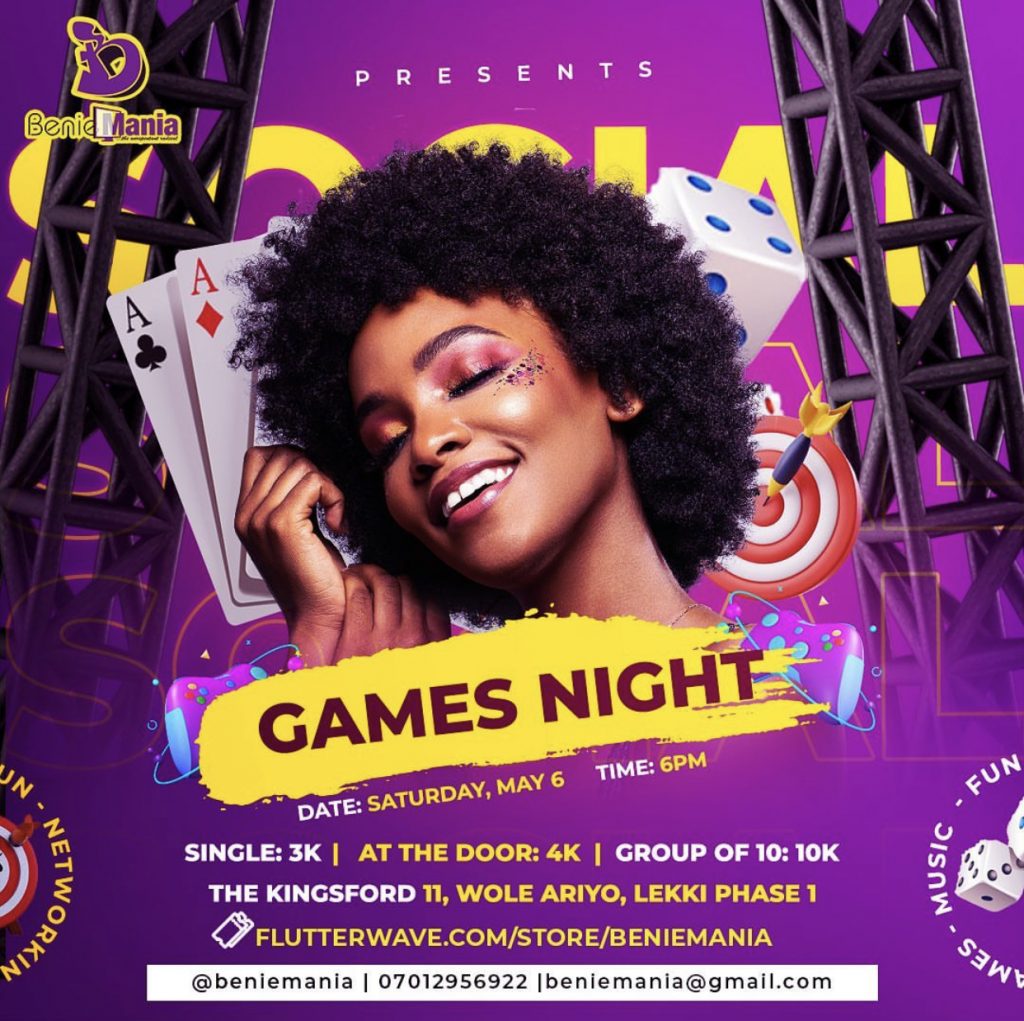 There'll be a variety of interactive games, fun people to connect with, lit music to vibe to and great energy all around. Don't miss it. Tell a friend to tell a friend that Beniemania Games Night is where premium goodness is at.
Date: Saturday 6th May
Time: 6 pm
Venue: The Kingsford 11, Wole Ariyo, Lekki Phse 1
Entry: Single – N3,000 | At the door – N4,000 | Group of 10 – N10,000
TIMWESTT GAME NIGHT | GAMES NIGHT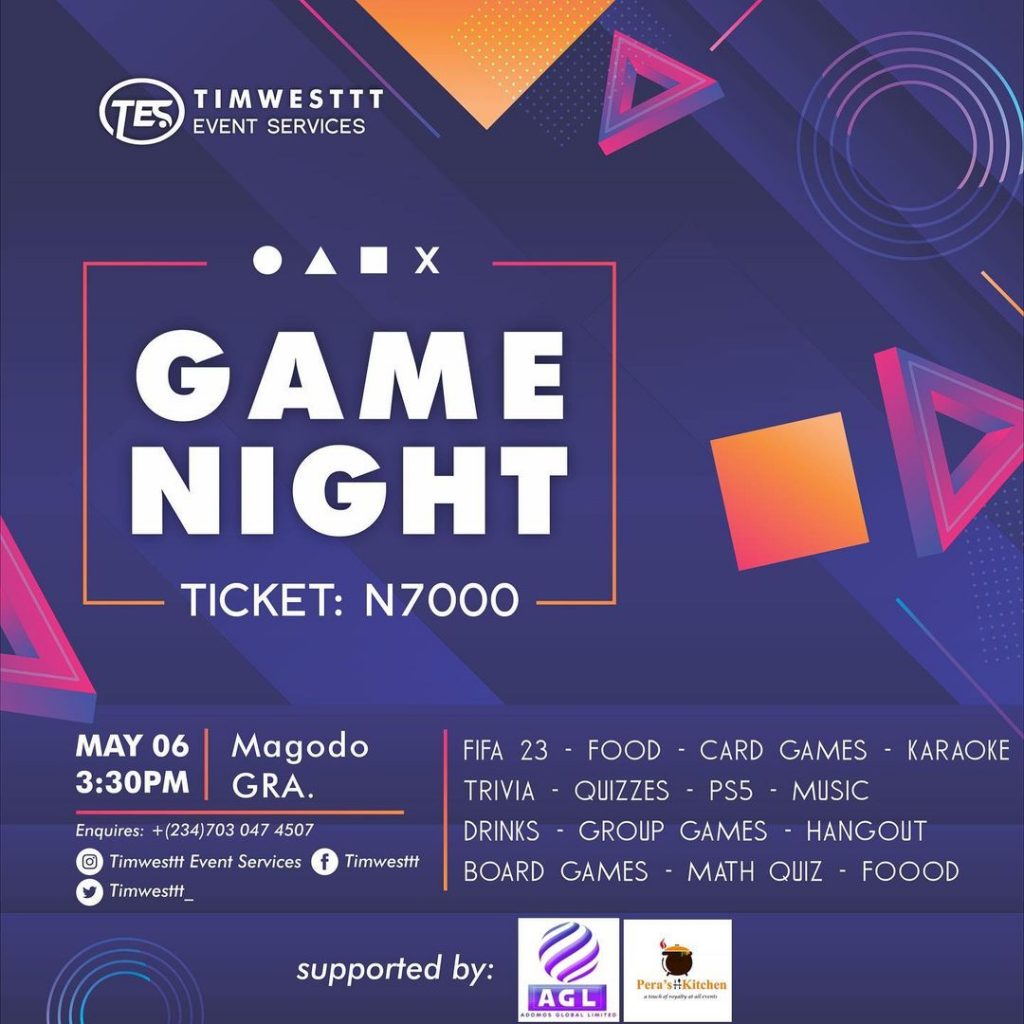 Don't you dare miss the biggest, most anticipated, action packed game night in Lagos this Saturday. Unleash your competitive side and join us for an unforgettable night. Whatever it is you want, you can rest assured that we got you! 👌🏽
Date: Saturday 6th
Time: 3:30 pm
Venue: Magodo GRA; a secured, serene environment.
Entry: N7,000
THROWBACK 90 PARTY | PARTY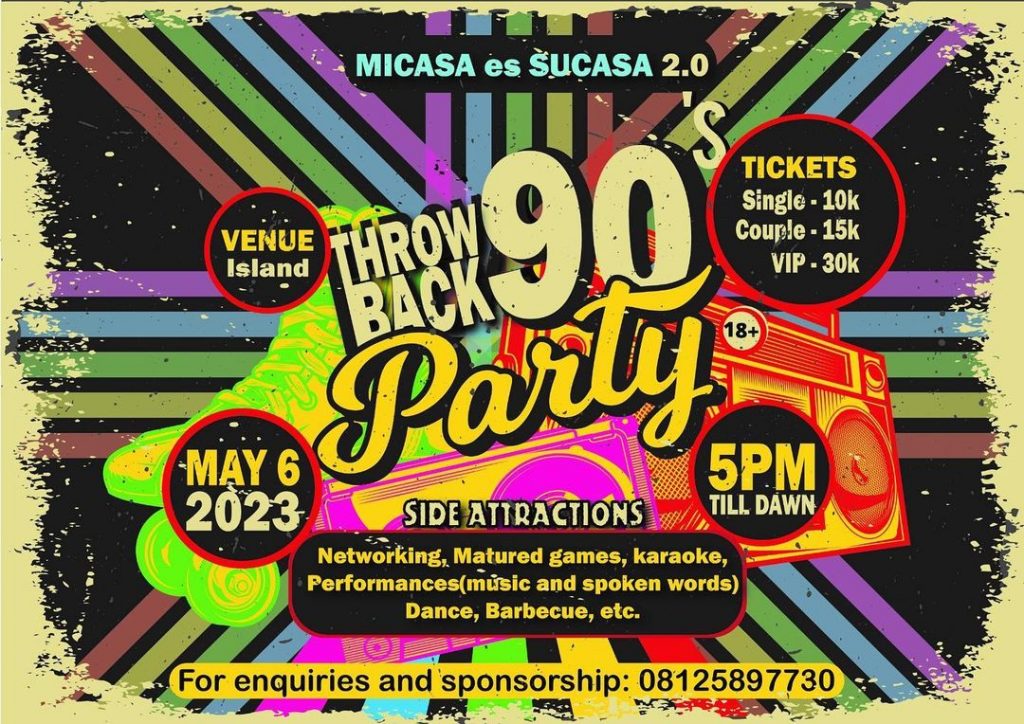 Come and enjoy shopping local brands, live music, swimming, mini zoo access.
Date: Saturday 6th May
Time: 5pm till dawn
Venue: Island
Entry: Single – N10,000 | Couple – N15,000 | VIP – N30,000
UNIKORN'S GAMES NIGHT 3.0 | GAMES NIGHT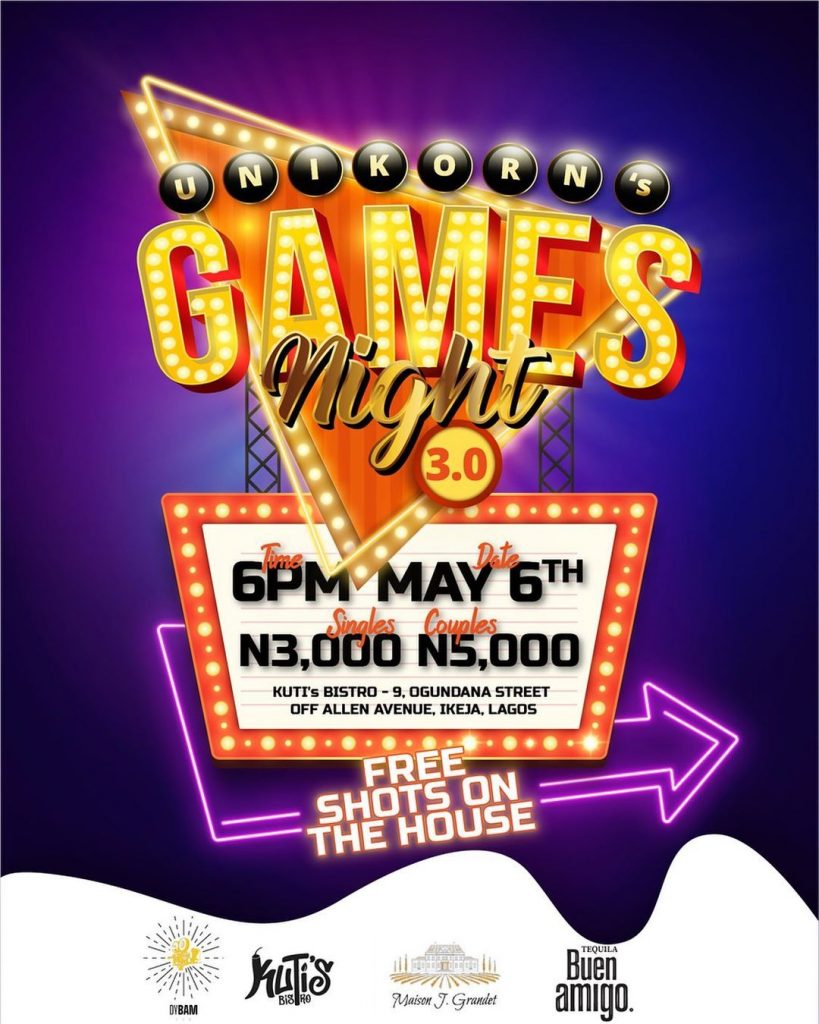 Free French wine for the wine lovers. Free tequila for the spirit lovers!
Date: Saturday 6th May
Venue: Kuti's Bistro – 9 Ogundana Street, Off Allen Avenue, Ikeja Lagos.
Time: 6 pm
Entry: Singles – N3,000 | Couples – N5,000
WET & WILD 2.0 | POOL PARTY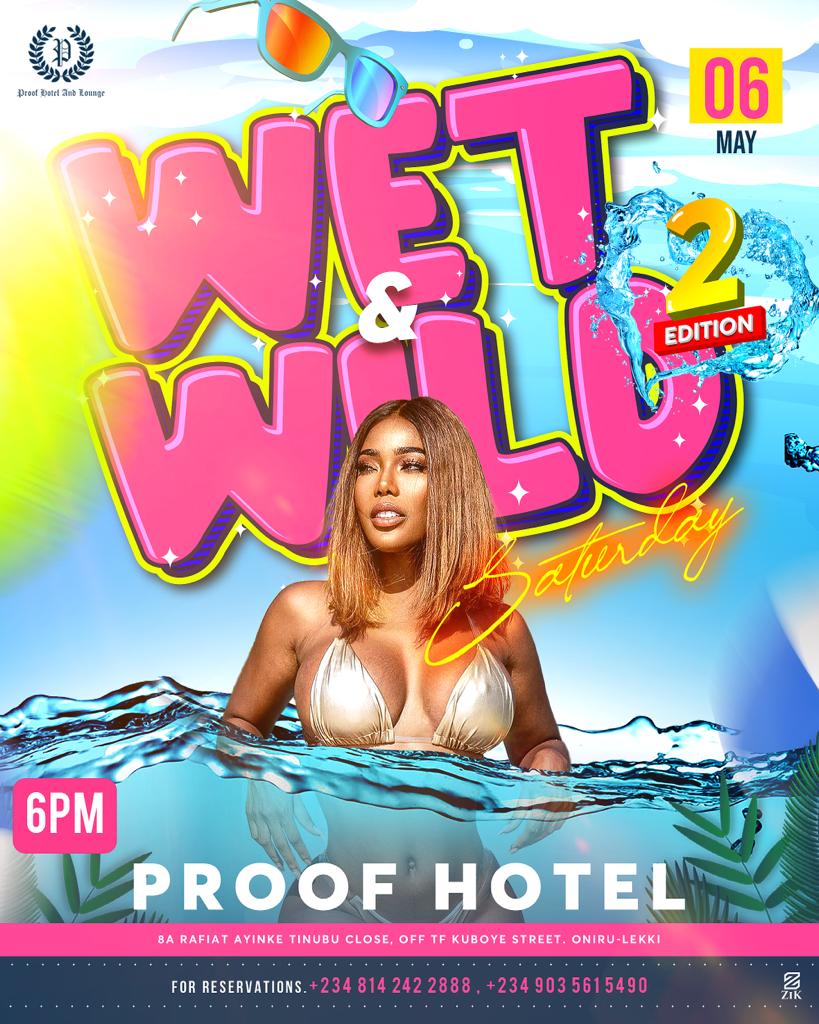 This Weekend, we turn up again! It's Wet and Wild 2.0! Happening at Proof Hotel.
Date: Saturday 6th May
Venue: Proof Hotel 
Time: 6pm
Entry: Free
Sunday, 7th May
ZERO GRAVITY | BEACH PARTY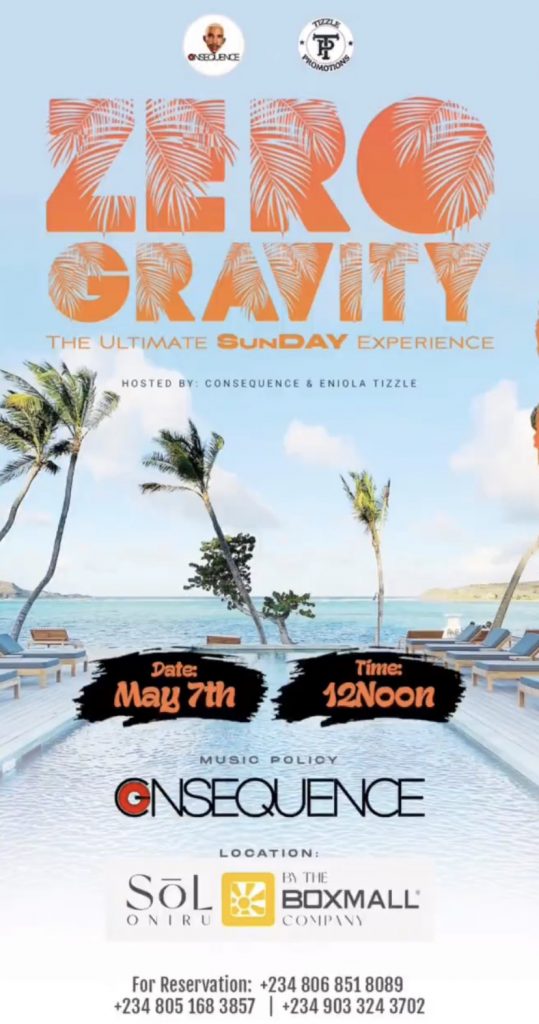 Life takes you down many paths, but the best ones lead to the beach. Sandy toes, freckled nose. This Sunday we bring to you Zero Gravity Lagos: The Ultimate Sunday Experience.
Date: Sunday 7th May
Time: 12 pm
Venue: Sol Oniru 
Entry: Sol Beach gate fee