In the blink of an eye, the month of August is gone. One minute, we were waltzing you into August and now we're here to guide you out on a high note. What a month, yes? Or is it only us?
Here is a list of events taking place in Lagos this weekend to help you unwind from the week's tension. Monday is just around the corner, so make the most of this weekend. Cheers!
To get your event featured on the weekend list for FREE, clickhere
Friday, August 26th
Night Life: Zero Shakara Masked Party
Another month, with an exciting twist, another edition of Zero Shakara Party by Jaiye_n_more! A masked party.
Join us this Friday at Shores VI from 7:00 pm till the music stops and get a free mask for your Cinderella moment at the end of the night.
Time: 7 pm.
Venue: Shores VI. Lagos
Entry: This Event Is Free.
Social Event: Cocktail Party
View this post on Instagram
Join Django Lounge on Friday at Victoria Island, Lagos Nigeria for a cocktail party!
Time: Red Carpet (6 pm), Doors open (7 pm)
Venue: Django Roof Top Lounge.
Entry: Tickets (N8,000)
Gospel Concert: The African Praise Experience
 

 

 

View this post on Instagram

 

 

 

 

 

 

 

 

 

 

 

 

 

 

 

 

 

 

 

 

 

 

 

 

 

 

 

 
The African Praise Experience 2022 is around the corner & it t will be an atmosphere like none other. Gifted psalmists, unhindered worship, reckless praise, thousands of worshippers, an audience of One. This event is also happening on Sunday at 9 am. Are you ready for this?
Time: 8 pm Till Dawn
Venue: The House On The Rock Church
Entry: This Event Is Free.
Saturday, August 27th
Music Festival: Unbound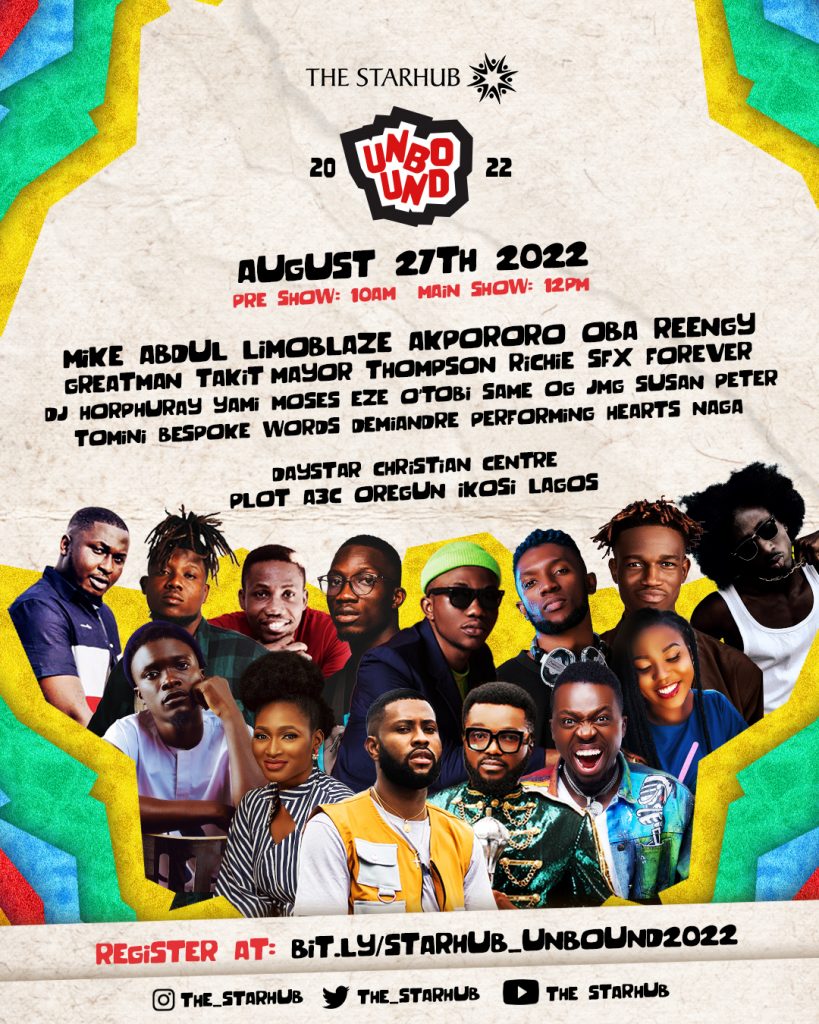 UNBOUND presents an opportunity for youths to encounter a countercultural group; youths expressing their passions and pursuing fearlessly all that God has gifted them with, without holding back. The festival features music, dance, comedy, poetry, inspirational talks, and more.
Time: Pre-show ( 10 am) & Main Show (noon)
Venue: Daystar Christian Centre
Entry: This Event Is Free.
Rave: Shine Lagos
Beach Party: Irie Vibes Fest.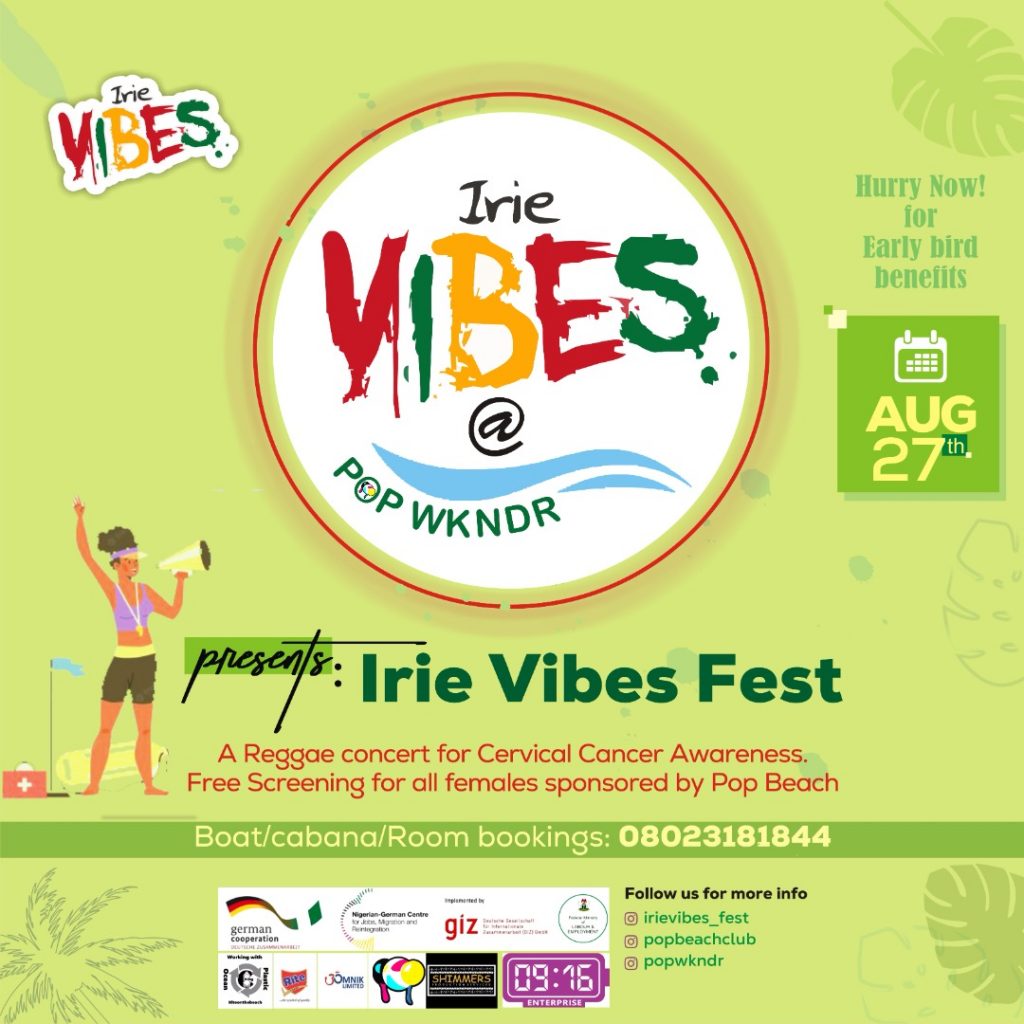 Irie Vibes Fest, an adult beach camp and a touring concert featuring, vibrant reggae groove, art activities and most importantly, free cervical cancer screening with results given immediately at the venue.
Time: 12 noon
Venue: Ilashe Beach
Entry: For Tickets (N40,000), Visit Here.
Night Life: No Face No Case (Mask House Party)
August Celebrants! Y'all ready? Birthday Match Finders is back with a banger 'NO FACE NO CASE' & they are bringing the hottest party this month.
Time: 4 pm
Venue: Ikeja, Lagos ( Call 08096205367 For More Information)
Entry: Tickets ( N6,000), Covers Entry & Mask Only.
Rave: Bring Back The Noise
THE SUMMER CURRICULUM IS ABOUT TO "BRING THE NOISE BACK". Last month they took an intergalactic trip, the adventure was wild, this month they are bringing all the extraterrestrial energies back.
Time: 4 pm
Venue: Johnny Rockets,16 Eletu Ogabi Street, V.I
Entry: This Event Is Free But Registration Is Advised. Click Here.
House Party: 90s vs 00s House Party
This Saturday, all roads lead to a House Party at Euphoria by House 9 where vibes and fun are non-stop. So come prepared cause there'll be drinks, games, and some surprises for everyone.
If you still got the energy to Party after the House Party then the after party will be at Cocoon Lagos.
Time: Games Night (7 pm – 9 pm) & House Party ( 9 pm – Dawn)
Venue: Euphoria by House 9 & Cocoon Lagos
Entry: Tickets (Early Bird N5,000) & (Regular N10,000)
Night Life: Pay Day (August Edition)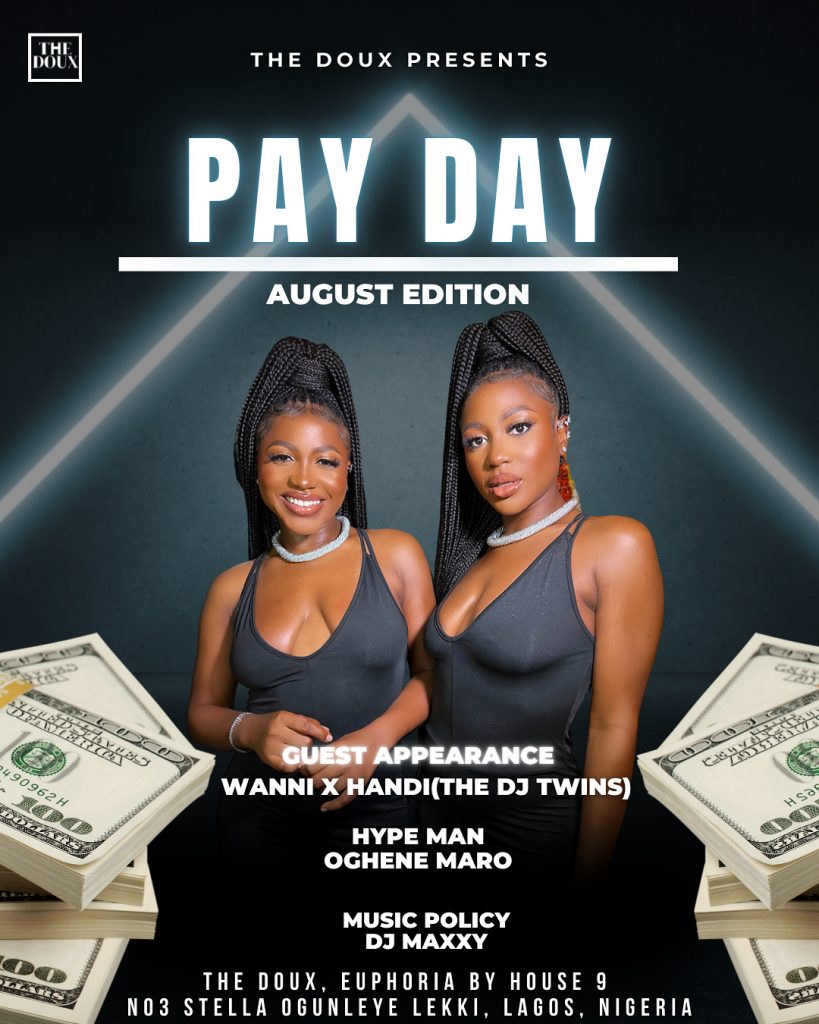 It's the end of the month and you know what time it is, Pay Day Saturday, come through, get relieved of stress from the month, have a good time, vibe chill and be happy.
Time: 9 pm
Venue: 3, Stella Ogunleye street, Oniru Lekki. The Estate Code is 'Euphoria'.
Entry: This Event is Free.
Nightlife: Morgana Wonder Night
A night of Wonder with Morgana this Saturday. Party with us with a great view at Eko hotels & suites.
Time: 9 pm
Venue: Eko Hotels & Suites
Entry: For Reservations, Call 08083349916
Rave: The Summer Rave (August)
The Summer Rave August. Expect lots of cruise and vibes!
Time: 10 pm
Venue: Wave Beach, Elegushi, Lekki Lagos.
Entry: This Event Is Free.
Launch Party: Saturday Odyssey
View this post on Instagram
The official launch of the 30-Yard Saturday Odyssey is here. Join the 30 Yard Plus Lounge this Saturday 27th of August 2022, as they turn up the volume of fun with Tobyshang, Djjavaofficial, and Thesaviour.
Time: 10 pm
Venue: The 30 Yard Plus Lounge, Admiralty Way, Lekki Phase 1 Lagos.
Entry: For Reservations, Call 09049362214 or 08066497977
Rave: Sweat It Out
View this post on Instagram
Sweat It Out is back again and the town is about to be lit! Come get your groove on at the hottest party showcasing local talent and connecting energies.
Time: 11 pm
Venue: Nexthought Creative Hub, Nike Art Gallery Road, Behind Victoria Bay III Estate, Elegushi Private Beach Gate 1, Lekki Ikate Busstop.
Entry: For Ticket Purchase, Visit Here.
Sunday, August 28th
Party: Owambe Lagos
 

 

View this post on Instagram

 
 

 

View this post on Instagram

 
Movie Night: Indie View's Film Party
View this post on Instagram
Get pumped for another enchanted adventure as Indie View fulfils its promise to continue celebrating short films and amazing film festivals at outdoor venues around the world! Escape for a unique evening inside the fascinating world of film.
And in our brand-new world of storytellers, let your ideas soar.
Time: 6:30 pm
Venue: Bature Brewery, 256 Etim Inyang Crescent, VI Lagos.
Entry: Tickets (N2,000)
Live Music: Acoustic & Covers with Aramide
An evening of smooth music with Aramide and other talented artistes. If you're not such a fan of raves but still love to enjoy music in social gatherings, this is the one for you.
Time: 7 pm
Venue: 15 Idejo Street, Off Adeola Odeku, VI Lagos.
Entry: For Table Reservations, Call 08099121881 or 09021106225
Rave: Lagos Carnival Party
View this post on Instagram
This Sunday, mind-blowing shows, flavours and a vibe like no other all come together in one glamorous night!
Time: 8 pm
Venue: Ikeja City Mall, Lagos
Entry: For Reservations, Call 0817001122