It's a new year and we are back to regular programming, serving you the best activities and events to have fun at in Lagos. This year is all about living the soft life and The Lagos Weekender is your enabler! Starting with our weekly list of the best things to do every weekend. Don't forget to check here every Thursday for updates. You can also sign-up for our newsletter here to receive our "soft life good news" in your email.
To get your event featured on the weekend list for FREE, click here
Thursday 19th
Red Tent Temple: Women Bonding Session
Friday 20th
Dimsum Making: Cooking Class
Wanna learn a new skill? Try attending a Dim Sum class to learn. how to make Asia's popular dish.
Time: 2:00 pm
Venue: Shiro, Water corporation road, Victoria Island
Entry: 14,500
For Reservations: +2348186298888
Circus Grand Opening: Nightlife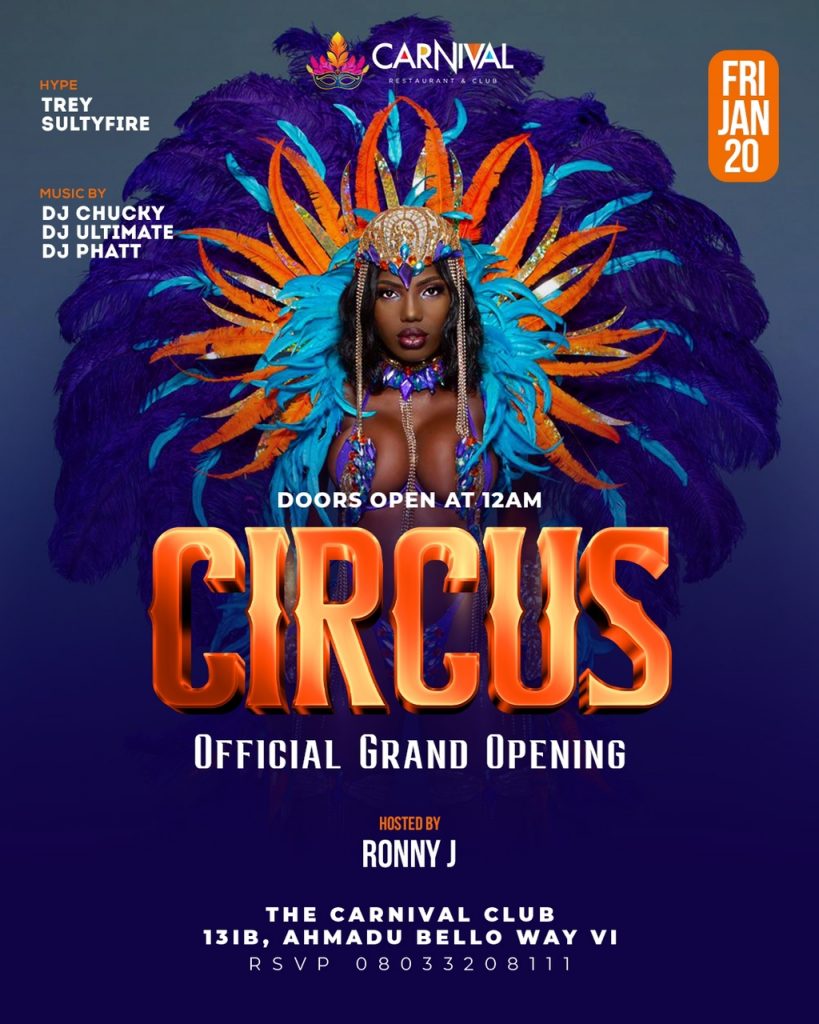 Newly opened nightclub, Carnival is taking us to the Circus this weekend. It's going to be a night of fun and loads of side attractions.

Time: 10:00 pm
Venue: Carnival Club, 131b, Ahmadu Bello Way, Victoria Island
For Table booking: +2348033208111
Saturday 21st
Daycation with Yellowyfe: Travel
Join Yellowlyfe on a fun excursion to Omu Resort with loads of games and adventurous activities. This is going to be a lot of fun.
Venue: Omu Resort
Time: 9:00am
Entry: N18,000-25,000
For bookings: +2349049027698
Puff n Paint: Painting
Across The Bridge: Comedy
Come crack your ribs and laugh your heart out at this event. In this stand-up special, the narrator highlights his tales in comic-style fashion, detailing the contrast in daily living that happens in the poor parts of the mainland versus the affluent parts of the island.
Venue: Bayroot Lounge, Landmark Towers, Water Corporation road, Victoria Island
Time: 8:00pm
Entry: N5,000
For tickets, click here.
Sunday 22nd
Gaslight: Classic Movie Night
Wanna do something interesting? How about watching a Classic movie? Classics Lagos is back to showtime and this time they are bringing you the classic movie GASLIGHT. Trust us you don't want to miss this one.

Time: 6:30 pm
Venue: El Padrino, 256 Etim Inyang Crescent, VI
Entry: Free
Film Food Festival
Enjoy this 3 in 1 themed event presented by Indieview and Arise Play Movie Box. Celebrate African creativity while enjoying delicious African cuisines.
Time: 12pm
Venue: Bics Garden, Lekki phase 1
Entry: N3,000 Adults; N2,000, Children
Paint and Sip
Another painting edition with Anada Art Studio is underway. Enjoy a day of painting while networking with wonderful people over drinks, games, and more.
Time: 3:00 pm
Venue: Hearth Cloud, Ahmadu Bello Way, V.I
Entry: N10,000.