This Weekend's Forcast: A Beach Party, Mild Cocktails, Music From The Best DJs, food & Jaiye to the max! Here come three good days to refresh your soul, spend time with friends or family and a list of events happening in Lagos that we've curated just for you.
To get your event featured on the weekend list for FREE, click here
Friday, Sept 16th
Concert: Clout Talk Concert
View this post on Instagram
Famous Dancer/ Hypeman, Poco Lee would be our HOST for the 4th edition of the Clout Talk Concert! Chill with Poco Lee on Friday, the 16th of September, 2022 at the Creators Lounge!
Time: 5 pm – 10pm
Venue: The Space Hub (No 6/7General Ogomudia Drive, Lekki Phase 1)
Entry: This Event Is Free
Live Music: Olusegun & The Stallion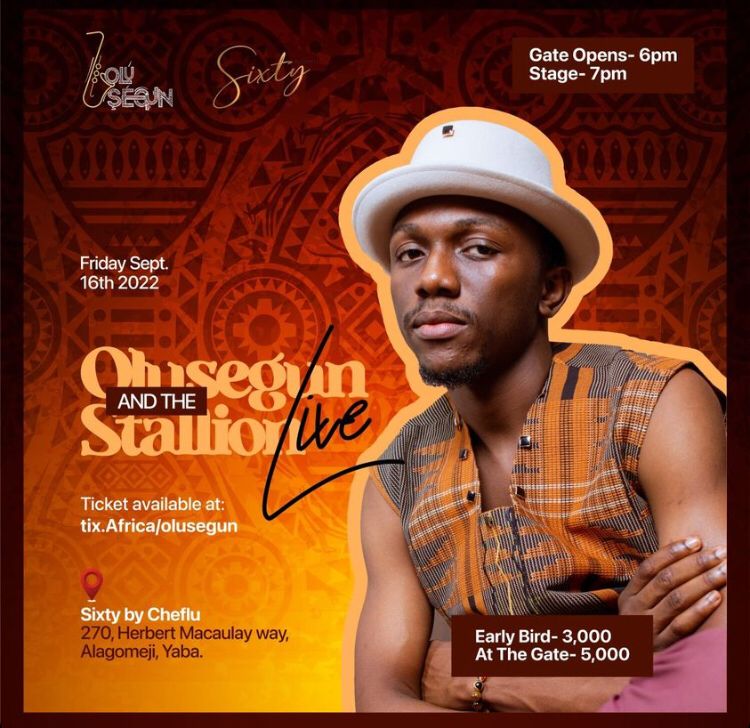 Calling all lovers of music! Get your vibes ready, Olusegun and the Stallion is coming live!
We are bringing our music live to you so catch us on Friday and be ready to be blown away.
Time: 6 pm – 7 pm
Venue: Sixty by Cheflu, 270 Herbert Macaulay way, Yaba, Lagos
Entry: Tickets for Early Bird (N3,000) & At The Gate (N5,000). To purchase tickets online, visit here.
Rave: Rave On The Beach
Rave on the beach
We've got the perfect Friday plan for you!
Weekenders, come enjoy the party of the century with the trybe at the desperadong rave on the Beach, from 6 pm till dawn. It promises to be all shades of Lit!
The DJ lineup is sick so get ready to turn the Rave all the way up!
Time: 6 pm – Dawn
Venue: Moist Beach Oniru
Entry: To Register, Visit here.
Saturday, Sept 17th
Art Exhibition: Elegy Of The Wind
View this post on Instagram
Elegy of the Wind is a poetic self-reflection, an introspective observation of the human condition and the economy of language with reference to its universal implication and inferences.
The works in the exhibition are an assemblage of writings, thoughts and ideas, some that are at odds with each other, creating a tension of perspectives that sets a stage for the viewer to come into the works on their own terms, piercing their own stories and the generative possibilities that offer.
Time: 3 pm- 7pm
Venue: AMG Projects, 24 Rasheed Alaba Williams, off Admiralty Way, Lekki Phase 1, Lagos
Entry: This Event Is Free
Rave: Unwind
You've never heard anything like this before. Unwind: The Rave, can't wait to dance with you to the sounds of AfroEDM as they display some of Lagos's most talented DJs.
Time: 6 pm till dawn
Venue: Bayroot Bar & Lounge, VI, Lagos
Entry: Tickets will be sold at Venue ( N2,000)
Rave: Afro Electro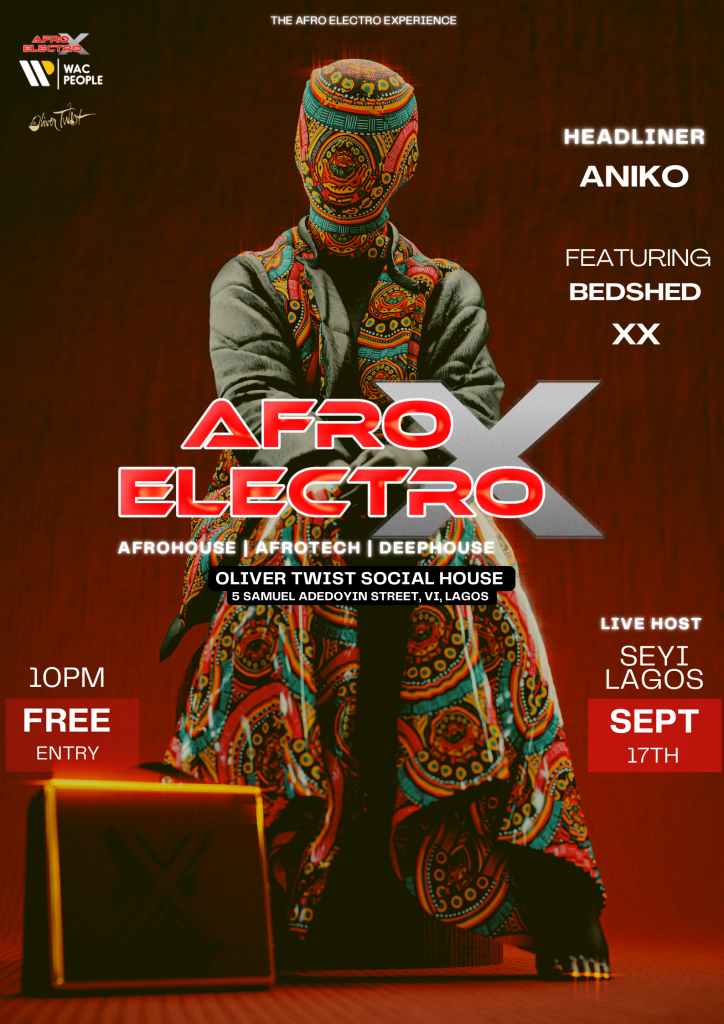 An Electronic music festival promoting the underground Lagos rave scene made up of youths looking for means of expressing themselves through dance music. There will be a fashion show, an art exhibition, live painting and dance.
Time: 10 pm
Venue: Oliver Twist Social House, 5 Samuel Adedoyin Street, VI, Lagos
Entry: This Event Is Free
Sunday, Sept 18th
Live Painting: Sip & Paint
We're back again for our monthly paint sessions, you do not want to miss this one, it'll be all shades of fun and vibes and we'll be channelling our inner Picasso.
Time: 12 pm – 5 pm
Venue: Lagos Continental Hotel, Kofo Abayomi Street, VI, Lagos.
Entry: Tickets (N10,000). For Reservation Call 09027393646
A Play: Omugwo
Omugwo is an age-long traditional custom of the Igbos in Nigeria and it is also, Omugwo the play,- a tale of the lives and lies of Chimamanda, Nduka and Mama woven in a web of an emotional, thought-provoking tragedy.
Showing EVERY Saturday and Sunday this September, come witness and experience it all at TerraKulture.
Time: First Show Starts (5:30 pm) & Second Show ( 7:30 pm)
Venue: Terra Kulture, Victoria Island, Lagos
Entry: Tickets Cost (N5,000)