Lagos is considered one of the busiest and the second-most stressful city in the world. It goes without saying that Lagosians must prioritize their well-being. ORÍKÌ, Africa's first and only all-natural farm-to-skin brand to operate a fast-growing premium product & wellness spa brand has found a way to improve the health of Africans by leveraging technology to make self-care accessible. 
The UNWIND app is a platform that allows you to book self-care services on demand for yourself or others. The app provides features like an e-wallet that allows you to add money and gift others as well as an opportunity to review service providers. It aims to raise the standard of excellence for self-care and help you achieve well-being and a balanced state of mind from the comfort of your home.
In a busy city like Lagos, UNWIND aims to serve those who are time-constrained, physically active, or want to incorporate wellness while figuring out how to make it work with their schedule.
We had a chat with the founder of UNWIND, Joyce Awosika, who shared more about the app.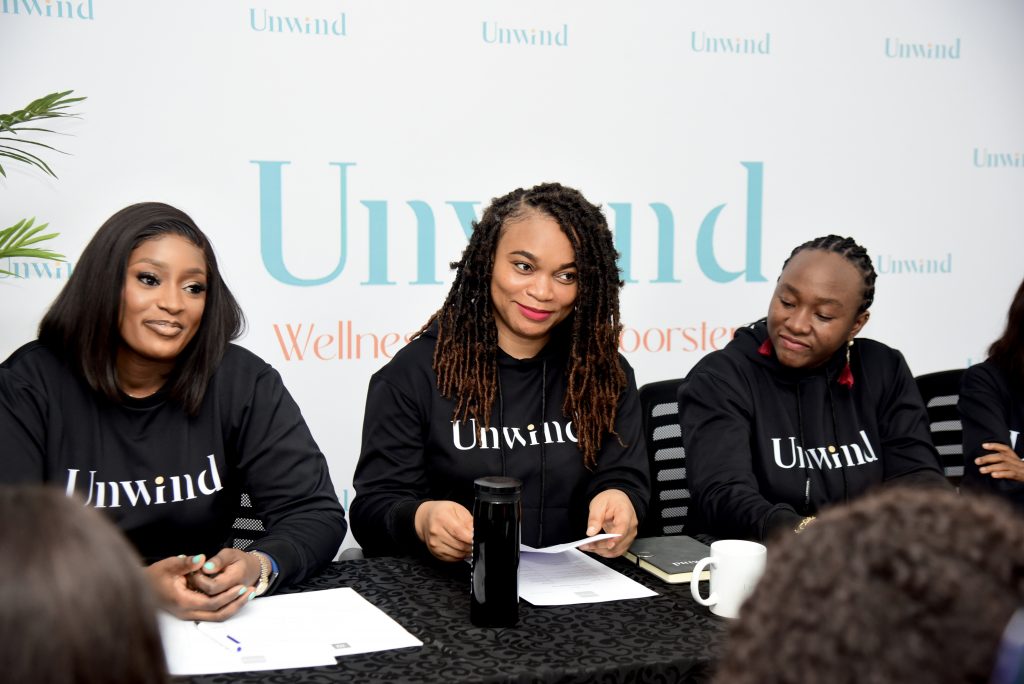 How would you describe the current state of wellness in Nigeria? 
The wellness industry is ripe but also nascent at the same time. Stress relief, wellness and well-being have become very common buzzwords, especially since the inception of COVID-19. However, as much as it's discussed, we have seen more talk about it than there is action, which provides a major opportunity to find unique ways to meet people where they are and provide wellness services when they need them most. Nigeria is a very large country, it is the giant of Africa and we need a Nigeria where the well-being of citizens is paramount.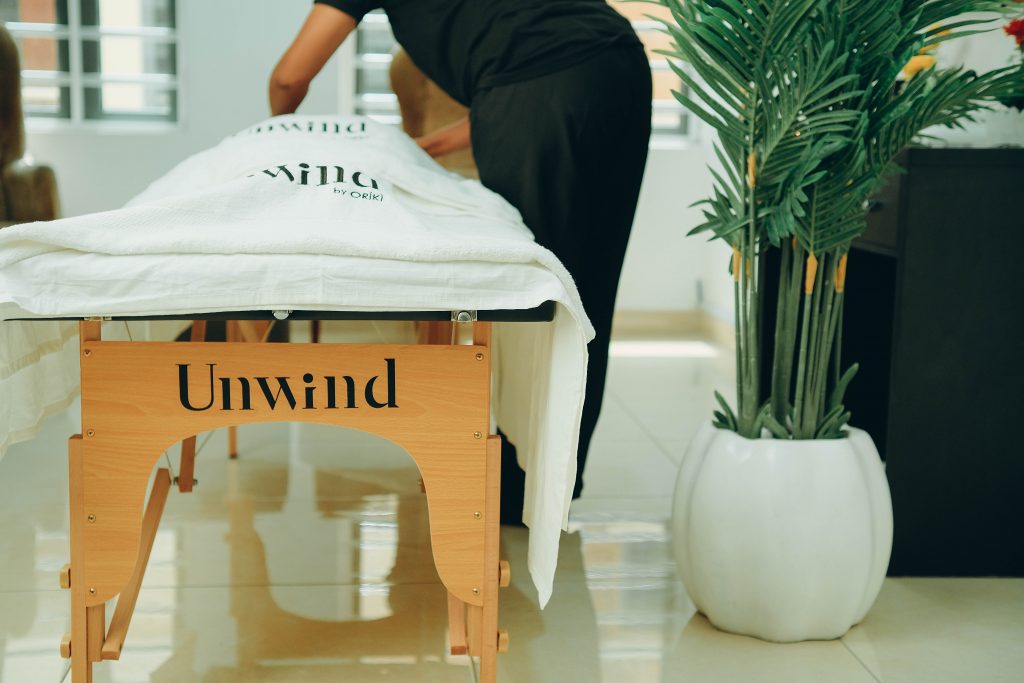 How vital is wellness to the average Lagosian or Nigerian?
I believe the average Nigerian understands in principle that it's important to take care of I believe the average Nigerian understands in principle that it's important to take care of themselves and to focus on their well-being, but the average Nigerian hasn't necessarily taken it seriously yet. We've seen a rise in people facing health issues caused by stress at younger and older ages and it's worrisome. Part of our belief system at UNWIND is that Nigerians need to prioritize their well-being more and not just physical well-being but also mental well-being. We will play a big role in advancing that narrative and pushing this agenda. Over the years, we have seen an increase in our customer base within our physical spa locations that have led to the fact that more people care and more people are taking wellness more seriously and that's a perfect sign. There is still a huge part of the market that has to imbibe this priority.
Can you tell us how you pivoted from wellness to tech?
It's not a pivot, it's a combination of two synergistic sectors. What we've done with UNWIND is take a huge industry worth over $130 billion globally, that's the wellness sector, and couple it with technology to create a new category which is well-tech, wellness tech, or on-demand wellness. In our case, UNWIND was built on the back of our own successful case study. In 2020, when the ORIKI spa chain was closed down due to the rise of the pandemic, we stayed close to our customers; we wanted to know how our customers were feeling and they told us that they were in dire need of spa services, so we became innovative. We used our structure, our foundation and our technology booking system to switch to at-home spa services and within 7 1/2 weeks, we were in 700 homes. This was what informed us that we had a case study for wellness on demand. We knew we had to scale this and offer this to the greater public.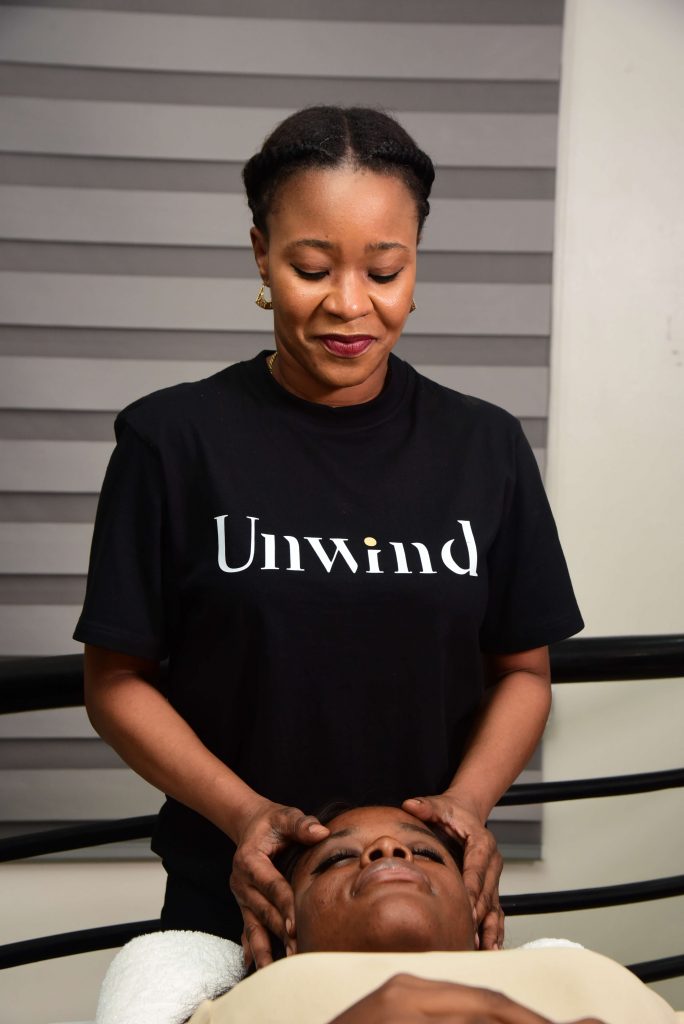 How does the UNWIND app contribute to aiding wellness in Nigeria?
The online app is the solution for the busy, always-on-the-go person who wants to be in control of their time, and also for the person who wants to prioritize wellness but is looking for how to fit it into their schedule. That's where UNWIND comes in. We have given people the chance to take back their time while also giving themselves the gift of relaxation and we do this by allowing people to book a certified massage therapist to come to their doorstep anytime, anywhere at their own convenience. It is a powerful offering because it puts our customers in the driver's seat. A busy corporate worker or a banker could be sitting in their office at 5 PM desirous of a massage at 7 PM and a certified massage therapist comes to the location and provides them with stress relief and as a result, they have a better day or a better night's rest. That's the power of UNWIND.
Do you think the market is ready for such an app?
The market is more than ready for the UNWIND app. In our research, the market has been The market is more than ready for the UNWIND app. In our research, the market has been waiting for this app. As mentioned, we did a case study in 2020, and we realized the huge demand for it. With the UNWIND offering, we are prepared to address this issue and offer a solution. UNWIND is tangibly impacting lives daily to restore, rejuvenate and pamper people on a daily basis. That's what we exist to do.
What difficulties have you encountered as a tech start-up in your quest to deliver sustainable value to relevant stakeholders and dominate the wellness market from Nigeria to the rest of the world?
Building a tech start-up takes an immense level of innovation, strength and persistence, but it's more than worth it when we measure this alongside the value we create. On this journey, we have faced a number of issues. First and foremost, quality control, as we want to guarantee that UNWIND service providers are licensed spa professionals who are passionate about flawless service delivery and customer care. Our promise and priority to customers are that when a provider shows up at your door, they are fully kitted with everything needed for the service that includes the massage bed, the waxing pot, the oil and everything that you need depending on the service. For this, we had to create a robust system that could vet all of our providers and ensure we continued delivering value to our consumers at an optimal level.
What interesting and unique features does the Unwind application offer?
The number one and most amazing feature of UNWIND is that you can book your service on demand in as little as an hour and your provider will show up at your doorstep. Another amazing feature is our two-way review system, which allows our current customers to review our providers and the providers can also review customers. This leads to a transparent, fair and holistic feedback mechanism. Our customers can also make all payments through the app, add money to their e-wallet and gift others a Spa at Home Service. The new version will have many more offerings and give a more enhanced user experience.
How do you verify the licensed massage therapists dispatched to people's homes?
We use a completely tech-enabled platform to verify our providers and the very first step is to get critical information like their NIN so we can truly verify their identity. Beyond this, all providers must upload their certificates into the app where we can actually confirm if they went to a recognized training institution with a certificate. We don't stop there. Once a potential provider has gotten to this point, they take the UNWIND onboarding course via our tech learning management system, and through this course, we disseminate more information about our expectations, values, and technical information. After completion, an assessment is given in which they must pass to be able to sign a contract and finally get approved to take on clients on the app.
What's the vision for the next five years?
In the next five years, UNWIND is looking forward to having over 20,000 monthly active users across over 15 cities across Africa and beyond. We will continue to enter new markets and we plan to continue to scale globally and provide more and more wellness services to customers by expanding our digital footprint across more markets to build out a global brand that is known for impact and reputable for restoration, rejuvenation and pampering.
Any last words?
You deserve some pampering! Download UNWIND and book a service today.