Lagos is a vibrant and bustling city that's known for its rich culture, lively music scene, and vibrant nightlife. But beyond the popular tourist attractions and well-known landmarks, there are many hidden gems waiting to be discovered. From hidden art galleries and street markets to tucked-away cafes and parks, Lagos is full of surprises that offer a unique and authentic experience of this fascinating city.
If you're looking for something new to add to your everyday Lagos experience, this list has been curated specially for you;
VR Place Nigeria: Located in Victoria Island, VR Place is the perfect destination for virtual reality game lovers who are looking for something different from your average arcade experience. With prices to suit any budget and a relaxed atmosphere suitable for adults and children alike, you'll be able to immerse yourself in exciting interactive games. Its outdoor restaurant, called The Backyard Grill, offers karaoke and sip and paint activities that both young and old can enjoy throughout the day, making this an idyllic spot to get lost in magical worlds of exploration!
Abela Olfactory Art Centre: The Abela Olfactory Art Centre in West Africa is a creative and inspiring space dedicated to investigating the connections between smell, culture, art and social communication. From exploring distinctive sensory expressions from around the continent to gathering together inspired practitioners for workshops and seminars on olfaction, – come experience how scents can transport you into another realm at this unique center! You can also create your own perfume/diffuser and get a certificate for your creations with a serial number that would allow Abela to recreate your perfume formula whenever you come back for a refill.
YY Bubble Tea Shop: Stepping outside of Alice Garden Asian Restaurant in Ikeja, you'll be pleasantly surprised to find a cozy bubble tea shop invitingly decorated with Asian-inspired furniture. As soon as you enter their doors, the incredible aroma of boba milk tea fills the air and transports your taste buds straight to Taiwan. On the menu are several bubbly drinks served in unique teddy bear-shaped bottles, which makes the experience much more fun. Taking photos at this place is surely a must, seeing as it's truly a beautiful space.
Escape Room 33: Escape Room 33 is the perfect place for groups to challenge their minds and work together. With a variety of puzzles, mind-benders, challenges, and props in themed rooms – all designed by an experienced creative team – there's sure to be something that'll put your problem-solving skills to the test! Race against time while you try to find clues and figure out how everything fits together so that you can successfully complete your quest before time runs out. To ensure that clients are happy with the value for their money, this involves a compelling plot, setting, and cast.
Paint and Bake Lagos:  Paint your own masterpiece at the Paint and Bake Pottery studio. All the materials you need are provided for – it's up to you to unleash your creativity and come out with a unique design. They also offer tips, tricks, and guidance so that you can make something truly one-of-a-kind in no time. With plenty of colours to choose from and lots of different shapes available, you can customize the pottery to your liking and have it baked and ready for pick-up within two weeks.
The Chinatown in Lagos: Located in the heart of Lagos, Nigeria is its very own Chinatown. With a striking resemblance to the Great Wall found in Beijing, this area was once believed to be an abandoned relic until recently. However, today many are finding out that there are plenty of stores here filled with genuine Asian products – perfect for anyone who loves cooking dishes from their favorite anime! Alongside these shops stands one popular restaurant renowned for large portion sizes and quality cuisine – it is definitely worth checking out.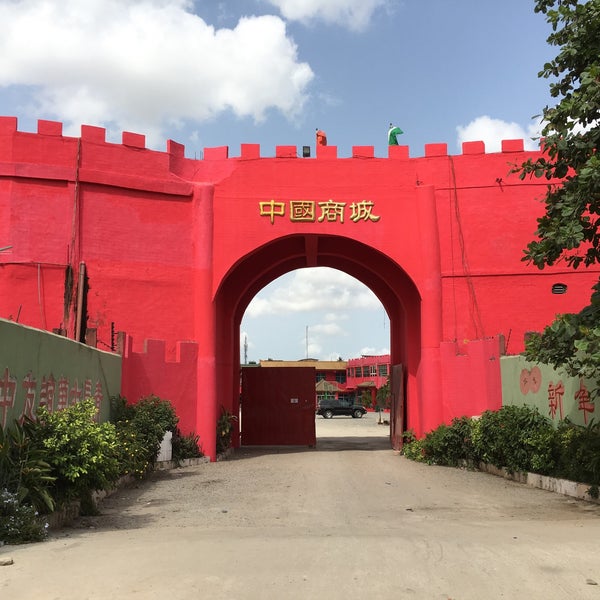 Popsicle by Happie Hours: You can experience a delicious combination of sweet and cooling refreshments with Popsicles by Happie Hours. Enjoy their wide range of popsicle flavours, perfect for satisfying your cravings on hot days in Lagos. Whether you are a child or an adult looking to reminisce about your younger years, these delightful treats will hit the spot – they even make great alternatives to ice cream.

Mai Shayi: Mai Shayi, located in the heart of Victoria Island is a paradise for coffee aficionados. At Mai Shayi they provide an authentic and unique experience to their customers, celebrating not only the taste but also the history behind each cup. Learn about different beans and where they come from while you enjoy your favourite kind. But it doesn't stop there – spruce up your brunch with one (or several) delicious cups of brew if desired. You could also sign up for their coffee-making classes if you desire to master the art. Enjoy every sip at this special spot known as "the one who makes tea".
The Vesta Orchestra and Opera: Opera in Lagos? Yes, please! The Vesta Orchestra and Opera is a great event for those that appreciate classical music. They strive to promote African representation in this space by curating works of composers with a cultural descent, performing them at the AfriClassical Concert Series held at Terra Kulture. If you're keen on admiring the artistry within this genre, then it's definitely worth checking out.

10. CeraCerni's Art Hub: Cera Cerni's Art Hub is the ultimate destination for art enthusiasts. Not only does it serve as a premier gallery space to showcase exhibitions and showcases, but also provides an accessible platform to learn new skills in painting, pottery and other mediums. Three tailored courses are available at various levels of proficiency giving novices or experts alike an opportunity to further develop their crafts. Additionally, recreational painting and pottery classes are held throughout the day making it easy for everyone to partake in this experience.
We hope you visit any of the hidden gems and enjoy a unique fun experience.