Nothing announces a new regime like a subsidy lift. You battled with fuel queues and you won, how about you celebrate that with a fun weekend? Thankfully, we have a couple of ideas to suggest because you know what 'queue' wouldn't frustrate you? Our list of events for the weekend. If you're looking for things to do to take the heat of the week off, we have you covered. Keep it in mind that your enjoyment and your happiness is what we prioritize always.
If you love our guide, you're going to love our content that covers activities beyond events. Download our e-guide, a must-have for those looking for a trusted plug for fun things to do in Lagos.
To get your event featured on the weekend list for FREE, click here
So, without further ado, here are the events for the weekend;
Friday 9th June
THE RAVE | NIGHTLIFE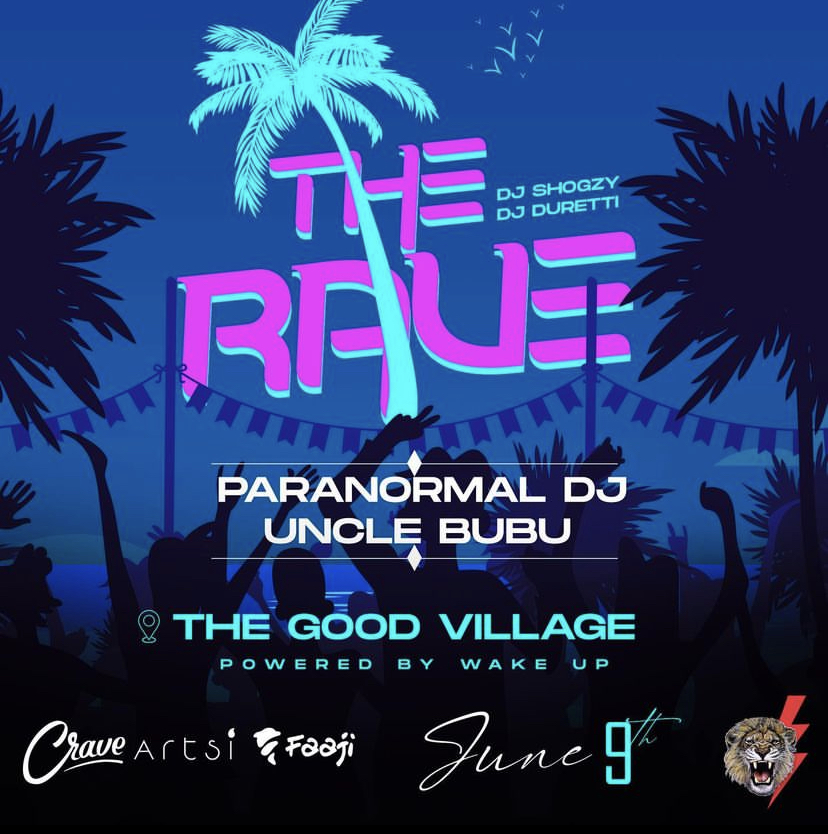 Party animals, the RAVE is here . It's time to wake up!!
Date: Friday 9th June
Time: 7pm
Venue: The Good Beach
Entry: N6,600
Saturday 10th June
BREW SATURDAYS  | SOCIAL EVENT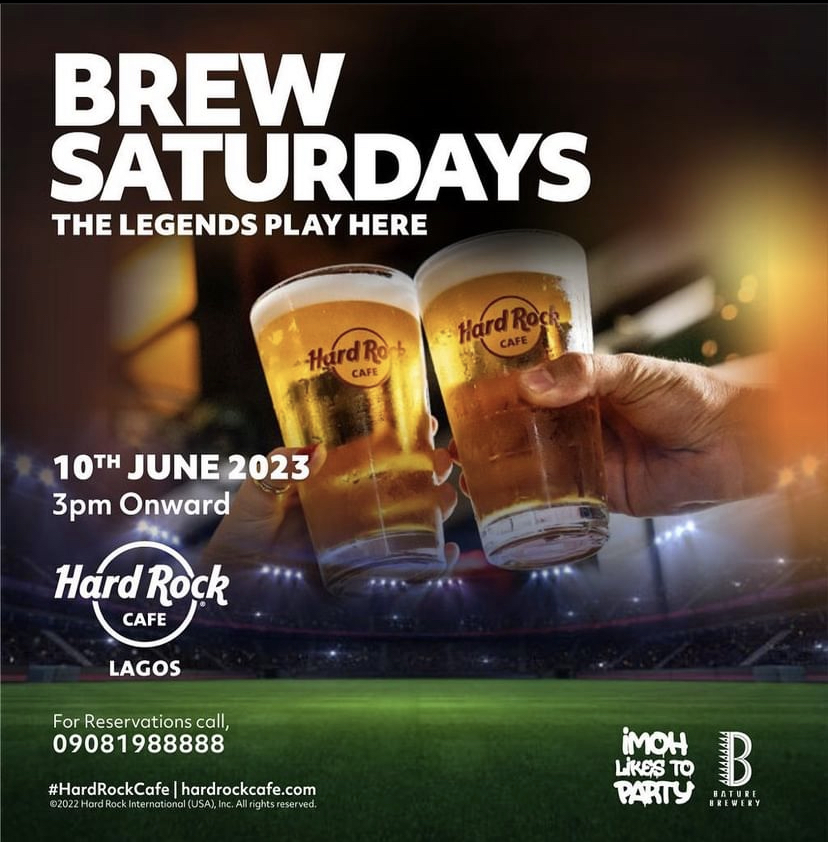 Brew Saturdays is the ultimate celebration of all things beer. Gather your friends this Saturday from 3pm and get ready for a day filled with beer challenges, thrilling games, and the chance to catch the UEFA Champion League games on our big screens. Don't miss out on the fun!
Date: Saturday 9th June
Time: 3pm
Venue: Hard Rock Cafe
Entry: Free
PAINTBALL MEETS SILENT DISCO | SOCIAL EVENT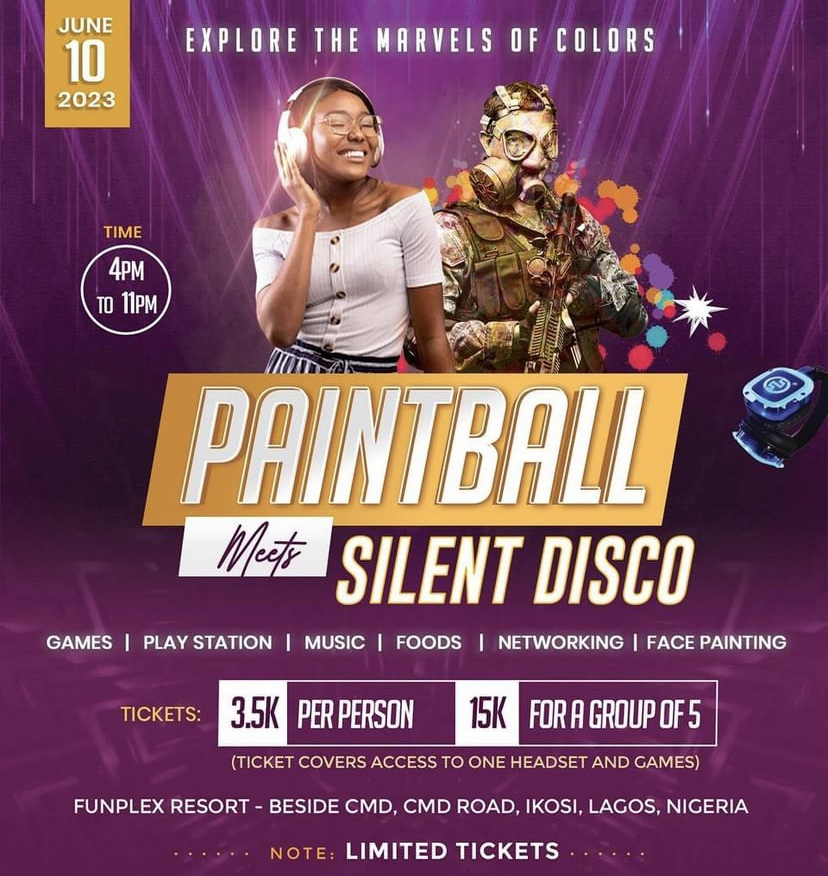 Ever been to a silent disco that has a paintball session? Get ready for a fun event with side attractions such as games, music, face painting and food.
Date: Saturday 10th June 
Time: 7 pm
Venue: Funplex Resort – Beside CMS, Ikosi
Entry: Check flier
POOL SUMMER RAVE | POOL PARTY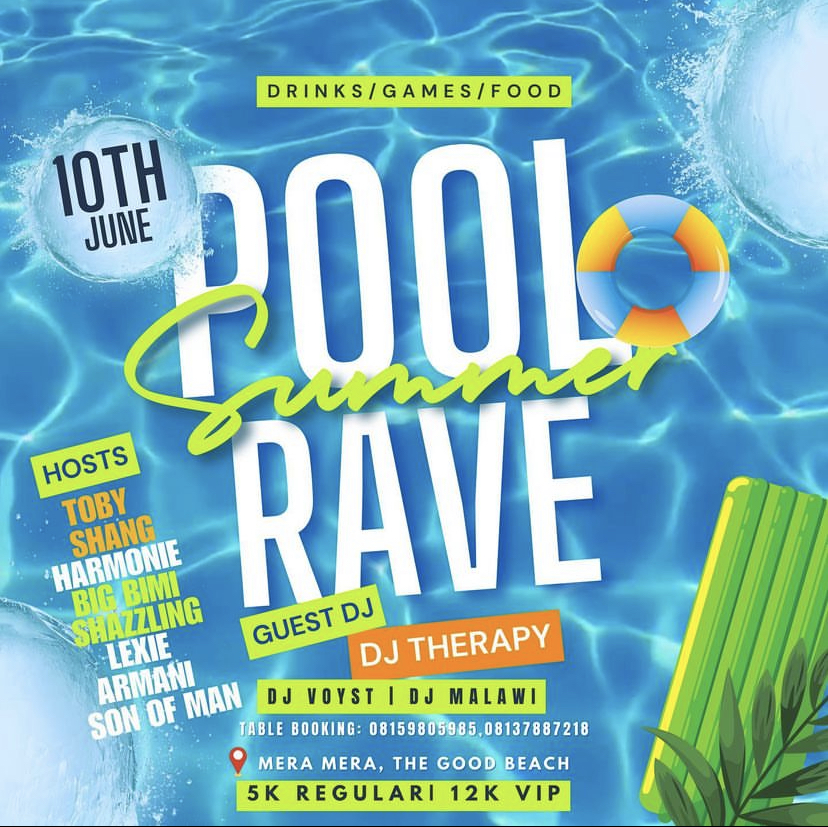 Enjoy the pool at Mera Mera, networking with cool people with food and games available.
Date: Saturday 7th June
Venue: Mera Nera, The Good beach 
Entry: N5,000 Regular | N12,000 VIP
POOL PARTY  | PARTY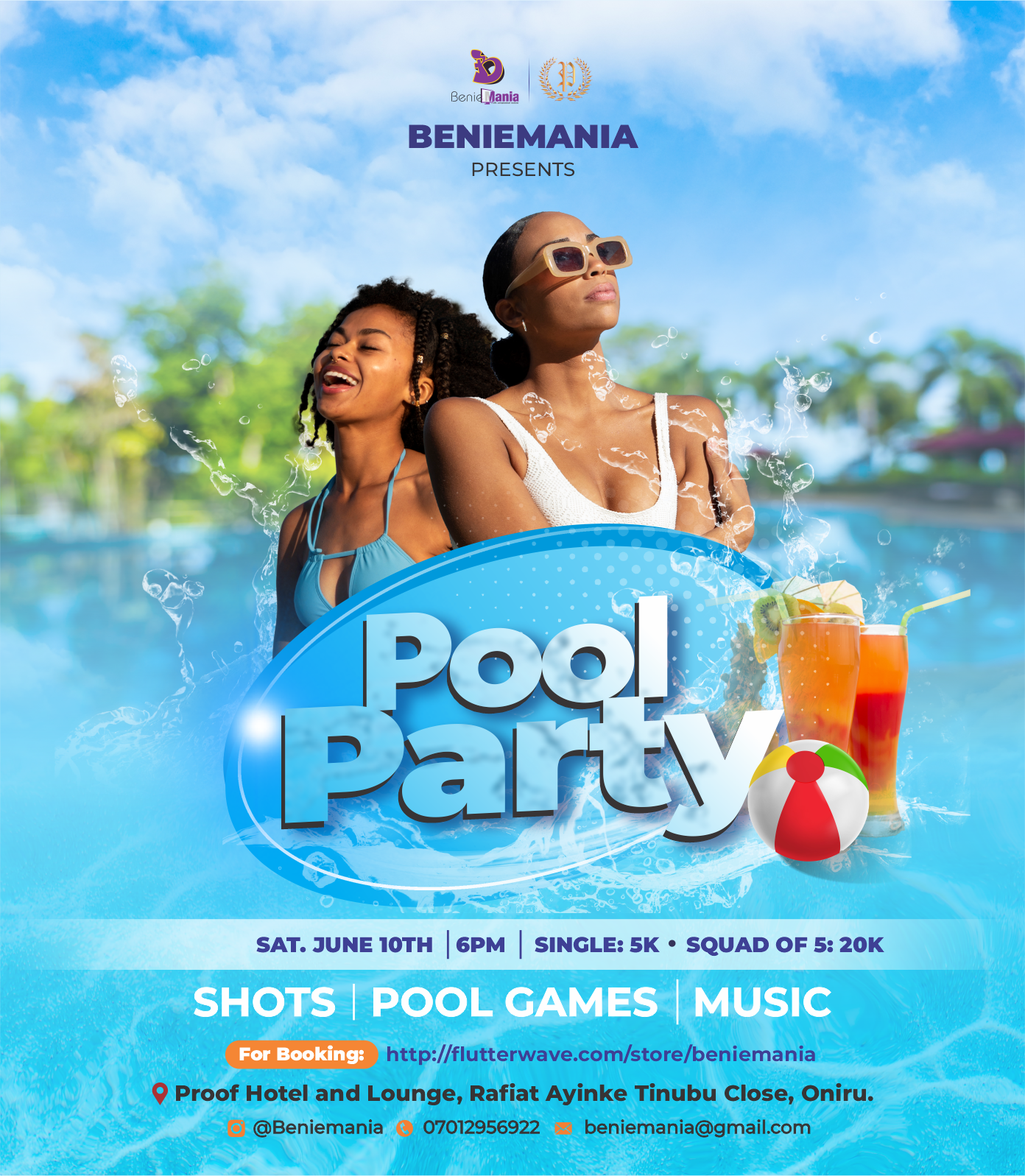 Come enjoy complimentary shots, pool splash, pool side games, lit music, fun ambience and connect with other fun loving professionals like you.
We really can't wait for this one 🎉🤩

Date: Saturday 10th June
Venue: Proof Hotel and Lounge, Rafiat Ayinke Tinubu Close, Oniru
Time: 6 pm
Entry: N5,000 Single | N20,000 Squad of 5

VELOCITECH  | RAVE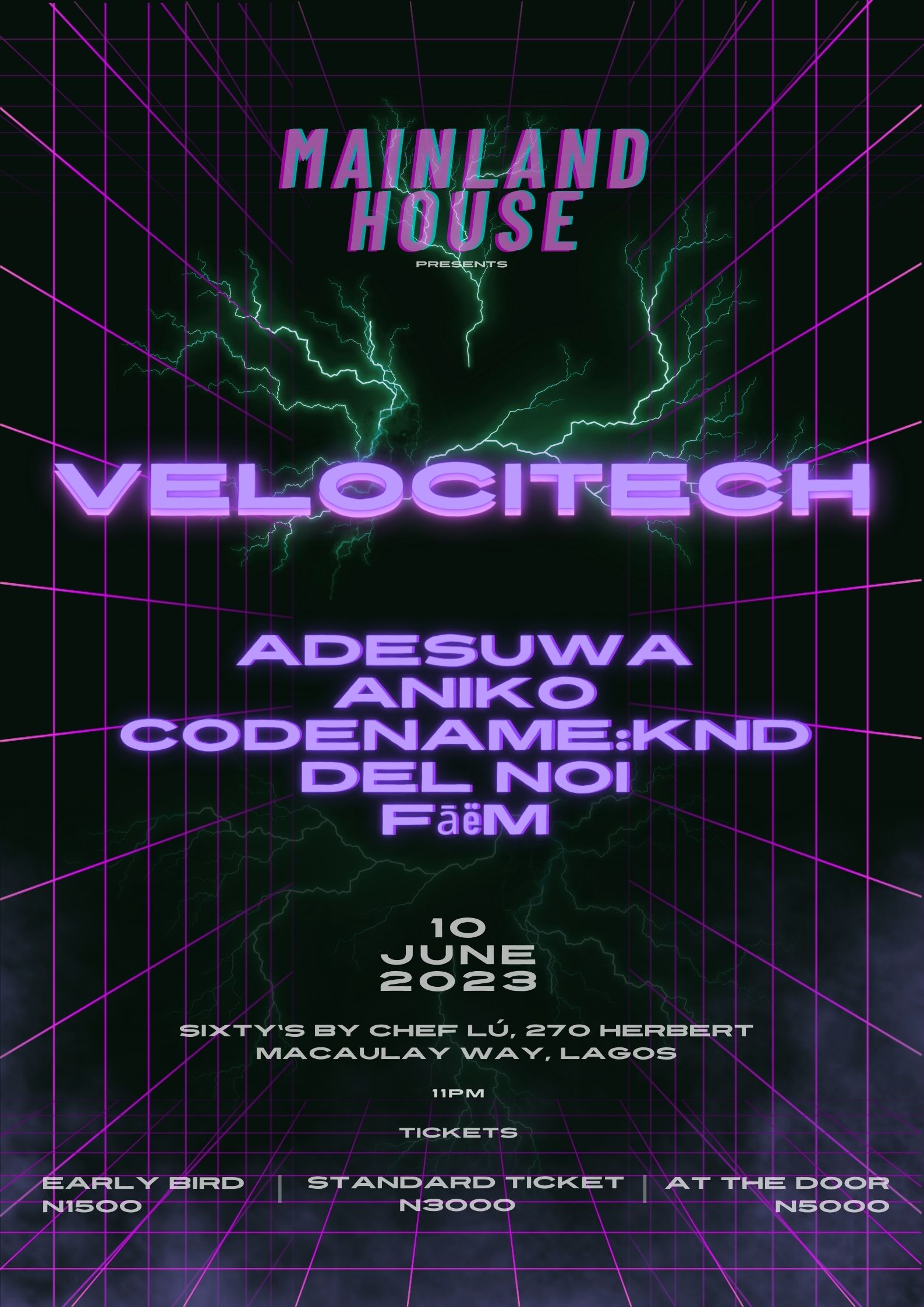 The Mainland House-boys are back with the 4th episode of spreading the Gospel of House to the mainland.
A rapid follow up on the mayhem from episode 3 "AFRO-TECH FANTASY" aims at creating a liberal yet pacy atmosphere for ravers and newborns to experience AFRO-TECH music.
Date: Saturday 9th June
Venue: Sixty's by Chef Lu, 270 Herbert Macaulay Way
Time: 11 pm
Entry: Check flier
GLOBAL WELLNESS DAY  | FITNESS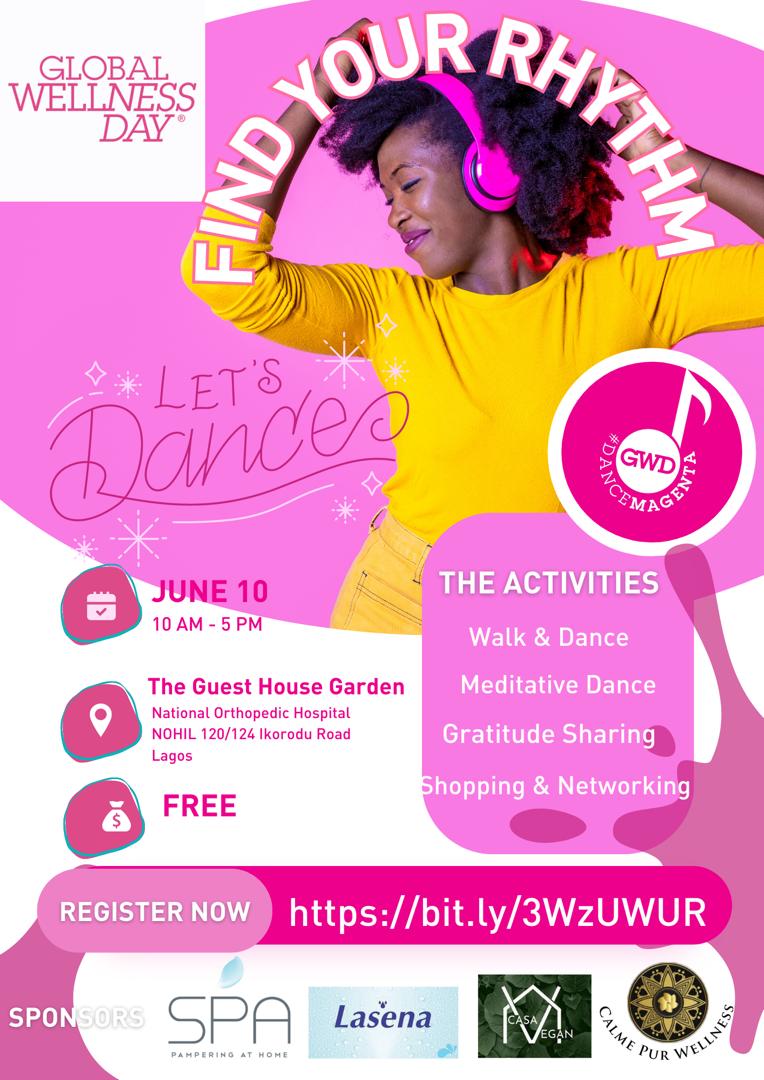 To #DanceMagenta you do not need to be a professional dancer, know how to dance, or even need a specific place or time. It all starts with three extremely easy steps;
1. Dance with your body: Whatever style you choose; dance is a unique form of exercise. Dancing is good for your body.
2. Dance with your thoughts: Add dance to your meditation while relaxing. Dance in your mind. Free your dreams.
3. Dance with life: Don't resist, stay in the flow and trust the process. Add music to your life. Let music bring you happiness. Start your day with music, and fall asleep with music. Take control of the rhythm of your life.
Date: Saturday 11th June
Time: 10 am
Venue: National Orthopedic Hospital NOHIL 120/124 Ikorodu Road
Entry: Free
Sunday 11th June
THE EASE | SOCIAL EVENT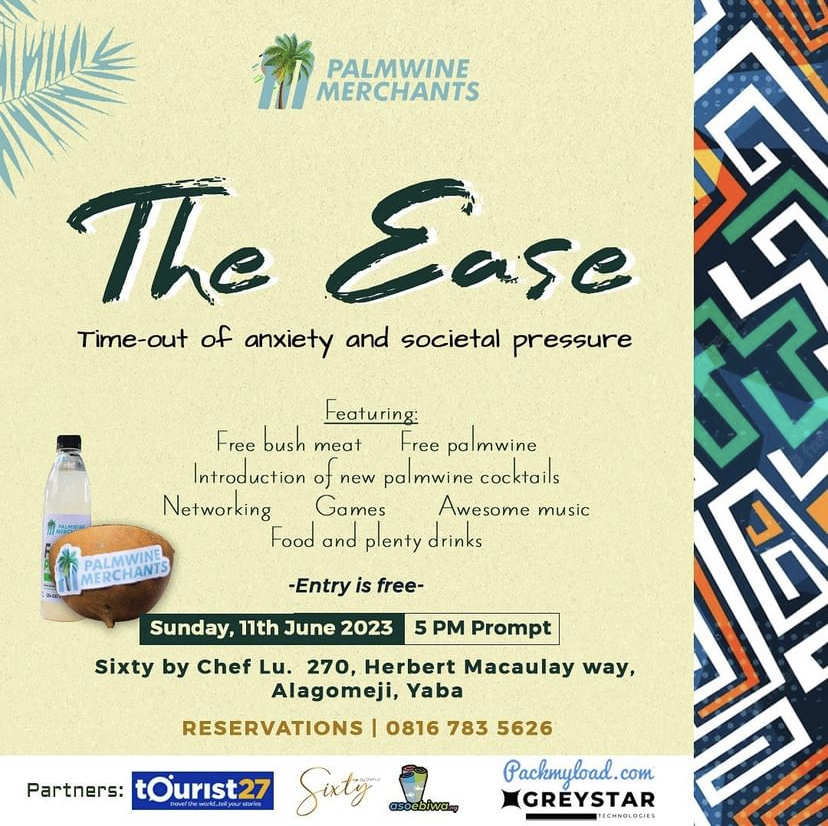 Indulge in the delightful taste of free-flowing palmwine, savor mouthwatering bushmeat, engage in thrilling games, and create memories filled with laughter and pure fun😍
Date: Sunday 11th June
Time: 5 pm
Venue: Sixty by Chef Lu. 270, Herbert Macaulay Way, Alogomeji, Yaba
Entry: Free

A NIGHT WITH MADE KUTI & THE MOVEMENT | LIVE SHOW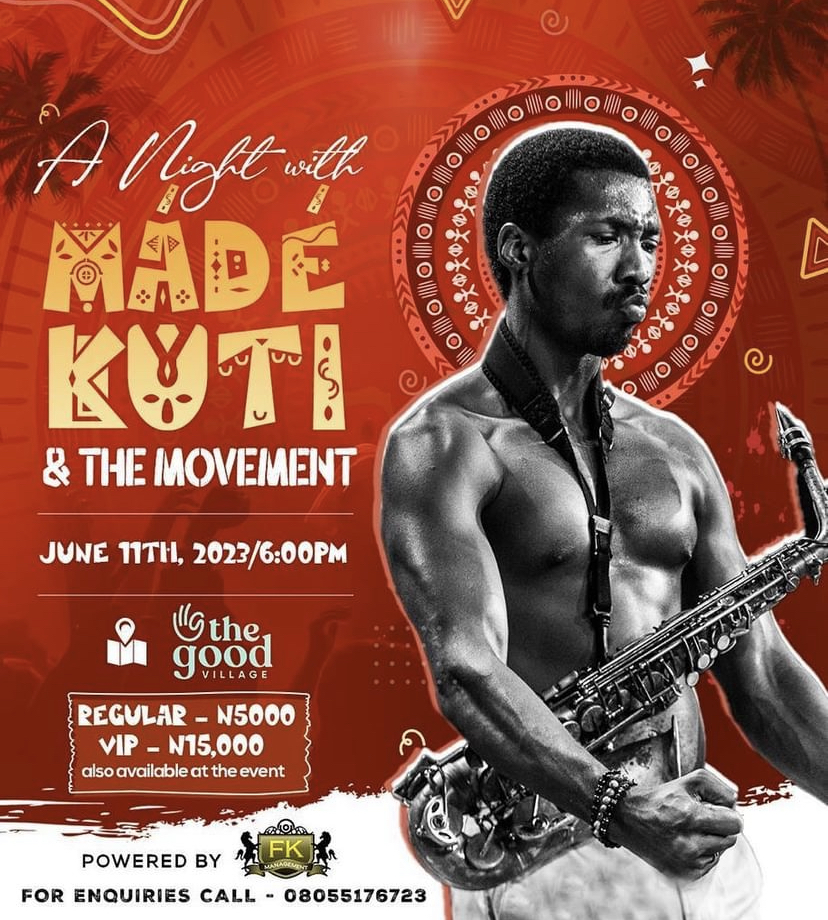 Come through for an evening of exhilarating Afro beats with Made Kuti & the Movement at the good village on the 11th of June 2023 YOU DON'T WANT TO MISS IT!! 
Date: Sunday 11th June
Time: 6 pm
Venue: The Good Beach
Entry: N5,000 Regular | N15,000 VIPIn