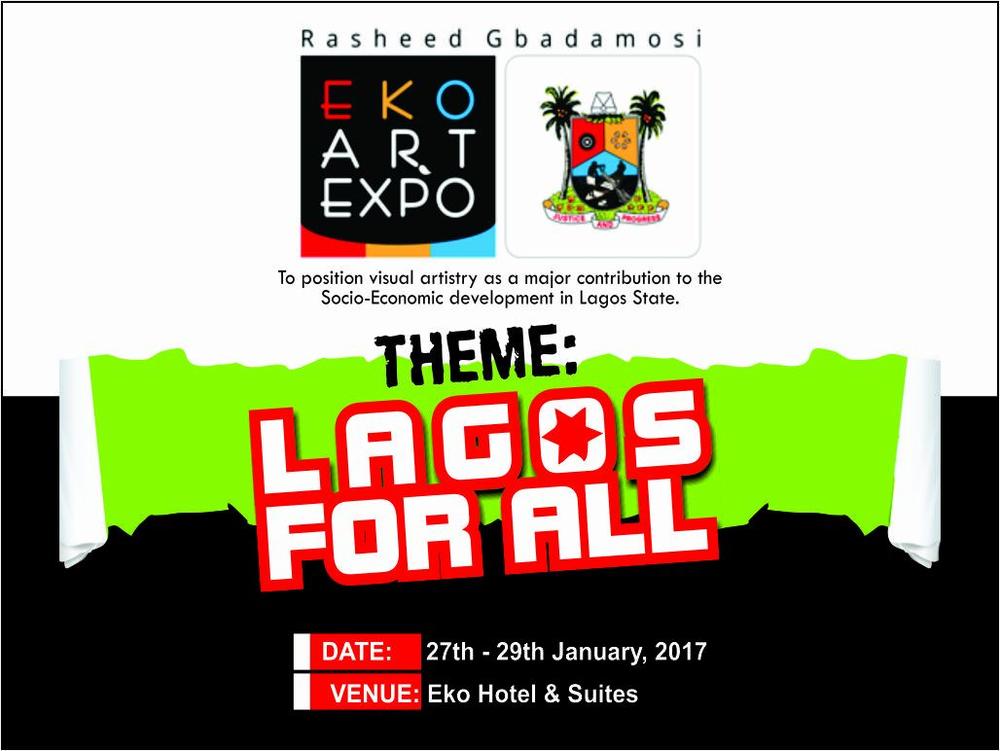 As part of the Lagos State Government's vision and support for the arts, Governor Akinwunmi Ambode would officially declare open the first edition of the Rasheed Gbadamosi Art Expo on Friday, January 27, 2017 at the Eko Hotel and Suites, Victoria Island.
Date: January 27th-29th, 2017.
Venue: Eko Hotel & Suites, Victoria Island, Lagos.
The 3-day art exhibition which holds from Friday, 27th to Sunday, 29th is set kick-start activities for the Lagos @ 50 celebrations, showcase the creativity of young and emerging artists and also honour the late Chief Rasheed Gbadamosi, who was a playwright and one of the notable art collectors in the country who also served as the co-chairman of the Lagos @ 50 Planning Committee before his death in November 2016. The Eko Art Expo been receiving favourable response from gallery owners, artists and art students all over Lagos, as hundreds of works were submitted and screened, and the very best have selected for the exhibition.
About 400 artworks and photographs would be on display at the exhibition, which will include artworks from 25 art galleries in Lagos. The exhibition would be curated by Sinmidele Adesanya, owner of MyDrim Gallery. While the Director of African Artists Foundation, Azu Nwagbogu, will curate the photographic component of the expo.The exhibition would be curated along three segments: the photographic part, which is a recreation of the works of several Nigerian artists that were exhibited at the Centre for Fine Arts in Brussels, Belgium (Bozar) where Governor Ambode was a special guest in 2016. One hundred photographic artworks from that Bozar exhibition showing different aspects of Lagos under the theme "Dey Your Lane" will be on display at the Eko Art Expo in Lagos.It will also feature two other segments where paintings, sculptures and installations by students selected from various higher institutions in Lagos State; galleries, well known masters as well as less familiar emerging artists will be on display for three days.The art exhibition is open to all artists and art lovers.
Follow @ekoartexpo on twitter and @rgekoartexpo on Instagram to follow updates or join the conversation using the hashtag #EkoArtExpo.