It's the last weekend in August and we want you to round up this month with a good time. If you're not sure how to do that, this guide is the perfect place to start. We have raves, pool parties, paint & sip events and more happening within the next few days.

Let's help you say a proper goodbye to the Summer season.
If you love our guide, you're going to love our content that covers activities beyond events. Download our e-guide, a must-have for those looking for a trusted plug for fun things to do in Lagos.
To get your event featured on the weekend list for FREE, click here
So, without further ado, here are the events for the weekend;
Friday, 25th August
KINDLY FIND ATTACHED | SOCIAL EVENT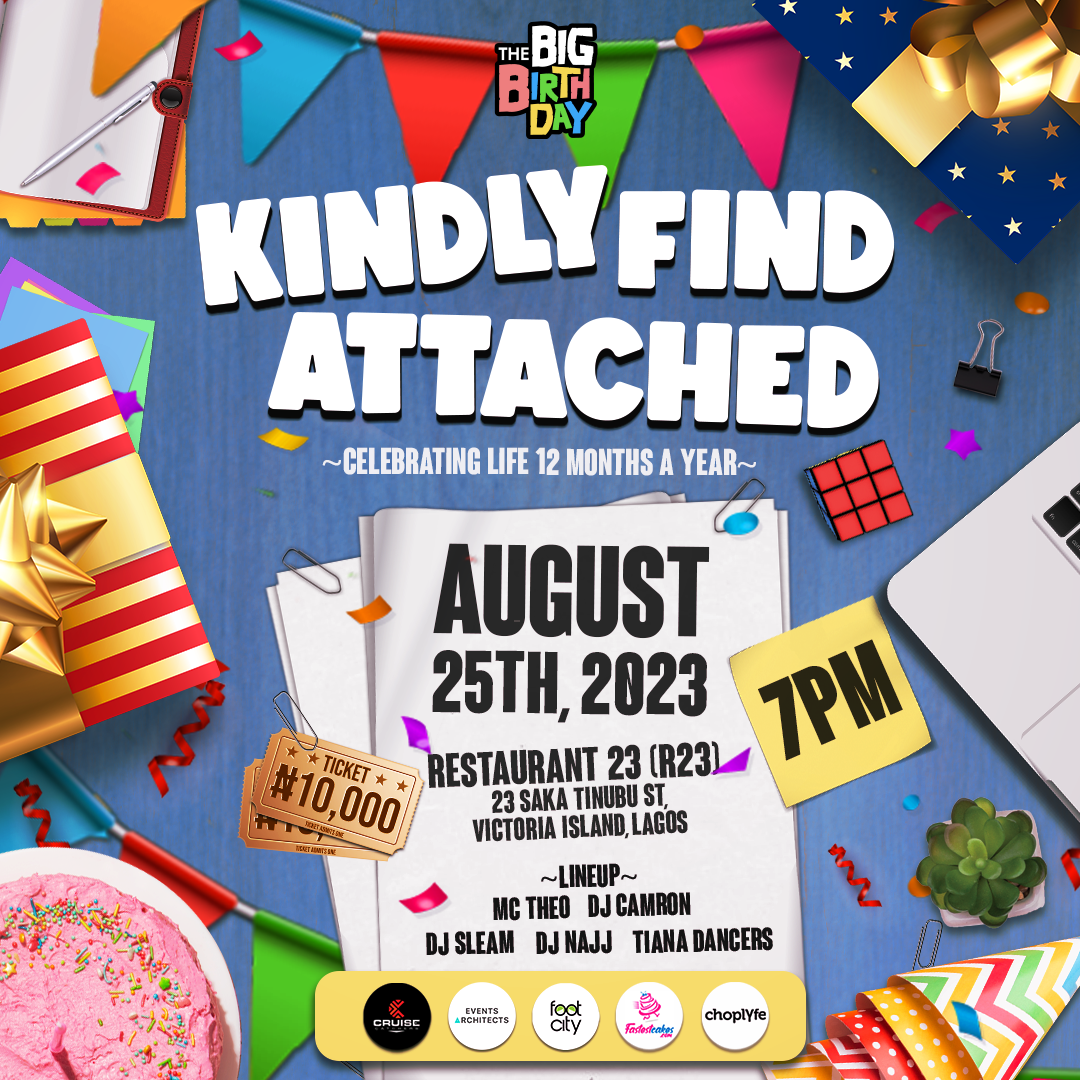 It's your one shot at celebrating your birthday with your people, having fun and making the best memories without having to go through the stress of planning.
With just 10k you get access to:
– Great music
– Exciting entertainment
– Connect with and make new friends
– Good vibes and games
– Cakes
– Gifts, photos and lots more!
Experience your birthday with your squad and loved ones like never before!
Date: Friday 25th August

Time: 7 pm

Venue: R23. Saka Tinubu street, VI

Entry: N10,000
COCO CONCERT | FESTIVAL
A Coco Fest Event to enjoy your summer. The festival happening on the beach.
Date: Friday 25th August
Time: 12 pm
Venue: The Good Beach
Entry: N13,000 | N15,000
Saturday 26th August 2023
FOOD FARM | FOOD FESTIVAL
Food farm is a quarterly food festival that brings people together to embrace the eating culture along side other activities with lots of food and drink stalls selling varieties of highly recommended and extreme good products!!!!
Date: Saturday 26th August
Time: 8 pm
Venue: The Cedar Center Jibowu Lagos
Entry: Click here
LITUATION RAVE | RAVE
Come and experience Amapiano, Afrobeats and other genres of music in its true element from the best of DJ's & Hypemen.
Date: Saturday 26th August
Time: 8 pm
Venue: Hard Rock Cafe. Landmark Village, Water Corporation Road, Victoria Island
Entry: Click here
SATURDAY NIGHT PARTY | PARTY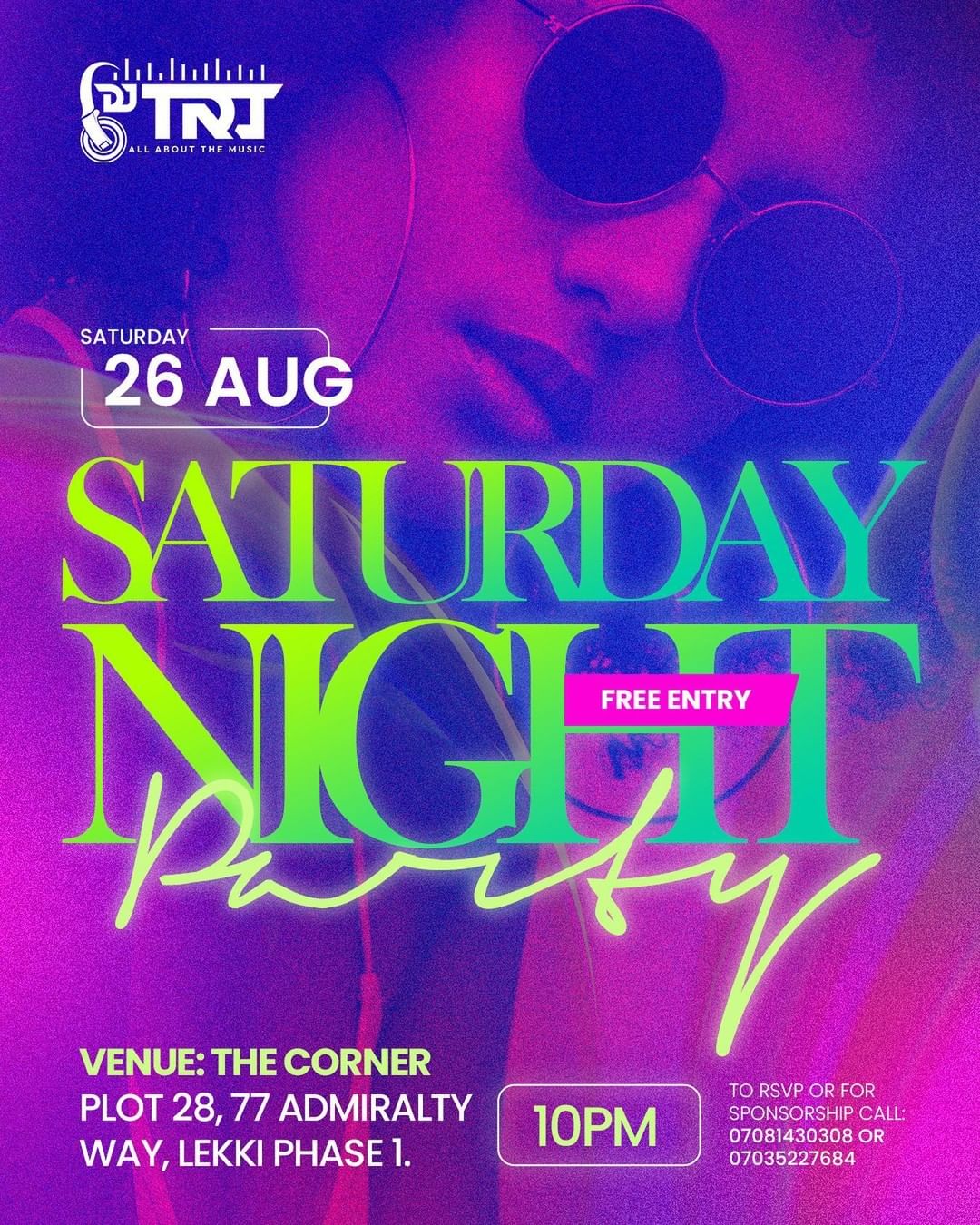 SATURDAY NIGHT PARTY IS HERE AGAIN
"Save the Date" with us as we take you to a more fun loving event filled with laughter, drinks, good music, networking, dance, and unwinding.

Date: Saturday 26th August
Time: 10 pm
Venue: The Corner
Entry: Free
PAINT PARTY | ARTS & CRAFT
Join us and Art Wine Chills with Zion , unwind in a relaxing Art looking ambiance, while getting educated and entertained with mouth watering refreshments, gifts, games, light music and a take home painting created by you with the guidance of a professional Artist.
Date: Saturday 26th August
Time: 1 pm
Venue: Kulture Yard. 2b Abba Johnston Crescent, Adeniyi Jones, inside Boet Estate
Entry: N10,000 | N15,000
SCOTFREE: LAST DAYS OF SUMMER | PARTY
Y'all deserve the very best , It's definitely going to be a big comeback and an evening of music & glamour
Date: Saturday 26th August
Venue: The Good beach
Entry: Good beach entrance fee
SUMMER RAVE III | HOUSE PARTY
We Partying This August 🫶🏾🚀🎉 Let's all come out to have a good time and party away our sorrows 🥹 We Gat you covered 🚀 It's always A Great Time with us,We are up people. Come with Your Best Fit 🚀❤️( Best fit going home with something)
We lit on 26th 🕺🕺🕺🕺 100% Security.
Date: Friday 26th August
Time: 10 pm
Venue: 15B Oladimeji Alo street, Lekki phase 1
Entry: Early bird – N3k-5k | Standards – N5k – 8k
VEGAZ ROAST
Get ready for:
– Mirror selfies
– Awesome games
– Groovy music
– Secure storage for your stuff
– Color-coded ribbons to show off your relationship status for network
FREE RAM MEAT named "EMEFIELE" 😅 to satisfy your taste buds. Vodka shots to get the party going. And mouthwatering food prepared by @chefluoflagos
Date: Saturday 26th August
Time: 12 pm
Venue: 7 Raymond Njoku Ikoyi
Entry: Click here
Sunday, 27th August
BALLOONS & CUPS
Missed the earlier waves? No worries! We're thrilled to announce the Late Bird Ticket for Balloons and Cups at just 10k! 🎈
Don't miss out on this final chance to join the party. Grab your ticket now and get ready to dance the night away! 💃🕺
Date: Sunday 27th August
Time: 2 pm
Venue: Mera Mera, Victoria Island
Entry: RSVP