It's finally salary week and 'phew' what better time to take out some funds to indulge and celebrate the end of the month? If you are like us, and want to make the most of your 'salary weekend', we've curated this list of exciting things to do in Lagos. The world is your oyster, pick an interest.
If you love our guide, you're going to love our content that covers activities beyond events. Download our e-guide, a must-have for those looking for a trusted plug for fun things to do in Lagos.
To get your event featured on the weekend list for FREE, click here
So, without further ado, here are the events for the weekend;
Friday 28th
SHUFFLE FRIDAYS | PRE-DRINKS
Come through with your crew to pre-game at 355. Enjoy discounts on cocktails, play games and network with fun people.
Date: Friday 28th July

Time: 6:00 pm

Venue: 355 Landmark, Water Corporation road, Victoria Island

Entry: Free
BIG BIRTHDAY| BIRTHDAY PARTY
July babies, celebrate your birthday this Friday at the Big Birthday. Cake, music, and fun, all supplied. Just come through with your friends and have a great time.
Time: 7:00 pm
Entry: Buy tickets here. Don't forget to use our code DWeekender upon checkout.
Saturday 29th
CARDIO AND CHILLS | FITNESS
Fitness buffs get in here! Join AK Smuth for a session of workout, good music and fun.
Time: 8:00 am
Venue: Sol by Box Mall- Water corporation road, Victoria Island
Entry: N15-20,000. Click here to buy.
AMAPIANO LEFT AND RIGHT | NIGHTLIFE
If you love Amapiano, get in here! Join the best DJs in Lagos to enjoy the best Amapiano sounds.
Time: 10:00 pm
Venue: Spice Route, Adeola Odeku, Victoria Island
Entry: Free
SWEAT IT OUT | HOUSE MUSIC RAVE
Lagos underground house music event, Sweat it Out is back for another edition and this time to celebrate its fourth anniversary. DJs dishing the best vibes include Aniko, A.T.A, and Tomce.
Time: 11:00 pm
Venue: Next Thought Studios, Elegushi beach road, Lekki
EKONDO PAINT AND PLANT PARTY | WELLNESS
Plant mums and dads, join other plant lovers to paint, shop for new plants and connect with fellow plant lovers while learning how to care for your plants.
Time: 2:00-6:00 pm
Venue: EDEN by Monty, Lekki
Entry: Click here to register
HOUSE OF VIBES | NIGHTLIFE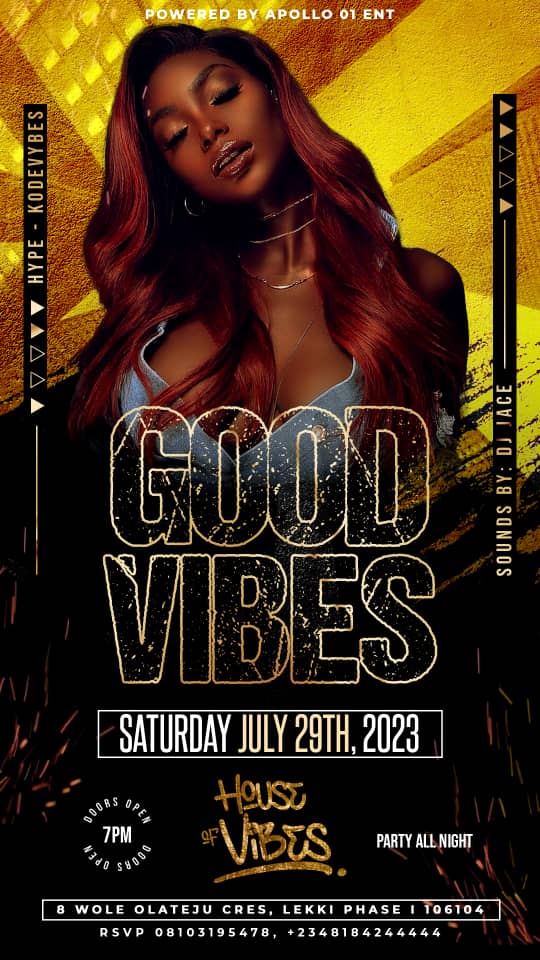 Time: 7:00 pm till late
Venue: Hov Resto Bar
Entry: Free but reservations are advised


Sunday 30th
BAD BEACH | BEACH PARTY
 Sunday at Ilashe is now on land. Landmark Resorts plays home to Lagos' best private beach experience. Party with the hottest baddies and guys in Lagos this Sunday at Bad Beach.
Time: 2:00 pm
Venue: Landmark Resorts, Water Corporation Road, Victoria Island
Entry: Click here for tickets