Tis the month of merry and the ho-ho…holidays are here.
The fact that this year was such a rush and we're in the last month of the year is trippy and exciting, but know (as per usual) we'd be bringing you the spiciest events happening in Lagos every weekend as we wrap up the year.

P.S. (Guide Update): The Weekend Guide will now be packed with events from Thursdays to Sundays.
To get your event featured on the weekend list for FREE, click here
Friday, Dec 2nd
Rave: The Reunion
This Friday, DJ Consequence is ready to make us bear the consequences outside, in Surulere.
This is not a club party, it's a Lynkup party.
Time: 5 pm
Venue: The Stable, Bode Thomas, Surulere Lagos
Entry: Tickets cost (N2,200). Visit here
Rave: The Experience
The largest free Gospel event on the continent, #TheExperience17, will kick off in just some hours. This is the best way to see all your Gospel favourites perform your best songs live. Music, Prayer, Word, Revival, dancing and laughter all rolled into one unforgettable experience. You cannot miss this.
Time: 7 pm
Venue: Tafawa Balewa Square
Entry: This event is free
Road Trip: First Friday's 'Get on the Bus'
ExploRas can you believe that we are fully in onwa December? We can't but let's make it overcount! Issa team litty roll call
Lagos, your favourite danfo cruise is back, for the last FF this year!
Get on the bus for EXP's December First Friday!
Time: 7 pm
Venue: For the safety of our exploRas, we do not announce the route until the day of the event. However, our meet-up locations are on the island (i.e. Lagos Island, Ikoyi, VI, or Lekki) for now. So plan accordingly.
Entry: Tickets cost (N2,000). Visit here
Night Life: South Socials on the Beach
New Location Alert!! South socials are back with thrilling excitement and never-ending grooves with your favourite party.
Time: 7 pm
Venue: Moist Beach, Oniru Lagos
Entry: This event is free
Saturday, Dec 3rd
Festival: Afro Youth Fiesta
Afro youth fiesta full details out!
Save the date & don't miss out.
Time: 2 pm
Venue: The Cedar Centre, Jibowu Yaba
Entry: Tickets cost (N1500 Early bird) & (N2,000 at the venue). Visit here
Art Exhibition: A Glimpse
Dear friends, you are cordially invited to "A Glimpse", an exhibition of paintings by visual artist Lara Ige-Jacks.
Opening at Didi Museum 175 Akin Adesola Street Victoria Island Lagos from the 3rd- 9th of December 2022.
Time: 4 pm
Venue: 175 Akin, Akin Adesola Street, VI Lagos
Entry: This event is free.
Beach Hangout: Lagos Singles Festival
Get ready people. We are ending the year in a grand style…Very single Lagosians X @landmarkbeachlagos
Time: 5 pm till dawn
Venue: Landmark Beach Lagos
Entry: Tickets cost (N8,400 for General access). Visit here
Rave: Ekolectro
Èkólectronauts! Yes, this is it, Our 10th edition, X.
We have gathered the juiciest line-up with 16 DJ's ranging from the best local acts to the grooviest.
Time: 5 pm
Venue: Location to be disclosed upon payment
Entry: For Tickets(N15,000) and Bookings, email : (Ekolectro@gmail.com)
Night Life: Nostalgia Masked Party
BENIEMANIA will be hosting one of the dopest MASKED PARTY EVER, and we are using this to kick start the DETTY DECEMBER MOOD.
Time: 7 pm
Venue: ROMA, Lekki Phase 1
Entry: Tickets cost (N5,000 Per person) & (N20,000 Group of 5). Visit here
Rave: Raw Cruise Party (Hide & Chill Edition)
Hey, Raw Cruisers you don't wanna miss our last edition of the Raw Cruise Party! Raw Cruise Party – Hide & Chill Edition. We've got something for you.
Time: 7 pm
Venue: 5 Adeola Hopewell Street, VI
Entry: To register, visit and fill here
Night Life: Games & Self Care
Looking for something different and fun? Tired of the usual games night where there's nothing new to do? "Games & Self Care" is a fun event for adults looking to network and partake in self-care and games.
Time: 8 pm
Venue: 3 Balogun Udo Street, Idado Estate, Lekki
Entry: This event is free for women but costs (N10,000) for men.
Sunday, Dec 4th
Live Performance: Paulo Sundays with Johnny Drille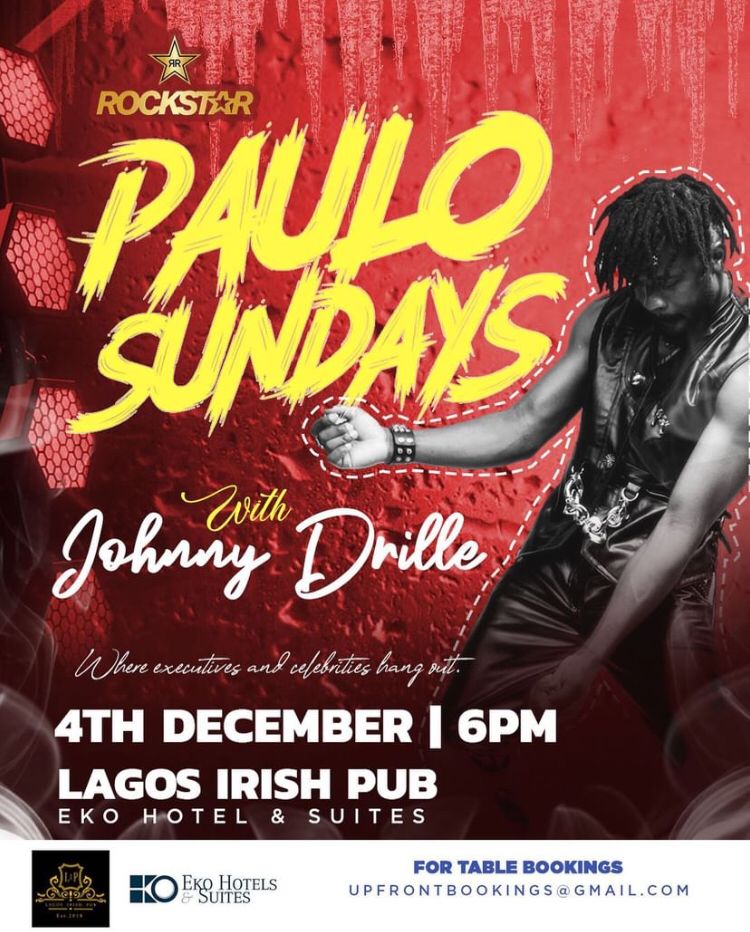 Experience hot music from your fave this Sunday at the EKO hotel & Suites.
Time: 6 pm
Venue: Eko Hotel & Suites
Entry: For table bookings, email: upfrontbookings@gmail.com