A lot of us can agree that March was quite a busy month with so much economic and political impact. This is the reason why you deserve to round up the hectic moments with enjoyable ones. Also, you get a great head start with a new month (let's not forget that it's also salary week). As usual, we have got you covered with the many ways you can unwind this weekend.
To access other activities beyond events, download our e-guide, a must-have for those looking for a trusted plug for fun things to do in Lagos.
To get your event featured on the weekend list for FREE, click here
Friday, 31st
Wet and Wild Friday | Pool party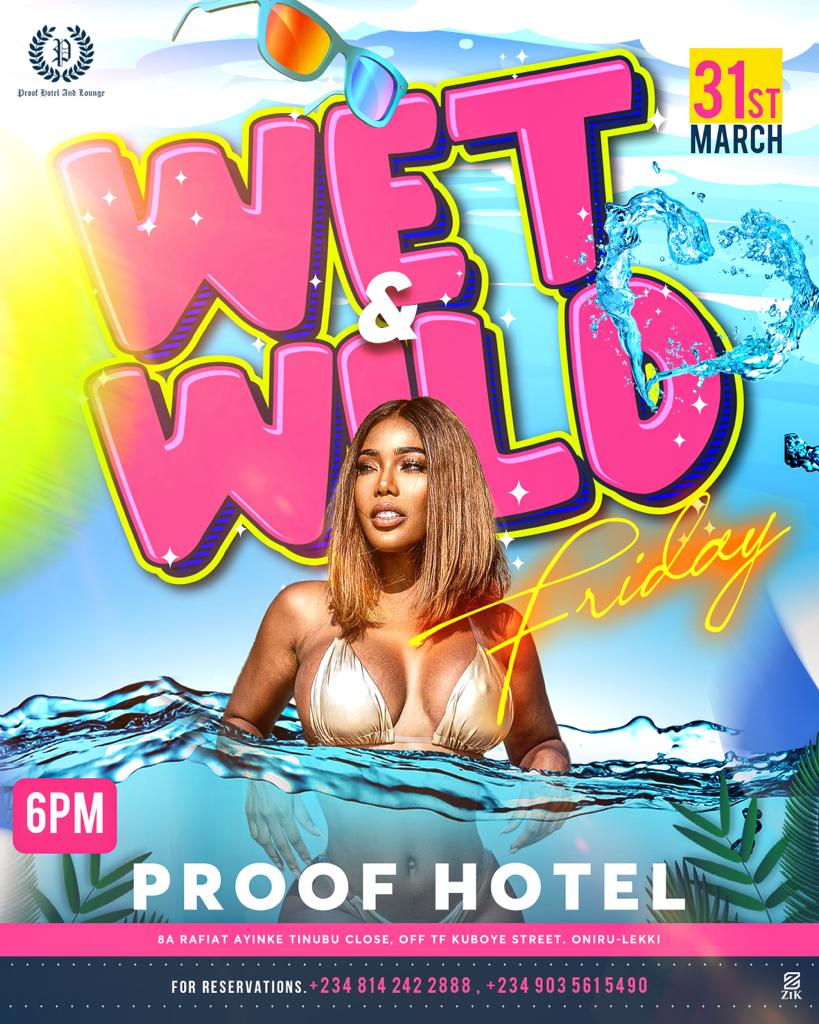 It's going to be a Wet and Wild experience at Proof Hotel and Lounge this Friday. If you're looking to unwind and kick off your night, come through to enjoy premium adult entertainment and side attractions by the poolside.
Date: March 31st
Time: 6:00pm
Venue: Proof Hotel and Lounge, Oniru-Lekki
Entry: Free. Call 08142422888 for reservations .
All White Silent Disco | Beach Party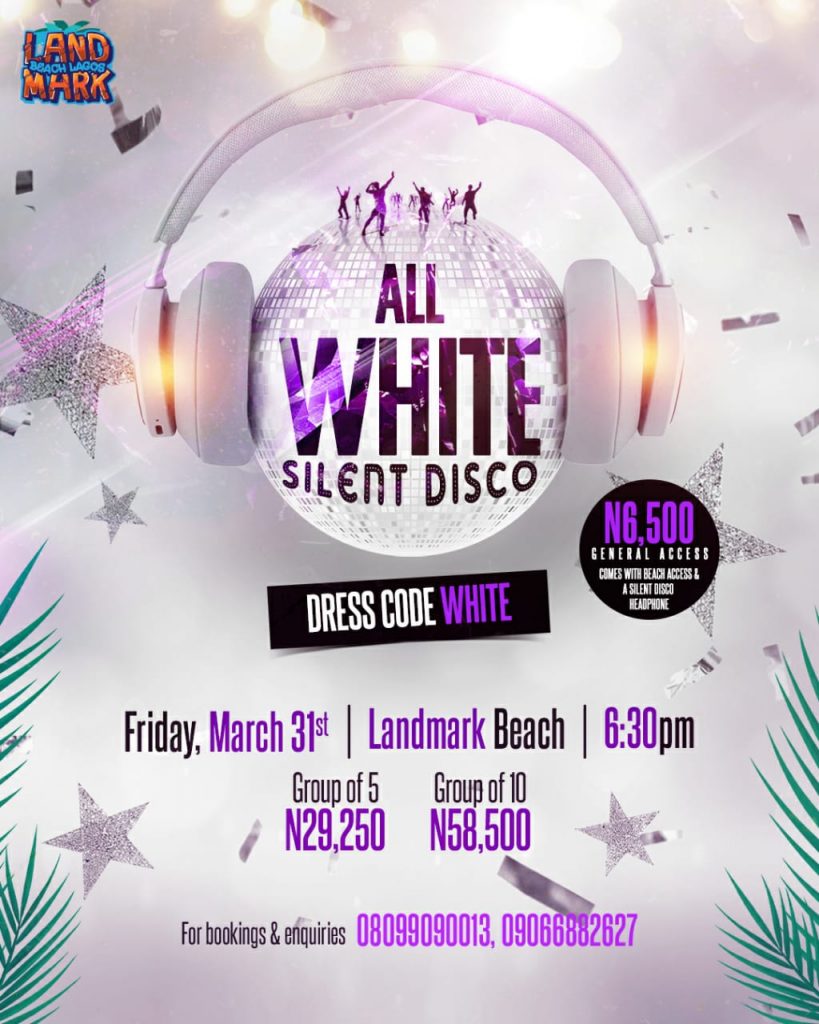 Get ready to turn up the heat at the All White Silent Disco Party.💃
It's going to be one epic night; come enjoy the waves, a punch of electrifying music, and boatloads of fun with your squad. And what's more, the Weekender squad is going to be there. So pack up and come have some fun with us.
P.S. There's a special discount on all ticket types when you use our special link.
Date: March 31st
Time: 6:30pm
Venue: Landmark Beach.
Entry: General Access, N6,000.
Movies by the pool | Movie viewing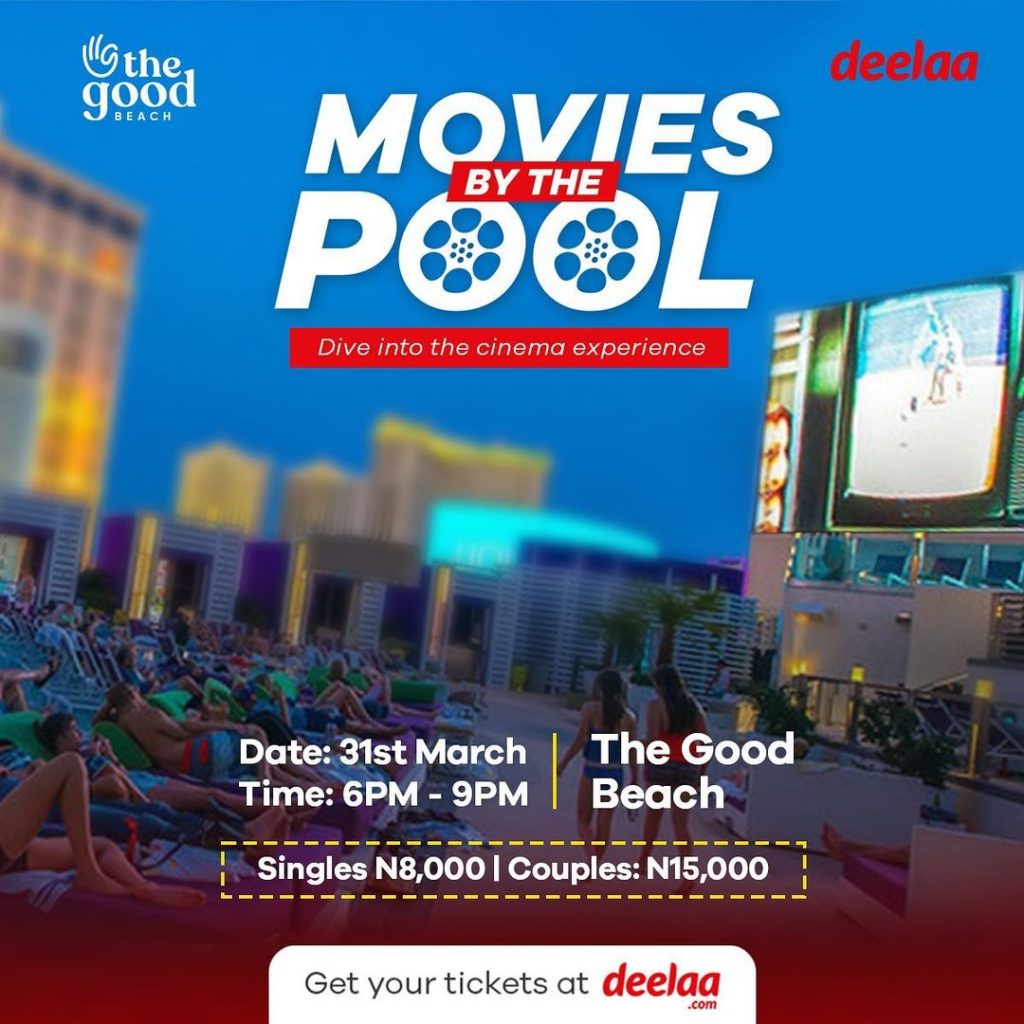 Experience a calming and engaging movie session at "Movies by the Pool". Don't miss the chance to join us at Good Beach for an unforgettable movie experience.
Date: March 31st
Time: 6pm – 9pm
Venue: The good beach
Entry: Singles – N8,000 | Couples – N15,000
The Witness | Stage Play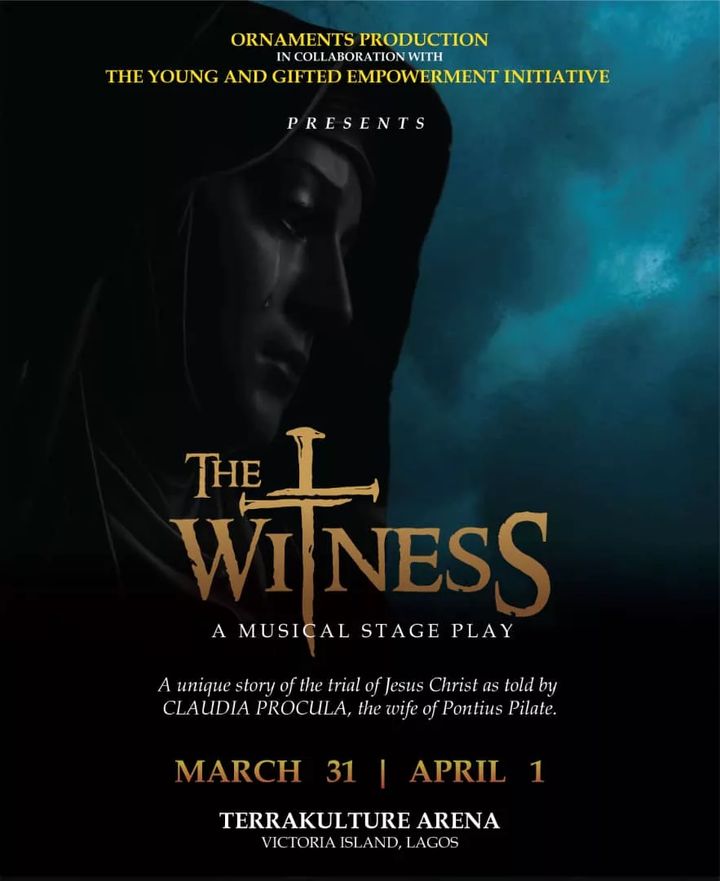 "The WITNESS" is unique version of the passion story through the eyes of Pilate's wife, Claudia.
Date: March 31st & April 1st
Time: 3 pm & 7 pm
Venue: Terra Kulture
Entry: Early bird – N10,000 | VIP – N20,000 | VVIP – N40,000
The Big Birthday Communitopia | Party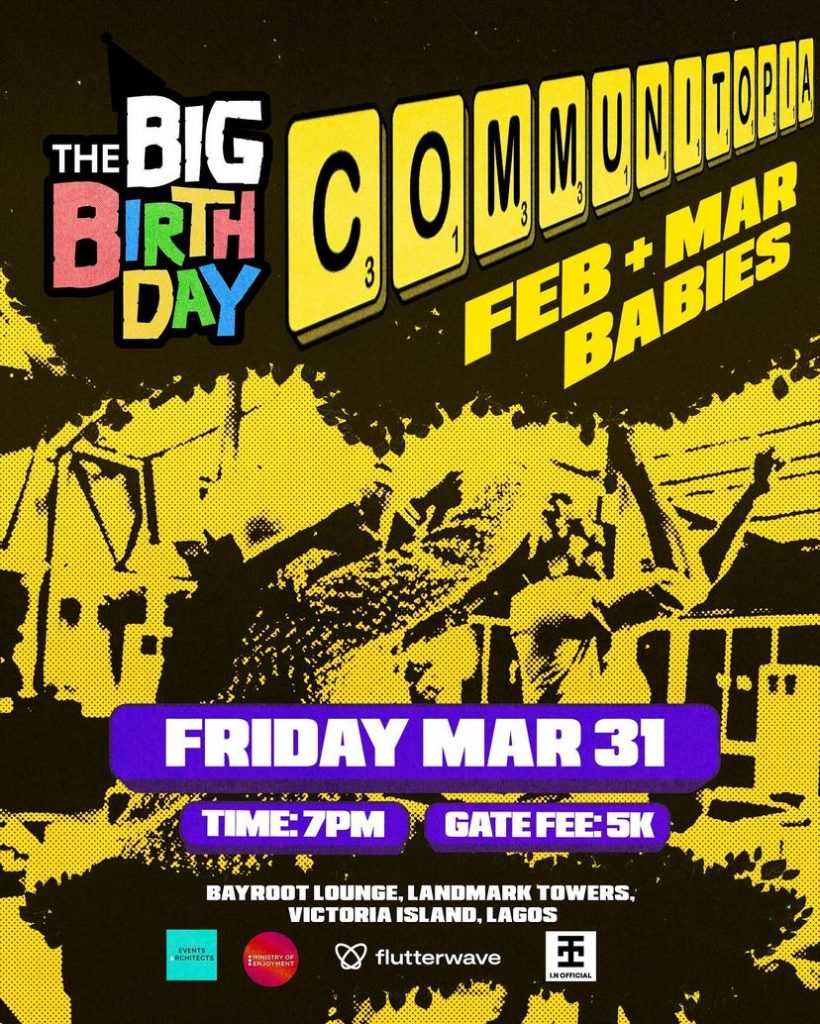 A big birthday bash for the February and March babies!
Date: March 31st
Time: 7 pm
Venue: Bayroot Lounge
Entry: N5,000
Woke party | Afro rave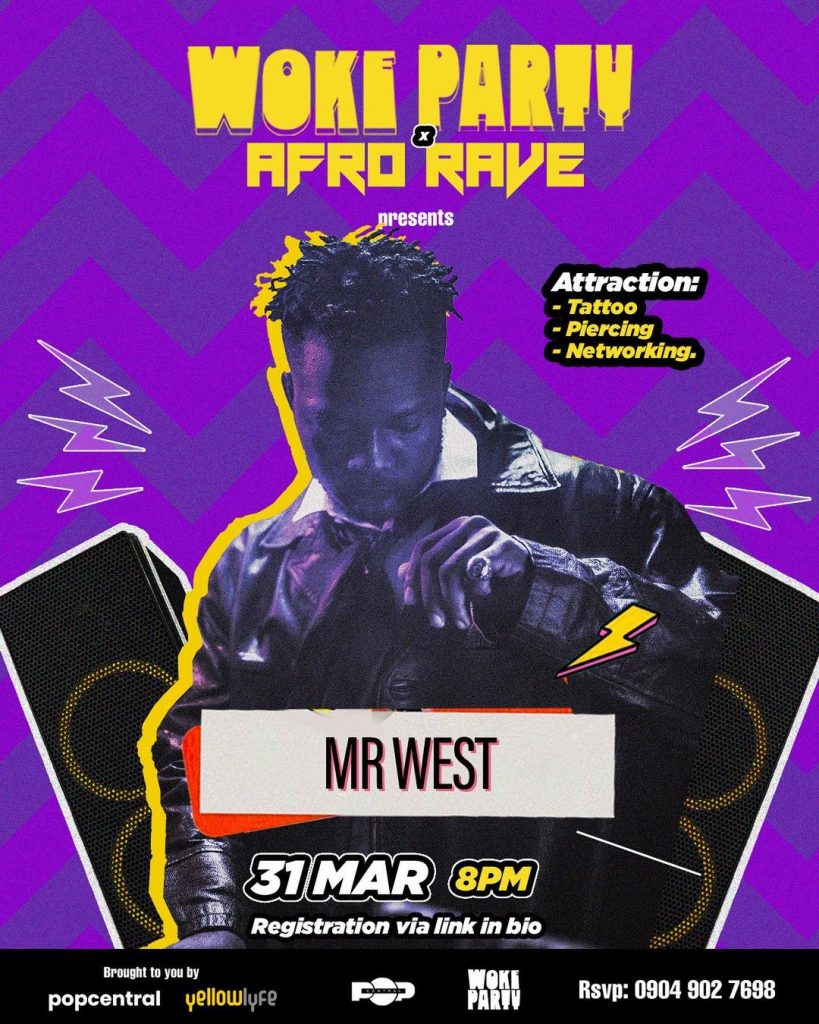 If you're a fan of raves, this event is definitely for you. The side attractions include: Tattoo, piercings and networking.
Date: March 31st
Time: 8 pm
Venue: Popcentral TV. The Rock Drive Lagos
Entry: Free
Tipsy Friday | Nightlife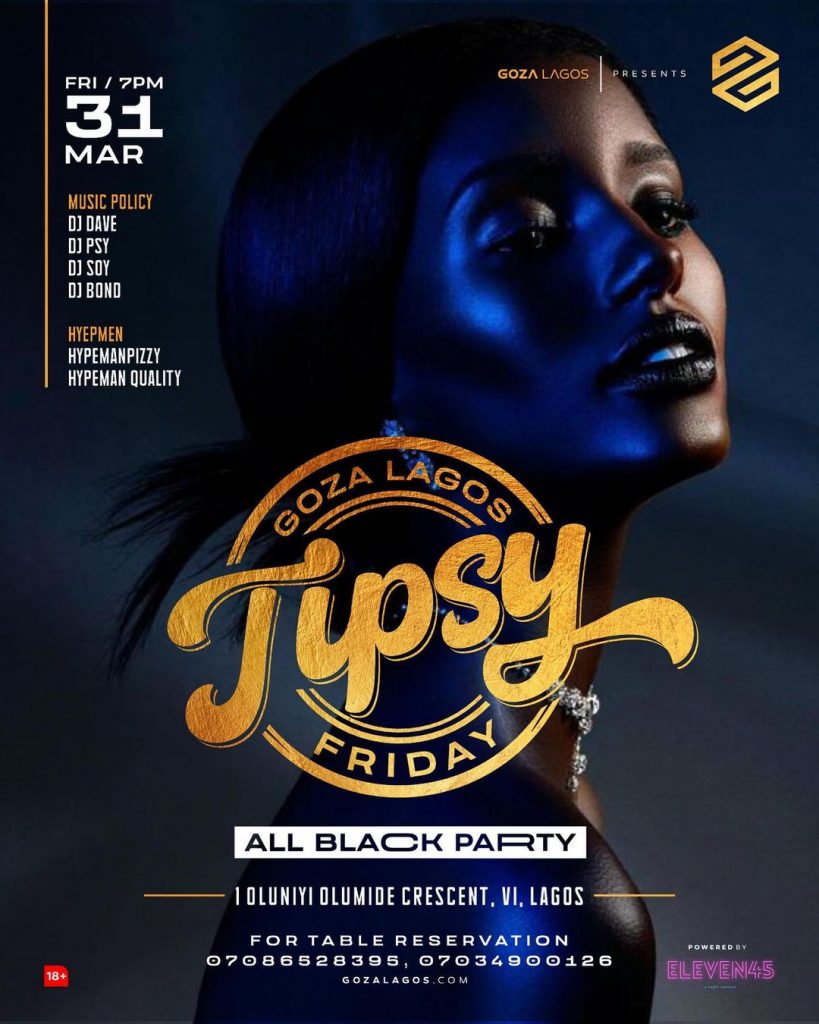 Tipsy Friday is back! Party with us at GOZA Lagos in your ALL BLACK outfit and walk through the red carpet in style.
Date: March 31st
Time: 7 pm
Venue: Goza Lagos
Entry: Free
Weekends with Ric Hassani | Live show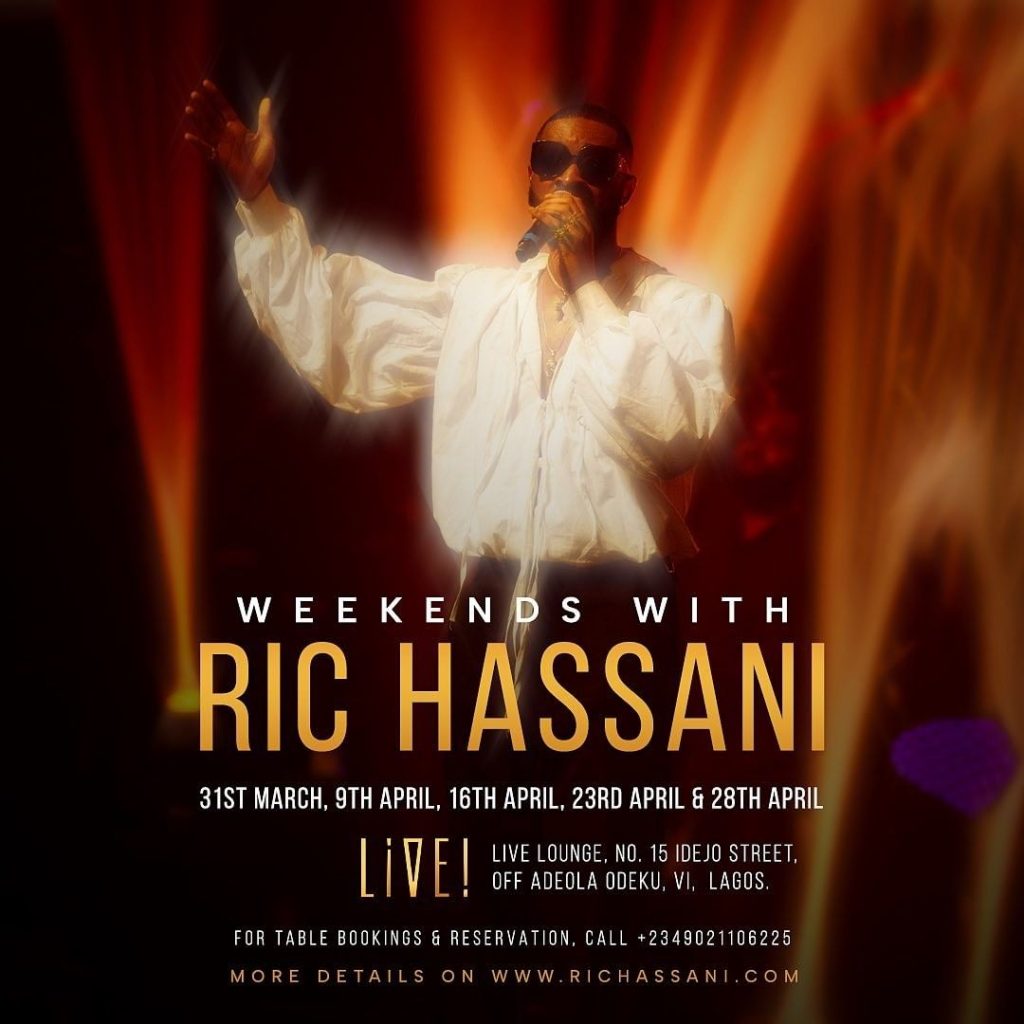 Date: March 31st (Check flier for others)
Venue: Live Lounge, VI
Entry: Reservation Adviced
Saturday, April 1st
Surf and shoot| Beach activity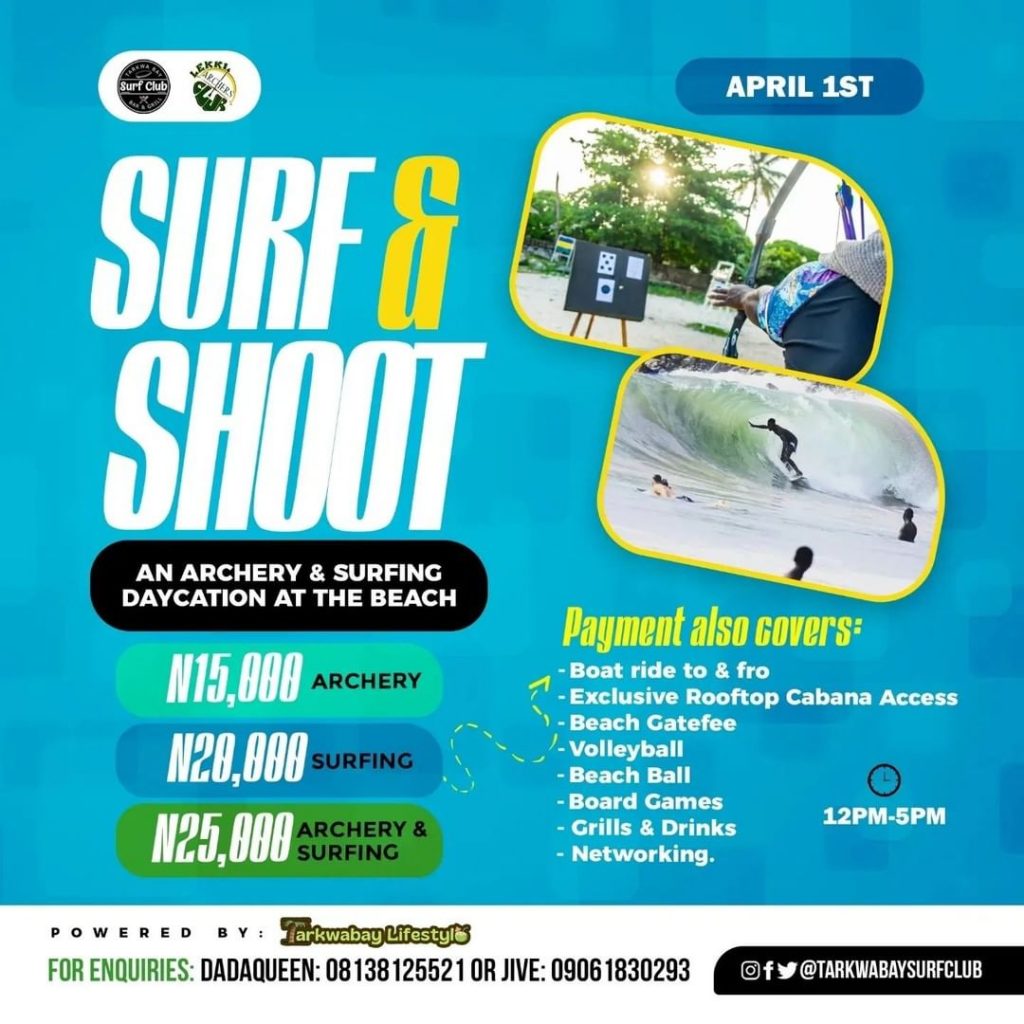 Ever wanted to learn archery? Or wondered if you could surf in Lagos? Here is a solution and an answer. You can get to do both things at the TarkwaBay Lifestyle Daycation. Network and catch good vibes while doing your favorite thing.
Date: April 1st
Time: 12:00pm
Venue: Tarkwa Bay Beach
Entry: N15,000
A Billion Laughs | Comedy Show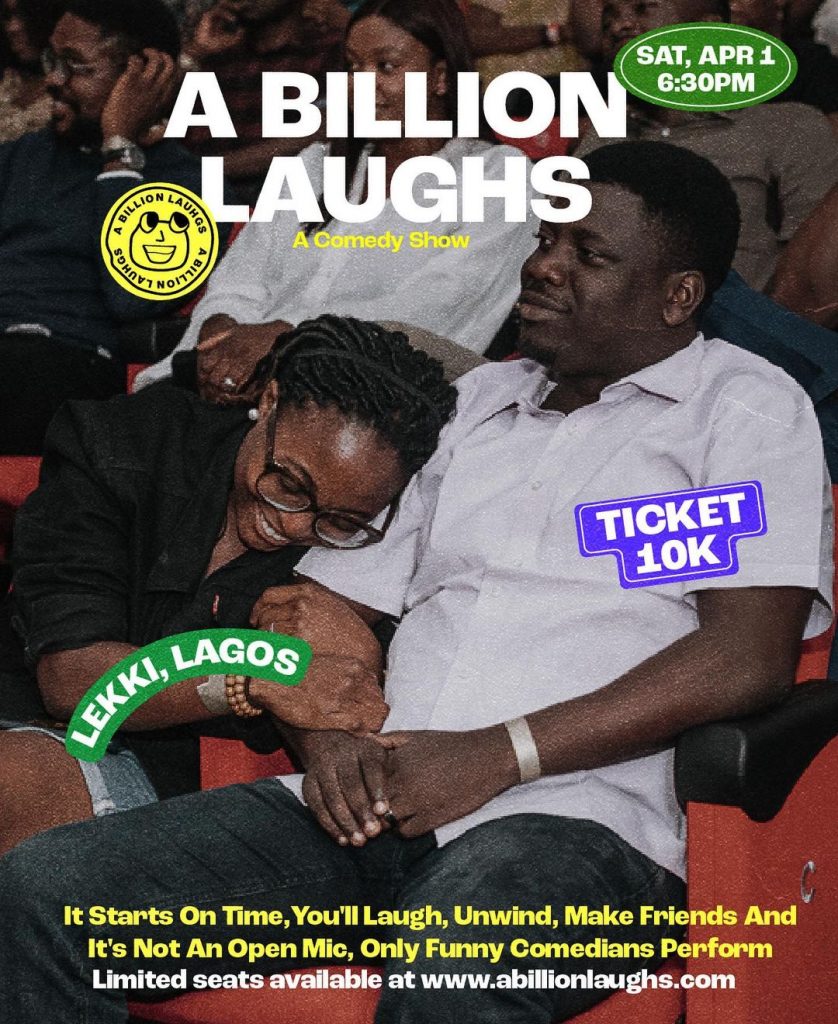 Enjoy good comedy and great laughs at an affordable price.
Date: April 1st
Time: 6:30 pm
Venue: Lekki, Lagos.
Entry: N10,000.
In the Mix | Trade Fair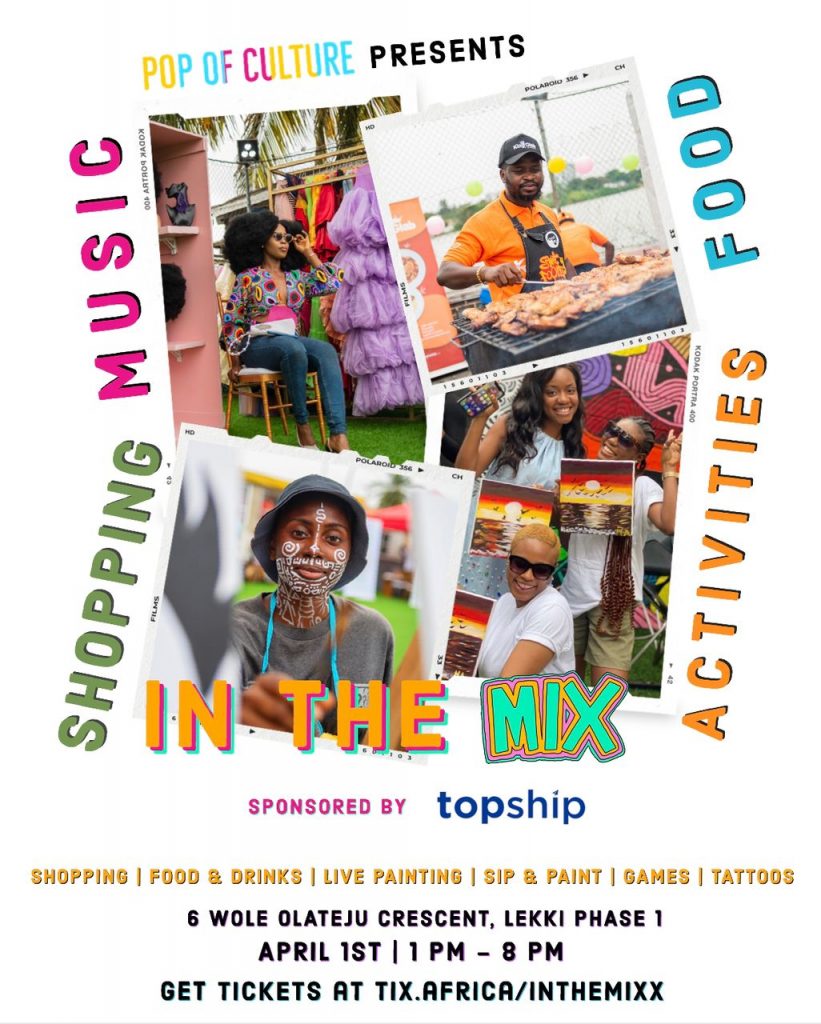 You shouldn't miss our IN THE MIX pop up for anything! Come have the best buys from your favorite brands, network, and enjoy other interesting side attractions curated especially for you.
Date: April 1st
Time: 1 pm – 8 pm
Venue: 6 Wole Olateju Crescent, Lekki Phase 1
Entry: Free
Open house | Property viewing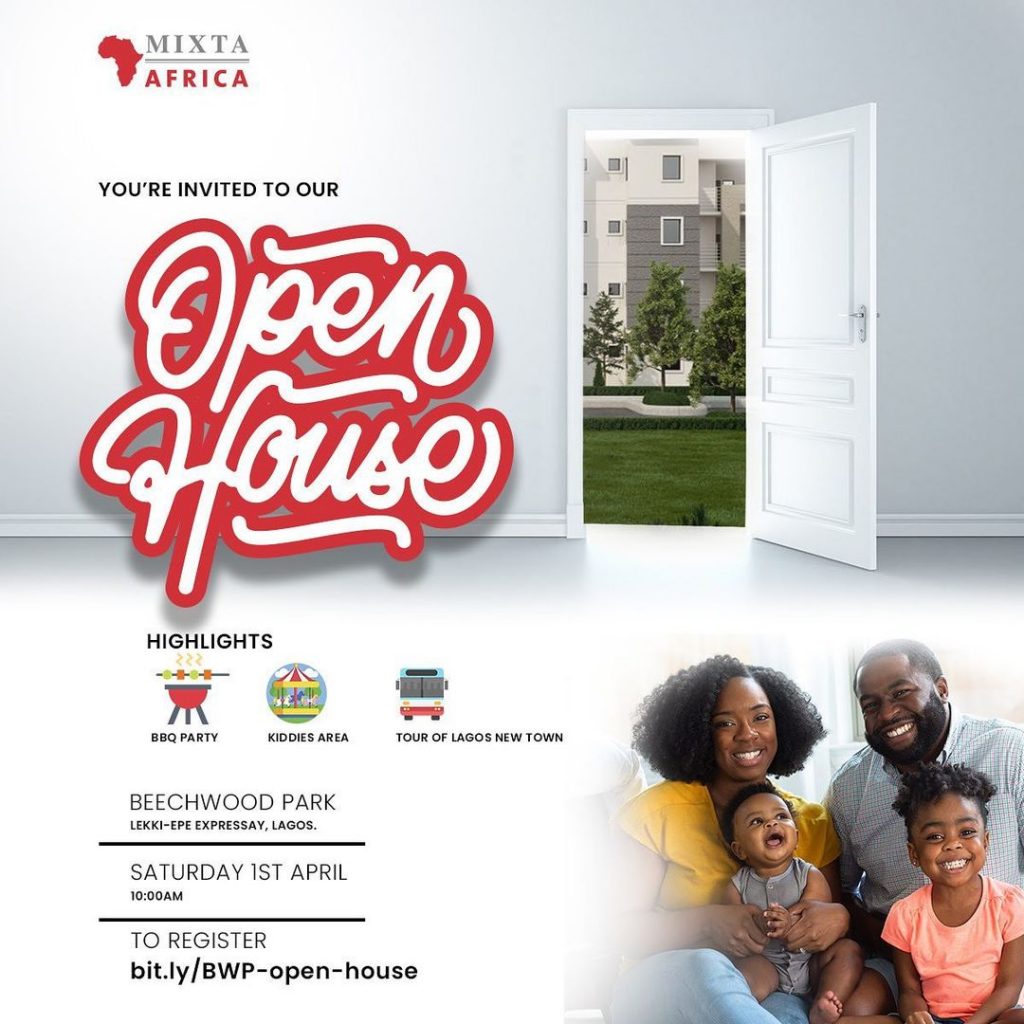 Date: April 1st
Time: 10 am
Venue: Beechwood Park
Entry: RSVP
Live Band Night | Live Band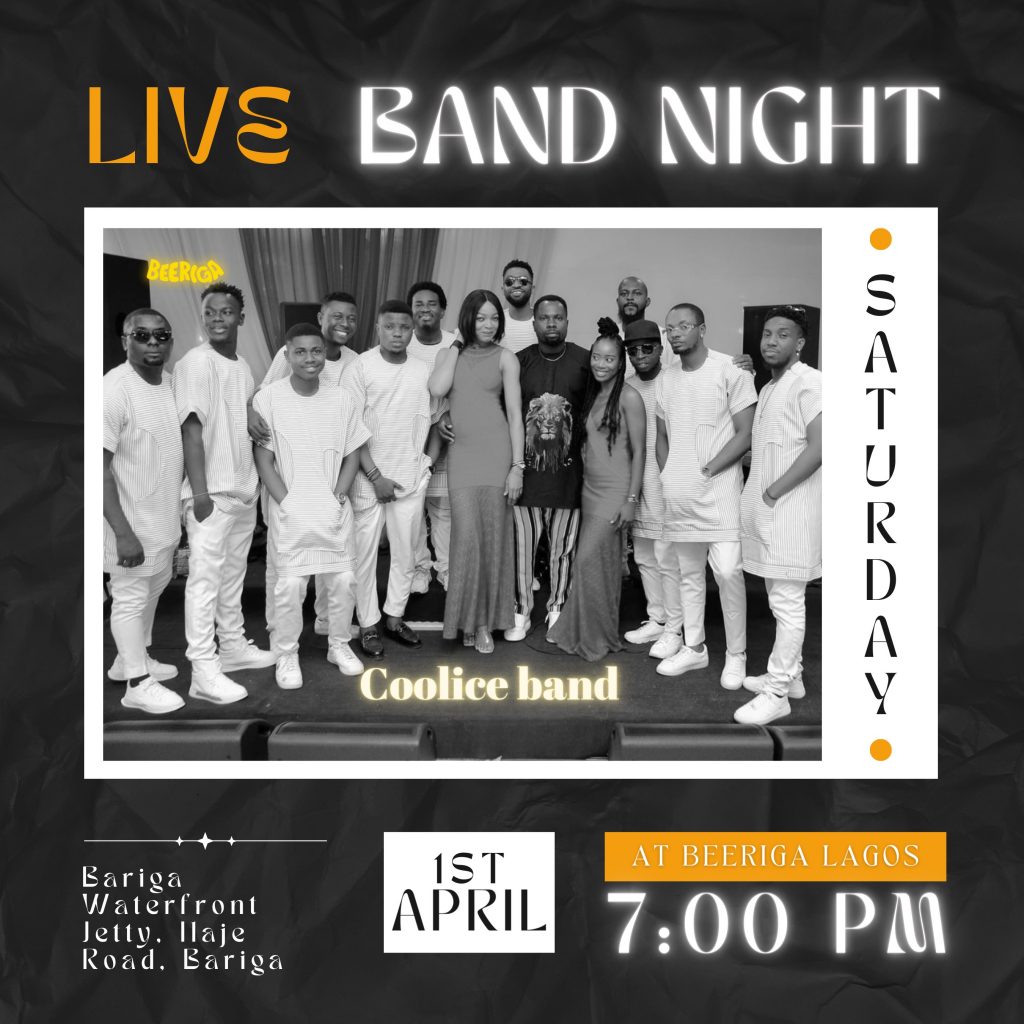 Date: April 1st
Time: 7 pm
Venue: Bariga Waterfront
Entry: Free
Sunday, April 2nd
Jazz Night | live band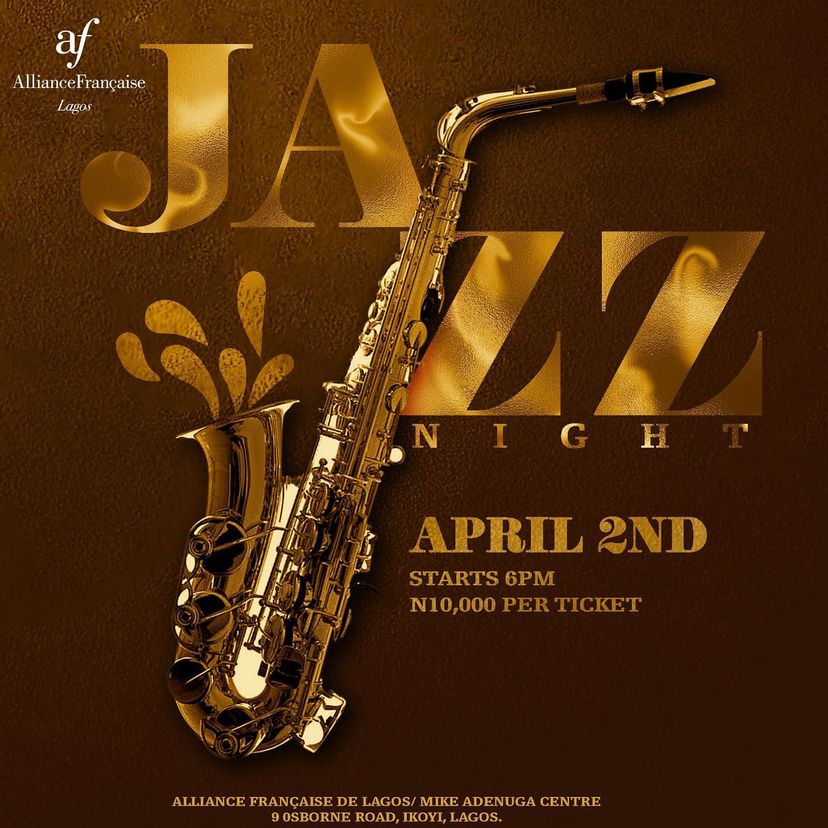 Alliance Francaise is kicking off April with an event to anticipate! For all the music lovers, join for a night of smooth jazz. From classic tunes to improvised music, get ready to dance the night away to some of the best jams this weekend. There is no better way to start the month than with some sweet live jazz and great company.
Date: April 2nd
Time: 6:00pm
Venue: Alliance Francaise, Ikoyi
Entry: N10,000