Three big cheers to the weekend! You deserve a break, no matter how short, and what better way than to do something fun? We've compiled a list of fun events happening in Lagos from November 18 to November 20, so you don't have to be confused about what to do.
Make the most of this mini-break!
To get your event featured on the weekend list for FREE, click here
Friday, Nov 18th
Concert: Smirnoffng/ No known Address
View this post on Instagram
Smirnoff's No Known Address makes a return, hosting misfits to an evening of infamy with Hotel Smirnoff. The location is secret and reserved only for those who embody the spirit of infamy. With an A-list lineup of Music artistes, DJ's and performances including Naira Marley, BlaqBonez, Ayra Starr, Bella Shmurda, DJ Spinall, Shody, Dj Wysei Dj Titanium and a host of others.
Time: 6 pm
Venue: Uknown
Entry: Free, Visit here
Night Life: King Fisher (Chill & Vibes)
Chill and vibes are happening tomorrow, and you don't want to miss all the fun that comes with it.
Time: 7 p.m.
Venue: 1 Wole Olateju Street, Off Admiralty Way, Lekki Phase 1
Entry: This event is free.
Night Life: 2 Baba Live @ Casper & Gambini's
What's your favourite @official2baba song? Prepare to come to sing along this Friday.
Time: 10 pm
Venue: Ikeja City Mall
Entry: Strictly by reservation. For VIP and table reservations 08170011228
Night Life: Nostalgia (Back to the 90s)
It's time to get your groove on! This Yard Friday, November 18th, we are going all the way back to the '90s.
Get ready for Nostalgia as we bring back the '90s vibes and childhood memories in an atmosphere of fun, good music, good food and great people. The dress code is from the '90s.
Time: 10 pm
Venue: 30B Admiralty Way, Lekki Phase 1
Entry: This event is free
Saturday, Nov 19th
Tradefair: MarketPlace Fair
Are you ready for the biggest marketplace fair? Get ready! The marketplace is going to be a fun place to be, with loads of activities to give you an awesome experience. Make it a date with us!
Time: 10 am – 6 pm
Venue: Osborne Foreshore Estate Phase 2
Entry: This event is free.
Trade Fair: Xmas Market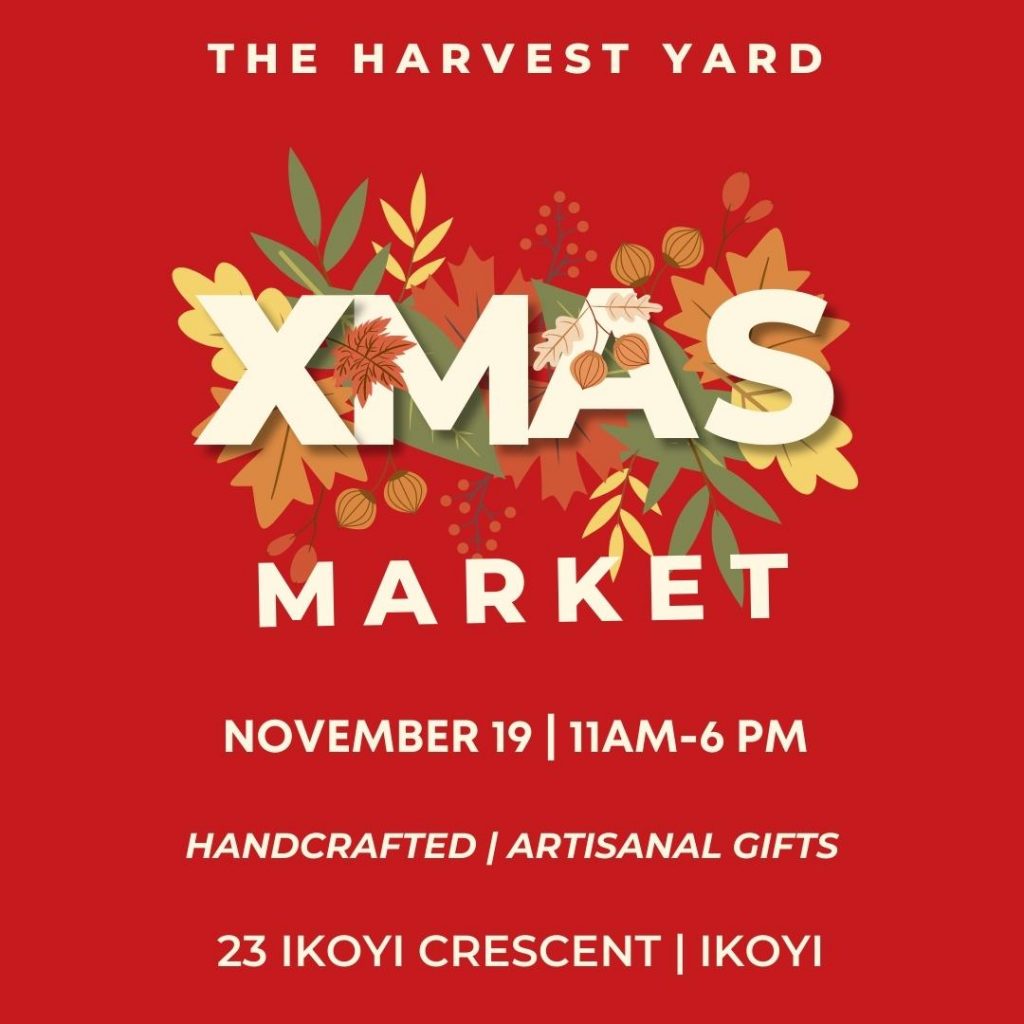 Begin your Christmas shopping early with access to discounted products from different vendors. Get access to fresh products and unique goods all at an affordable rate in one venue.
Time: 11 am – 6 pm
Venue: 23 Ikoyi Crescent Ikoyi
Entry: This event is free
Speed Eating: Suya Eating Competition
Hey! Lovers of suya and spicy foods this is your chance to win a quarter of a million. Don't sleep on this!!
Time: 12 pm – 2pm
Venue: Sooyah Bistro, Admiralty Branch, Lekki 1
Entry: This event is free
Beach Hang Out: Back to the Roots (Tarkwa Edition)
24h of full enjoyment along the Lagos Atlantic Ocean coastline. Experience the Pop Beach Club atmosphere and let the rhythms of Lagos's top dance DJs guide you through a journey carefully curated to allow creative expression through art, and music.
Time: 12 pm – 12 pm
Venue: Pop Beach Club, Tarkwa Bay
Entry: Tickets cost (N10,000)
Sip & Bake: Boozie Bakes
Come experience the first-ever sip and bake events this weekend.
Time: 12 – 2 pm
Venue: Sycamore By One Basket, 30A Bashiru Shittu Avenue
Entry: Tickets cost (N20,000)
A Play: Baby Shower
BABY SHOWER is one that takes you on a bumpy ride of the journey of four friends who bite more than they can chew. Feelings get hurt, emotions go into overdrive, too many cards on the table to have a good game.
Time: 5:30 pm ( 1st show) & 7:30 pm (2nd show)
Venue: Terra Kulture, Victoria Island
Entry: Tickets cost (N5,000). Contact 07062970777, for ticket purchase.
Rave: House Nation
Hey guys, it's that time again …. House Nation is back on the 19th, and what a line-up….we have something for everyone with this truly amazing line-up
Time: 10 pm
Venue: 36 Adeola Odeku Street, Victoria island Lagos
Entry: Tickets cost (N5,000) at the door.
Rave: Inter7ept
THIS WEEKEND: INTER7EPT
Incoming Saturday 19th Nov 🚀🚀 a special double #Debut with @cloud9.exp and #Headliner @s.one_music Join us as we journey into the sounds of #MelodicTech.
Time: 11 pm
Venue: Soul Club, Ahmadu Bello way. V.I
Entry: Tickets online cost (N10,000) visit here. Tickets at the door cost (N12,000)
Sunday, Nov 20th
Sip & Paint: Textured Art on Canvas
Art enthusiasts, come enjoy a relaxing day painting with lots of finger foods and cocktails for inspiration.
Time: 12 pm
Venue: 28, Fola Osibo, Lekki Phase 1
Entry: Tickets cost (N25,000)
Night Life: Sunday Beach Vibes
SUNDAY BEACH VIBES… LAGOS BEACH CULTURE.
Time: 10 pm
Venue: Moist Beach Club, Oniru
Entry: This event is free
Night Life: Vibes on the Roof
By all means, escape the ordinary #vibes in #lagos for an intense vibe reaching your very soul on VOTR.
Time: 8 pm
Venue: Vertigo Rooftop, 23B, Idejo, VI
Entry: This event is strictly by reservation. Call 08094545267