Like the 'new' naira notes, here is a reveal of a list of the hottest events in Lagos for you to indulge in and unwind this weekend. By the way, start your countdown clocks for back-to-back 'Detty December' events in Lasgidi we'd be bringing your way, cheers.
To get your event featured on the weekend list for FREE, click here
Friday, Nov 25th
Concert: The Avalanche Party
Avalanche is a festival that blends music and lifestyle. It's about music, games, drinks, fashion and style. Culture and trends are brought to the fore and everyone is encouraged to freely express – themselves legally. At the event, guests get the opportunity to really connect and have fun. Beyond entertainment, Avalanche Party raises awareness of climate change.
Time: 2 pm – 11 pm
Venue: The Stable, Bode Thomas Surelere, Lagos
Entry: Tickets cost (N3500 Early Bird ), (N5,000 Regular), (N12,500 Early Bird VIP), & (N20,000 VIP)
Art Exhibition: Heavy Is The Head
Art Lovers will love this one. Heavy Is The Head. A Solo exhibition This Friday!
Time: 5 pm
Venue: SOTO Gallery, 10 Omo Osagie Street, Ikoyi Lagos
Entry: This event is free
A Play: Two Characters Undefined (The Unclad Truth)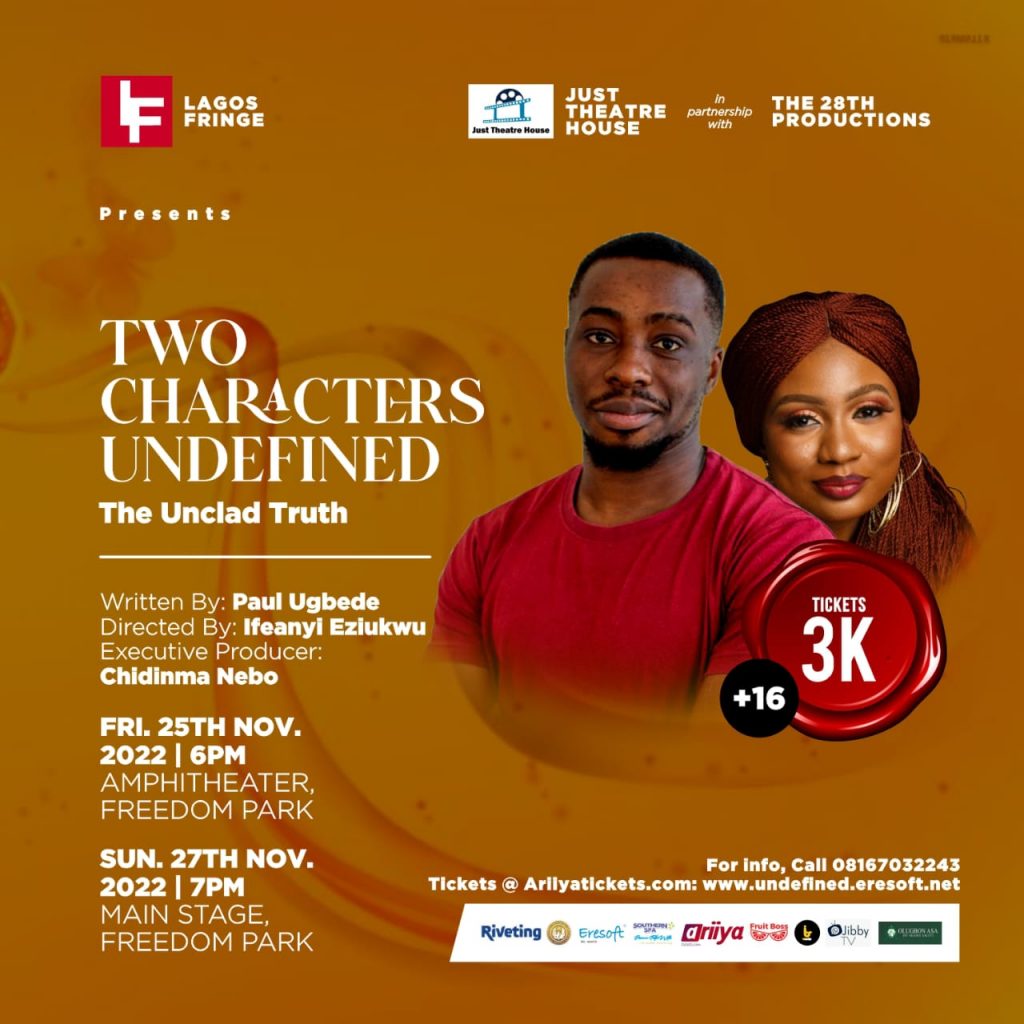 Two Characters Undefined is an engaging story about two "entangled" characters. The story plays with intense emotions to tell a unique yet familiar story and with a plot twist so huge, you'll be talking about it for long after. Showing during the Lagos Fringe Festival at Freedom park on Friday and Sunday.
Time: 6 pm this Friday & 7 pm on Sunday
Venue: Main Stage, Freedom Park, Lagos
Entry: Tickets cost (N3,000). Visit here
Rave: Zero Shakara Party 8.0
There's no better way to wrap up the month than at a Zero Shakara Party!! Quickly inform your squad it's about to go down on Friday.
Time: 7 pm
Venue: Shores VI, Oluniyi Olumide Crescent, Lagos
Entry: This event is free but reservation is advised. Call 07048107358 for bookings and enquiries.
Rave: The Woke Party
It's 3 days to Woke party 3.0'. Turn-up is wild. The vibe is on soft! Yktfv!
PS; THIS IS NOT A SNOOZE FEST! Stay Woke!
Time: 8 pm
Venue: 4, Rock Drive, Lekki Phase 1
Entry: This event is free but registration is advised. Visit here
Night Life: Giulio Twist Lounge Event
Ladies put on some lipstick and get your dancing shoes. Ballers we are clubbing with Giulio Twist Lounge this Friday.
Time: 10 pm
Venue: Giulio Twist Lounge, 146A Ligali Ayorinde Street, VI Lagos
Entry: For Tables and Special Reservations, Call 07057101501
Saturday, Nov 26th
Kayaking: Kayak Lagos
It's Kayak Lagos Season!
Every Saturday and Sunday grab the crew and #KayakLagos
Time: 9 am – 5 pm
Venue: Ikoyi
Entry: Tickets cost (N3,000 Per Person – 1hr a Session), (N2,500 Per Person for 2-3 hours) & (N6,000 for 4 hours). To book your session, email info@nothingtodoinlagos..com
Festival: Abula Festival
This weekend, come experience indigenous food like never before. Celebrating 'Amala' at the Abula Festival.
Time: 12 pm – 10 (midnight)
Venue: The Good Beach, Lagos
Entry: Tickets cost (N4,300). Visit here
Trade Fair: The Install Pop Up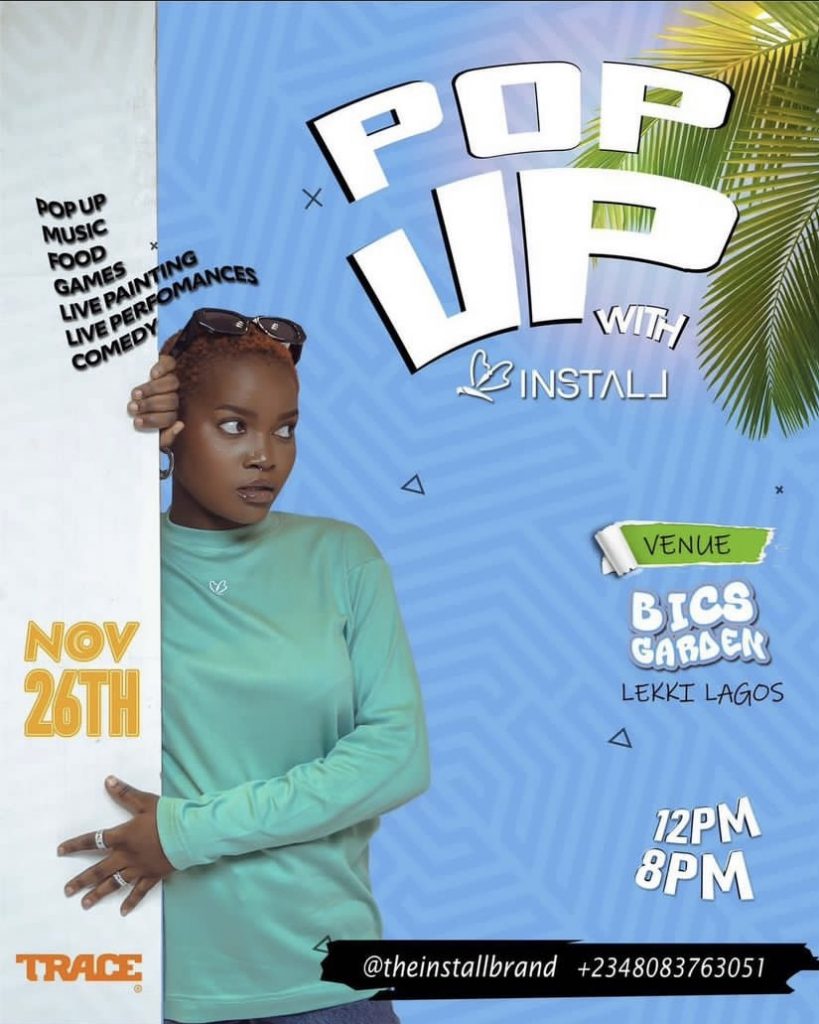 It's the pop-up of the year!! The Install PopUp.
Our dream has been to reach a larger population of discerning fashion icons like you.
We would feel highly honoured to have you with us on the 26th of November for our annual PopUp.
It would be fun to Party with you while you Shop with us!
Time: 12 pm – 8 pm
Venue: Bics Garden, Lekki Lagos
Entry: This event is free. For further enquiries send us a DM or call 08083763051
Trade Fair: Luxury Resale Emporium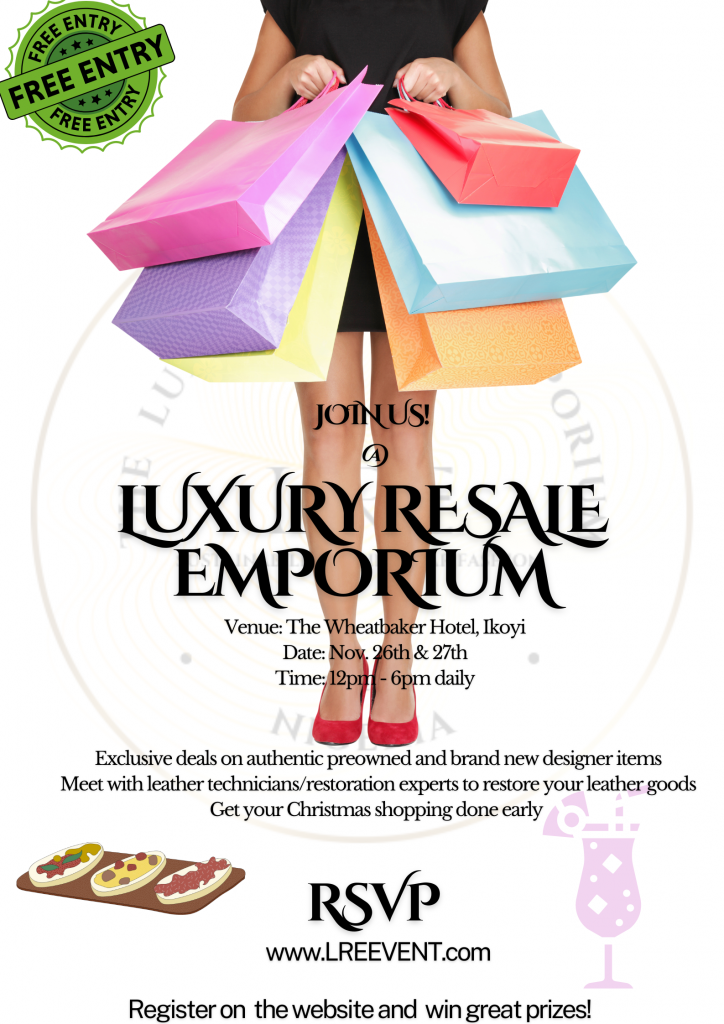 This is a 2-day shopping emporium to celebrate circular fashion and the designer resale industry in Nigeria.
This event features the finest consignment shops in Nigeria as well as top leather technicians.
Come and shop exclusive deals on preloved and new authentic designer items, bring your leather goods for restoration with expert leather technicians, and win great prizes! There are goody bags for everyone!
Time: 12 pm – 6 pm
Venue: The Wheatbaker Hotel, Ikoyi
Entry: This event is free but RSVP here and get your name into the draw for great prizes on the day!
Festival: Z! Fest
Everyone stop what you're doing.
Z! Fest is here, so everything else is unimportant. Time to get ready for body painting, music booths, karaoke, food competitions tattoos parlours and more!
Time: 3 pm – 11 pm
Venue: The Podium Event Centre, Lekki Phase 1 Lagos
Entry: Tickets cost (N5350 Early Bird Regular) & (N7,450 Regular)
A Play: The Family Reunion
Have you told someone about THE FAMILY REUNION happening this Saturday at 4 pm and 7 pm?
Don't miss out on love, betrayal, revenge, morality, family, moments, reflections, and much more in one evening.
Can't make it to the performance by 4 pm, don't worry you get the chance to watch them perform by 7 pm.
Time: 4pm & 7 pm
Venue: Alliance Francaise, Ikoyi Lagos
Entry: Tickets cost (N5,000 Standard) & (N10,000 VIP)
Rave: Mave & Mxtreme (Fashion Rave)
Introducing MAZE AND MXTREME 🫡 @mazexmxtreme! Dashing through at the #fashionrave2022. You don't want to miss this!! Get your tickets now!!!
Time:4 pm till late
Venue: Muri Okunola Park
Entry: Tickets cost (N5,000 for Regular), (N30,000 for VIP) & (N300,000 for VIP Cabanas). Visit here
Rave: HMO( House. Music. Orbital)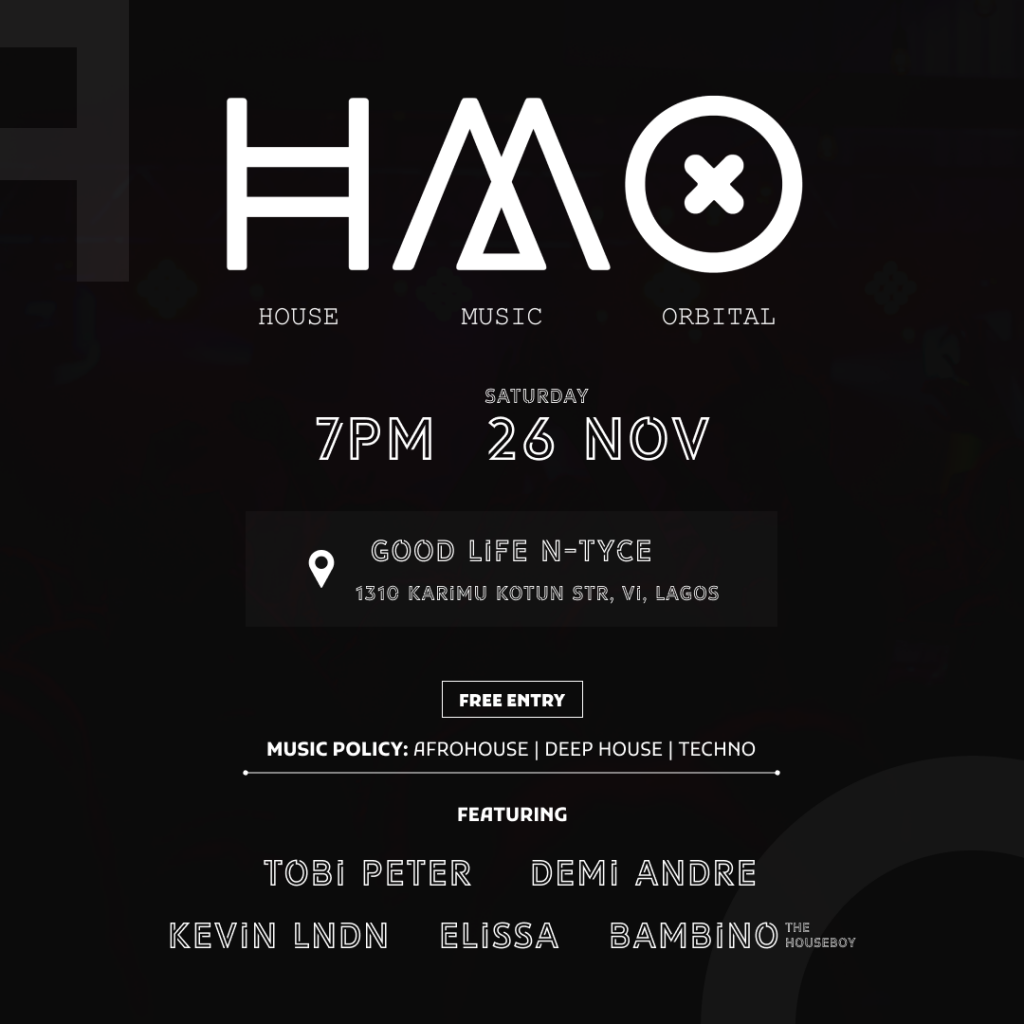 The first edition of HMO brings you amazing house music from the finest DJs and an exclusive first-time listening party of House On The Rocks, Tobi Peter's house EP.
Time: 7 pm
Venue: Good Life N-tyce, 1310 Karimu Kotun Street, Victoria Island, Lagos
Entry: This event is free but registration is advised. Visit here
Night Life: Limited Control (Bigmandem)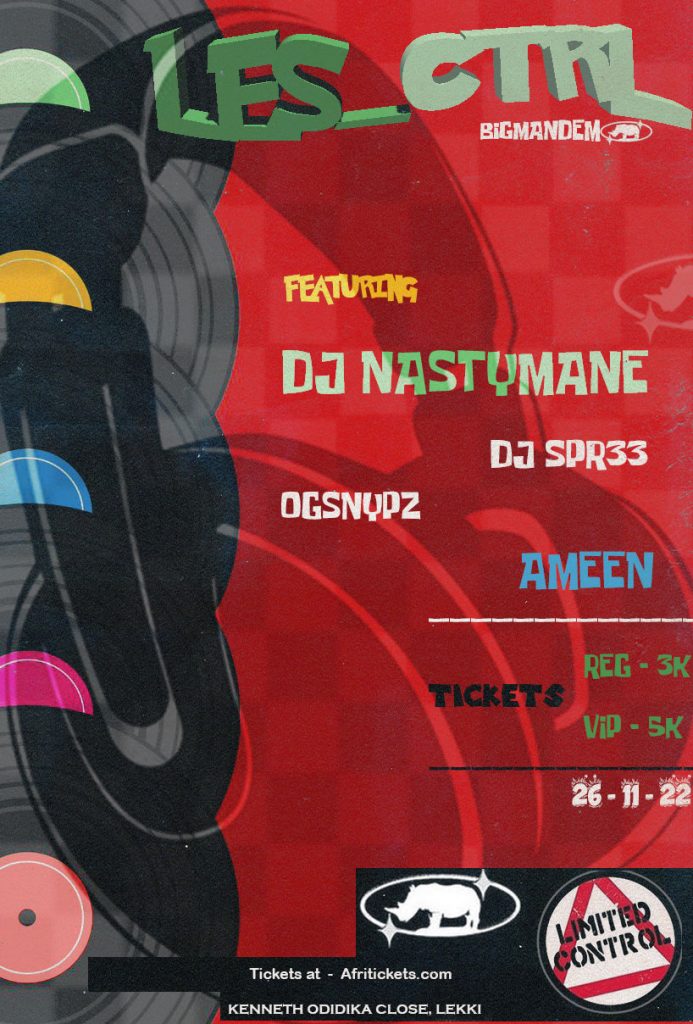 This Saturday, come prepared for Music, Networking, and Fashion.
Time:7 pm
Venue: Kenneth Odidika Close, Lekki Lagos
Entry: Tickets cost (N3,000 – N5000). Visit here.
Rave: SWEAT IT OUT
THIS WEEKEND: SWEAT IT OUT
Sweat it Out is back for a penultimate night and you don't want to miss this rave!
Come through on Saturday, 26th November from 11:00 pm, we rave till morning. Pure, undiluted electronic music vibes.
Tickets are available with a 10% discount when you use the code 'LW01' at checkout!
Time: 11 pm
Venue: Freeme Digital, Plot 16a, Nike Art Gallery Road, Lekki Lagos
Entry: Tickets cost (N3,000 for Early bird), (N7,000 for Standard), & ( N10,000 At the Door). Visit HERE for SWEAT IT OUT tickets 10% off.
Sunday, Nov 27th
Brunch Hangout: Thanks Giving Brunch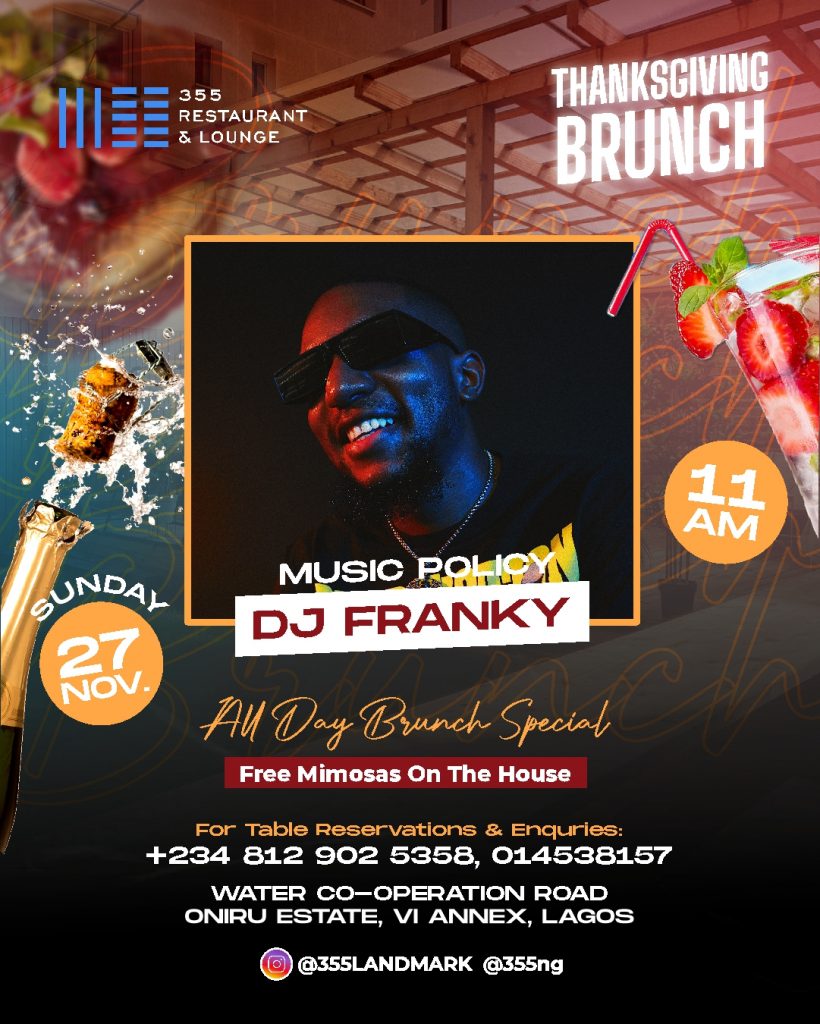 355 Restaurant and Lounge Landmark is celebrating the new and improved patio space starting this Sunday, with an all-day thanksgiving brunch featuring comfort-style food, and the finest drinks.
Free Mimosas on the House from 11 AM-1 PM, Limited Spaces are available, and reservations are highly advised.
Time: 11 am
Venue: Water Co-operation Road, Oniru Estate, VI Annex, Lagos
Entry: Please call 014538157, 08129025358 for reservations.
Festival: Margarita Festival
Welcome to the Circus!
It's another edition of Margarita Festival Lagos with its adjoining competition – the Margalympics.
Come taste the best margaritas in the city, with food from amazing vendors and loads of games and live music performances.
It promises to be all shades of fun with shots on the hour, quirky circus entertainment and raffles.
Time: 2 pm
Venue: Muri Okunola Park, Lagos
Entry: Tickets cost (N7,000)
Night Life: Silent Disco
Something for the mainlanders this weekend! Come prepared for a night of hot tunes and opportunities to network.
Time: 7 pm
Venue: 81 Bode Thomas street, Behind MTN Building, Surulere Lagos
Entry: This event is free