Variety is the flavour of Lagos, and for a city with people from diverse backgrounds, street food is not left behind. Thanks to the city's unique people and culture, you are sure to discover a broad variety of snackable food options on the streets of Lagos.
Nigerian street food is one of the most intriguing of the nation's culinary delights. This can be attributed to the greater demand for affordably priced, delectable ready-to-eat food, and fewer people have the time to cook meals, especially in a fast-paced city like ours.
If you're a Lagosian, you can confirm that the traffic in the city can be hellish and what better way to survive these times, than to have street foods in hand?
So, to cut to the "cheese" here are 7 feel-good street foods we all love and if you're new to Lagos we definitely recommend them.
1) SUYA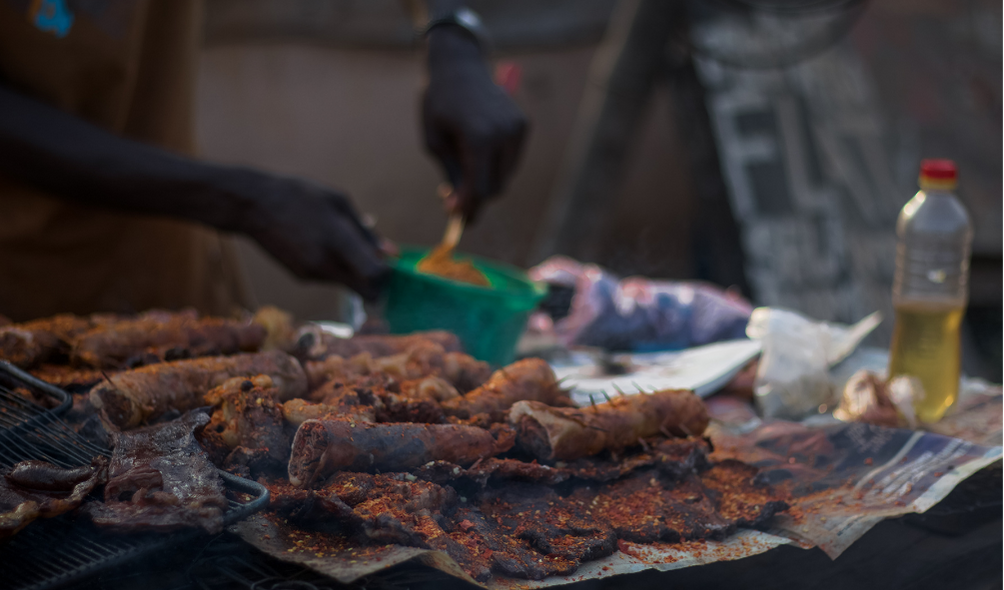 Suya is the local name for spicy barbecued beef or chicken. This food is an explosion of flavours, the scent of the spices will draw you to a nearby vendor and have you drooling.
The Hausa people of northern Nigeria are the original founders of suya, but this delicacy has travelled all over Nigeria and is the 'top dawg' of street food here in Lagos. This is also arguably the best street food in Nigeria. Suya can serve as a side or the main in multiple dishes.
It is usually served on clean paper with onions or cabbage, or none if you tell them, accompanied by a generous amount of red suya spice. If you want to enjoy Suya in Lagos, you can try the Glover Court Suya in Ikoyi, University of Suya in Ikeja or just settle for any roadside suya. We all know they make it just as good.
We don't know what the magic is, but it's best eaten at night. I once saw a 'Mai Suya' setting up his grill in the afternoon, and right there I knew that suya wouldn't slap as it ought to.
2) Akara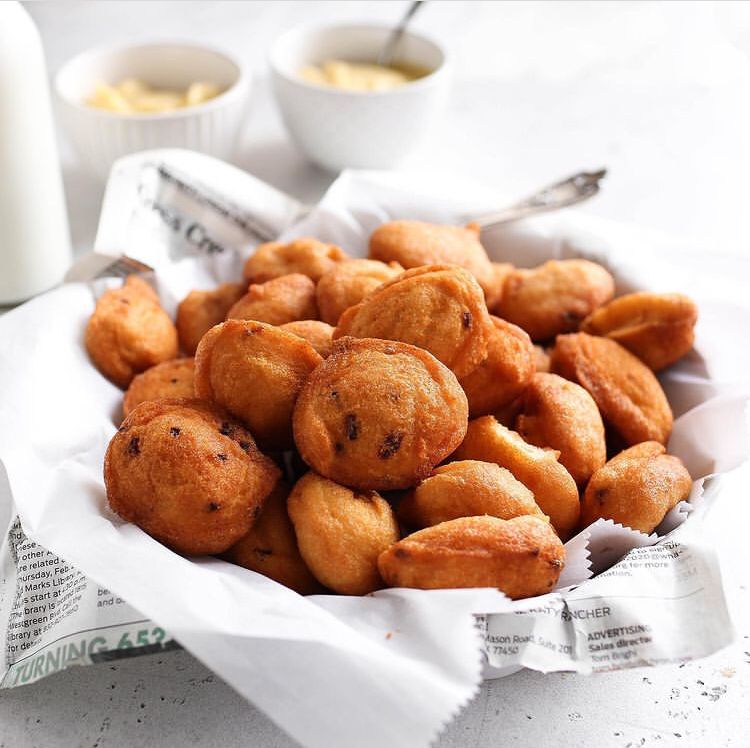 These little tasty, occasionally spicy bean balls are a great option for breakfast or a quick snack on the way to work. They primarily consist of ground bean purée, onions and scotch bonnet. You can either get the softest bread that is typically served with these balls and build a sandwich, or you can choose to have this with Ogi (Pap), which is similar to custard; any one would still be a delicious choice.
Although, getting Akara in the morning from these sellers might be a hassle due to high rush hour demand.
3) Ewa Agoyin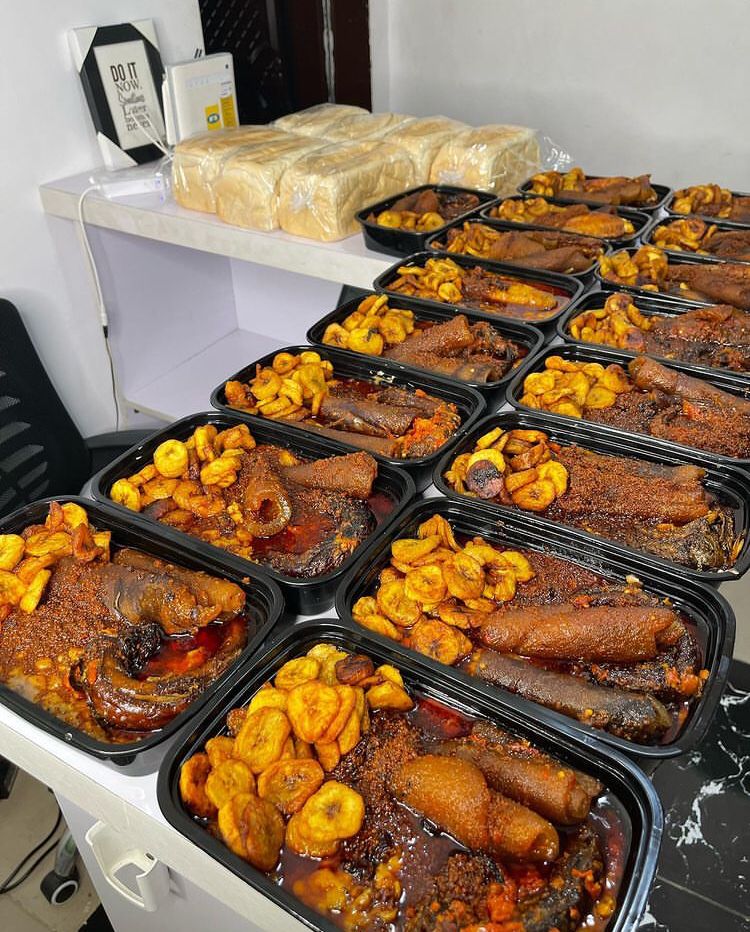 When in Lagos, Ewa Agoyin is a must! This food originated from Togo and has become one of the top choices for a local meal in Lagos. It is basically boiled mashed beans with a tasty but charred sauce made with pepper and palm oil.
This meal can be accompanied by soft, oven-fresh bread and can be garnished with many choice proteins or Dodo (fried plantain).
This is another very affordable breakfast choice and can be eaten as an evening dish as well. If you want to enjoy the 'Ewa Agonyin experience' but aren't brave enough for the streets, you can visit Danfo in Ikoyi.
4) Sharwama: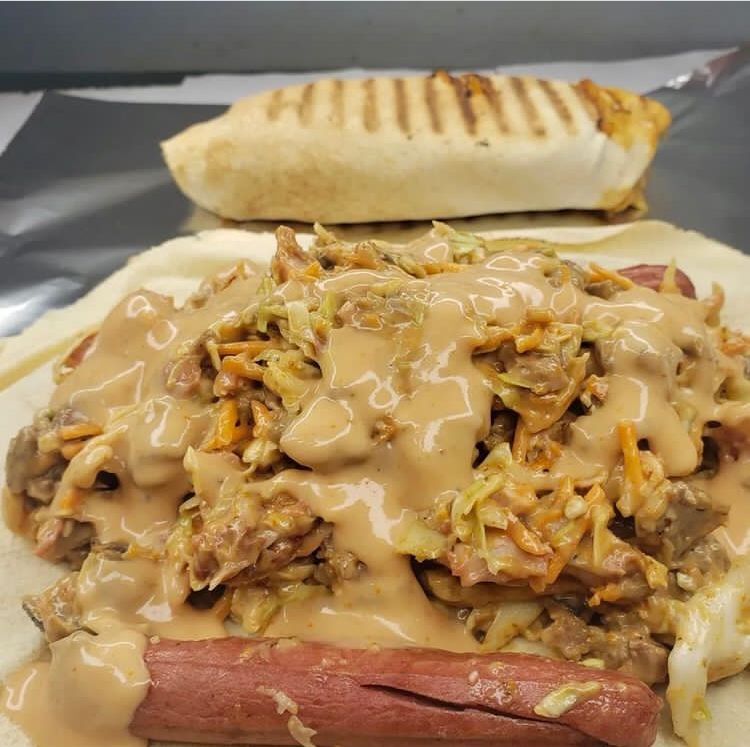 Whether you call it 'Shwarmah' or 'Sharwarma',' this street food is not respecter for any palate. Shawarma is an international wrap made with chopped-up cabbage, chopped spiced meat/chicken, and sausages. Lagosians have found a way to prepare this in a way that suits the local palate, with some adding spices to the wrap.
Every town has a shawarma vendor. I must warn you, though. You need to be sure the vendor is reliable and comes highly recommended.
These wraps are also very affordable, with prices starting from N800 to N3000 depending on the location of the vendor and the ingredients.
If you are worried about getting shawarma from just any roadside vendor, most lounges in Lagos have this on their menu. You can check out Morrocaine on Victoria Island.
5) Abacha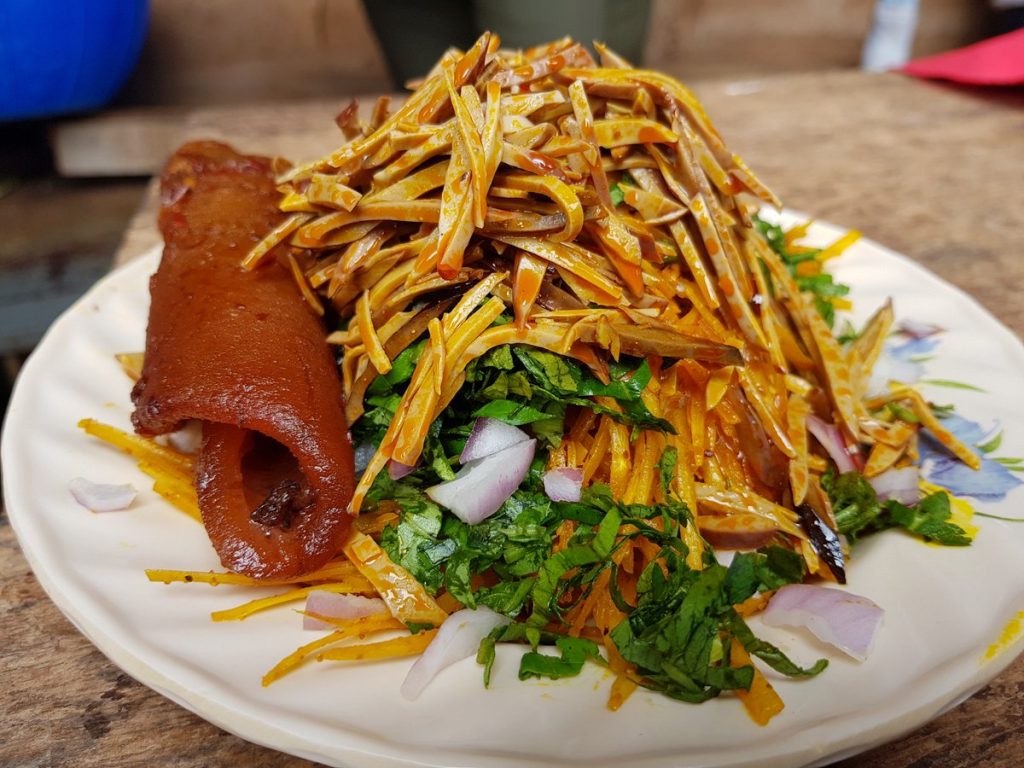 The almighty African Salad (aka Abacha) is a favourite of many and is mostly enjoyed by Lagosians from the eastern parts of Nigeria. It is made of shredded, dried cassava and is best served with onions, Kpomo (cow hide), or fish on the side. You will most likely find a vendor hawking this delicacy, or you can enjoy it at a local bar or lounge.