The weekend is back! This means you have another chance to do what you didn't do last weekend. What's even better is the extra holiday coming up on May 1st. Lagos – as usual – is always prepared for whatever your heart desires in the world of entertainment. We are back with another weekend guide, acting as the bridge between you and the weekend itinerary. We hope you find something in the diverse list that you like.
If you love our guide, you're going to love our content that covers activities beyond events. Download our e-guide, a must-have for those looking for a trusted plug for fun things to do in Lagos.
To get your event featured on the weekend list for FREE, click here
So, without further ado, here is the rundown for the weekend;
Thursday, 27th April
SIP & SYNC | SOCIAL EVENT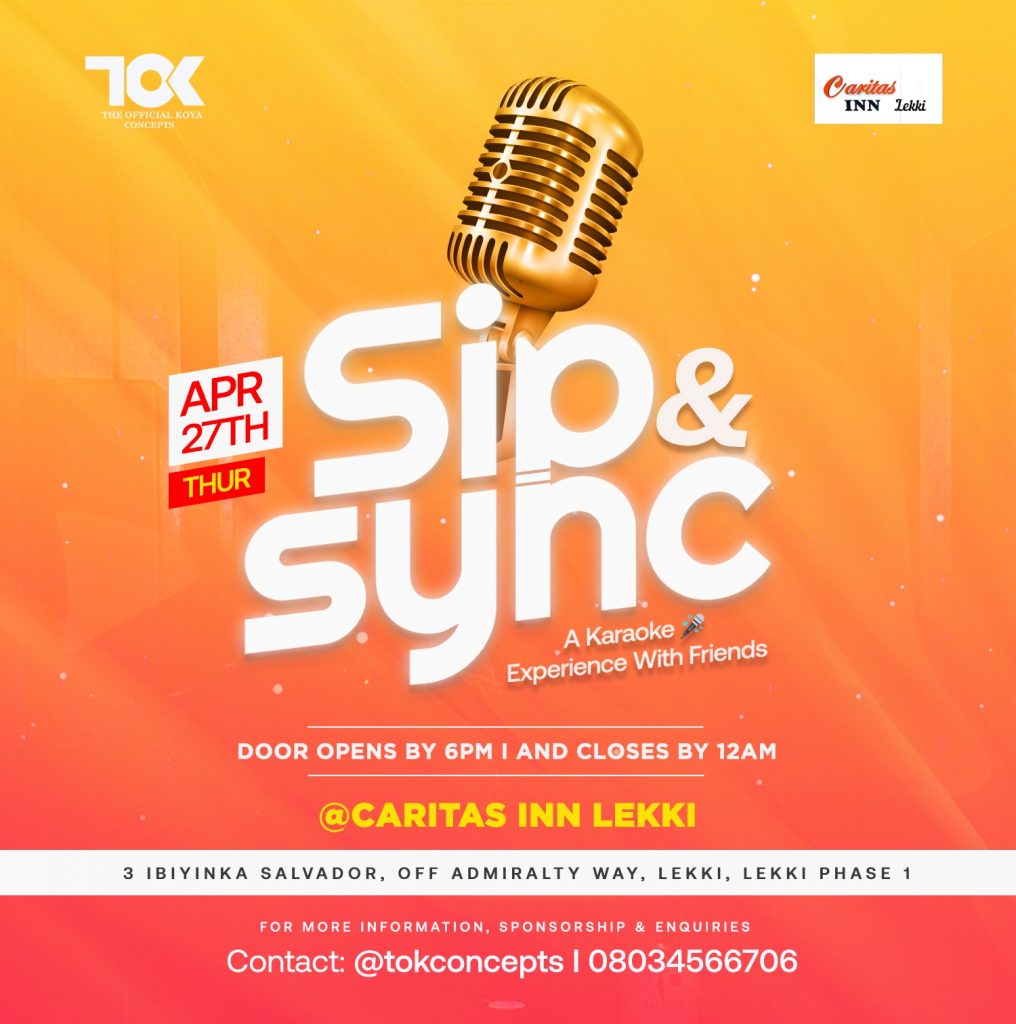 Join in for a night of karaoke and let's make some magic happen. Grab your friends, family, colleagues and come make some memories. See You There.
Date: Thursday 27th April
Time: 6pm – 11pm
Venue: Caritas Inn Lekki Phase 1
Entry: Free
Friday, 28th April
SILENT VIBE PARTY | PARTY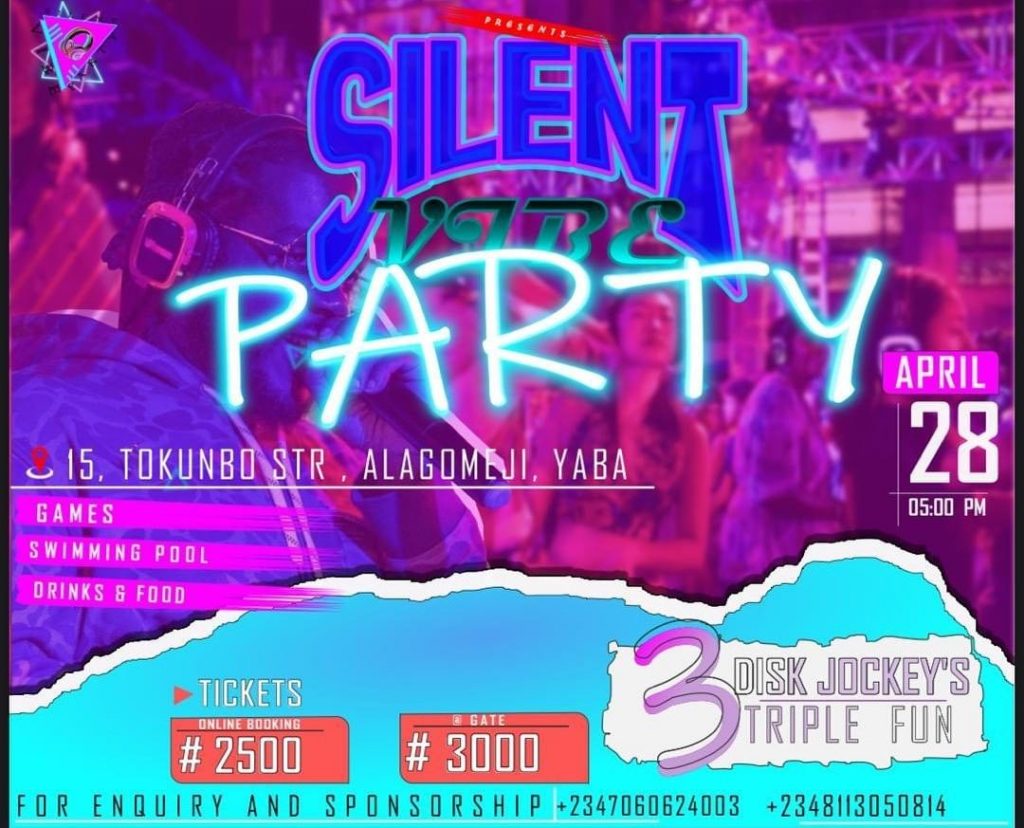 Grab your favorite people and join in for an evening full of fun, dance and good vibes.
Date: Friday April 28th
Venue: 15 Tokunbo str, Alagoomeji, Yaba
Time: 5 pm
Entry: Online – N2,500 | Gate – N3,000
PIANO HUB | PARTY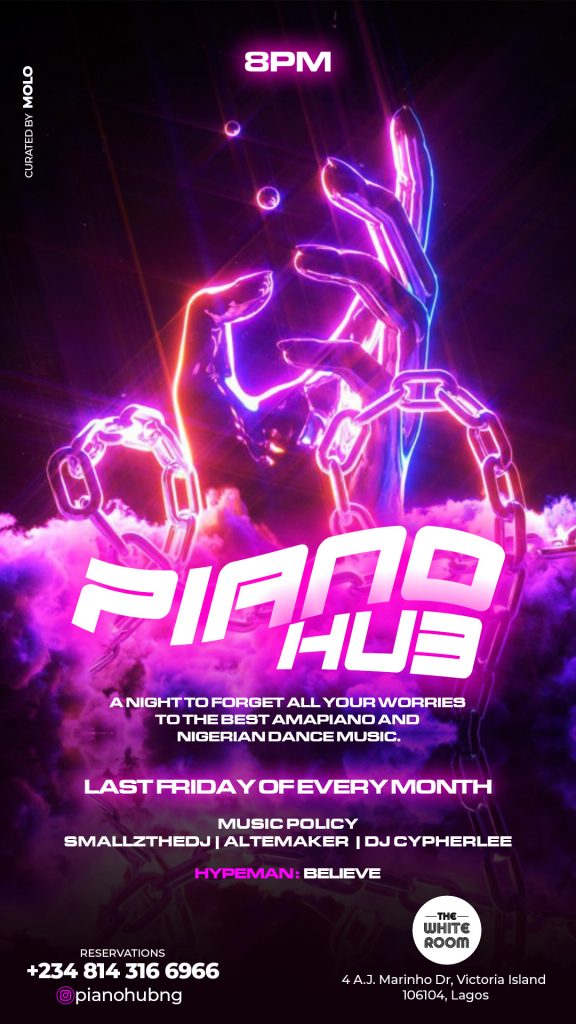 The Piano Hub party is BACK 🔥🤩Come to The White Room this Friday for the best Afrobeats and Amapiano music from the best DJs in Lagos
Date: Friday April 28th
Venue: 4, AJ Marinho Drive, Victoria Island
Time: 8 pm
Entry: Online – Free
RAVEOULUTION | RAVE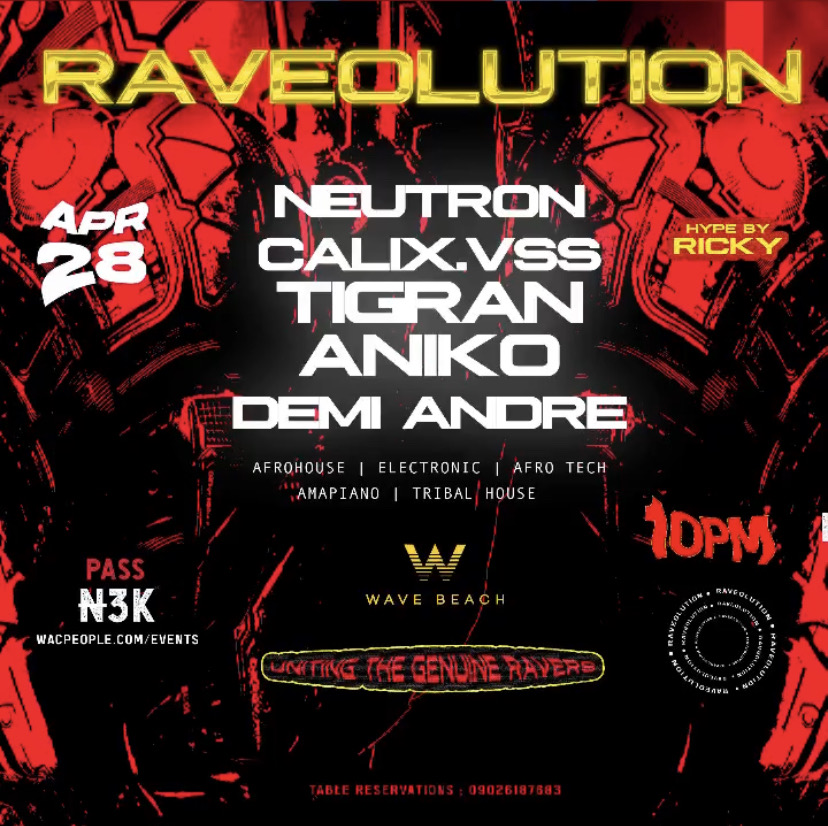 Get Ready to touch your energy core as we dance into the morning to the beats and Rhythm to the most amazing DJ's.
Date: Friday April 28th
Venue: Wave Beach
Time: 10 pm
Entry: N3,000
HOUSE PARTY 2.0| PARTY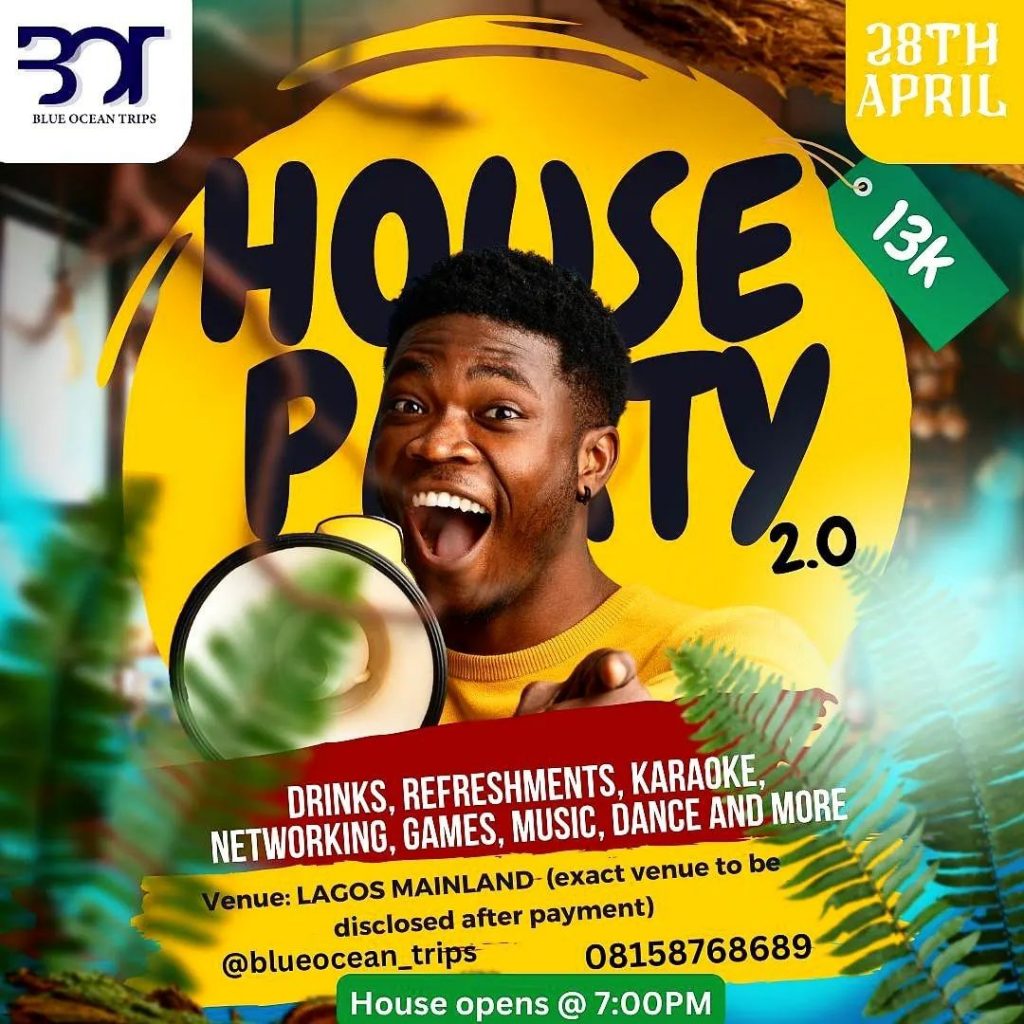 This is to let y'all know that it is time again to get ready for another ultimate house party experience 2.0! We have a variety of activities planned out to keep you entertained all night long. From karaoke, to dancing to the latest hits, to playing games and enjoying delicious snacks, etc…Looking for something more adventurous? Take a nighttime hangout with us and also, invite your friends.
Date: Friday April 28th
Time: 7pm
Venue: Lagos Mainland ( venue to be disclosed after payment
Entry: N13,000
XELA CARTEL & FRIENDS – THE RETURN | NIGHTLIFE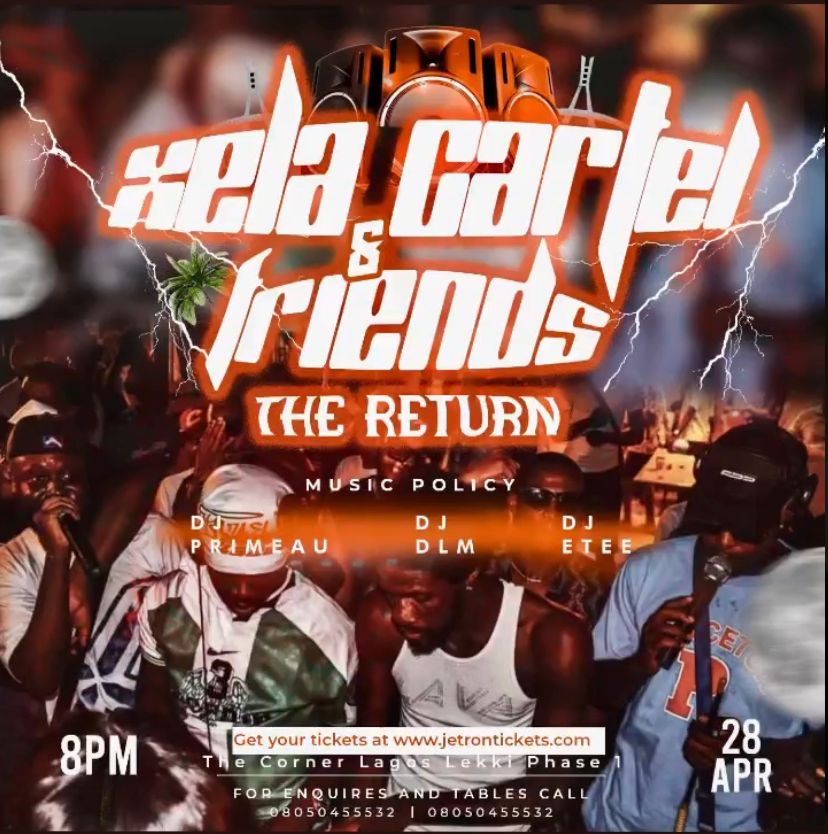 Xela cartel and friends back with the vibe! Are you ready!!
Date: Friday 28th April
Venue: The Corner, Lekki Phase 1
Time: 8pm
Entry: Early bird – N3,500 | Regular – N5,000
Saturday, 29th April
MIDNIGHT MAYHEM | PARTY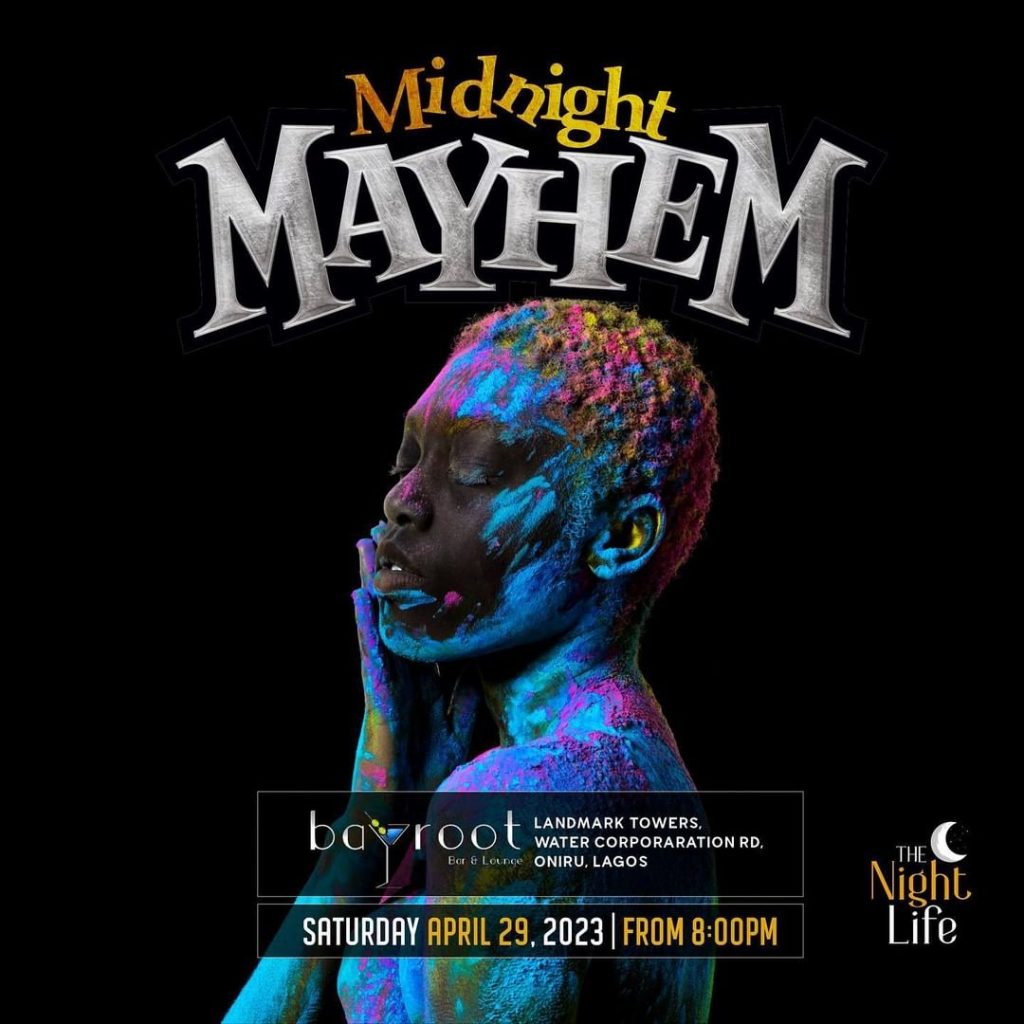 All your faves will be present at Midnight Mayhem. Don't miss this for anything! Come through and party all night long. See you on Saturday!
Date: Saturday April 29th
Venue: Bayroot Bar & Lounge, Victoria Island(Landmark Towers)
Time: 8pm
Entry: Book online
MIDNIGHT MAYHEM | PARTY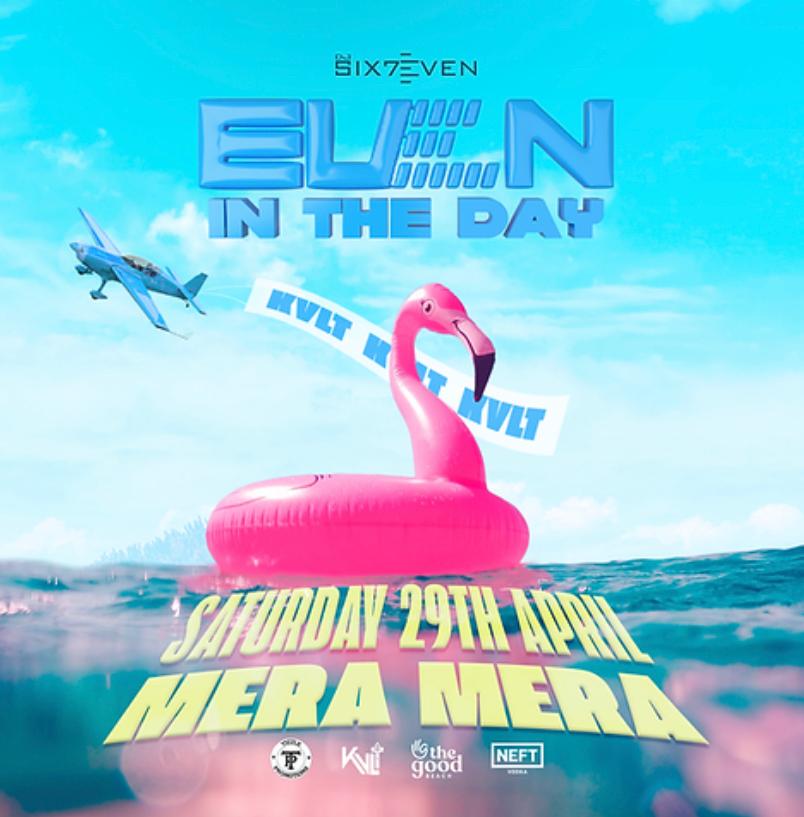 You know the drill; out, wild and ready to get wet!💦 Kindly adhere to the style guide🙏🏻
Date: Saturday April 29th
Time: 12 pm
Venue: Mera Mera Lagos – Beach House, Water Corporation Drive, Lagos, Nigeria (Eti Osa, Lagos)
Entry: General access – N10,000 | Priority – N15,000
A SILENT DISCO | PARTY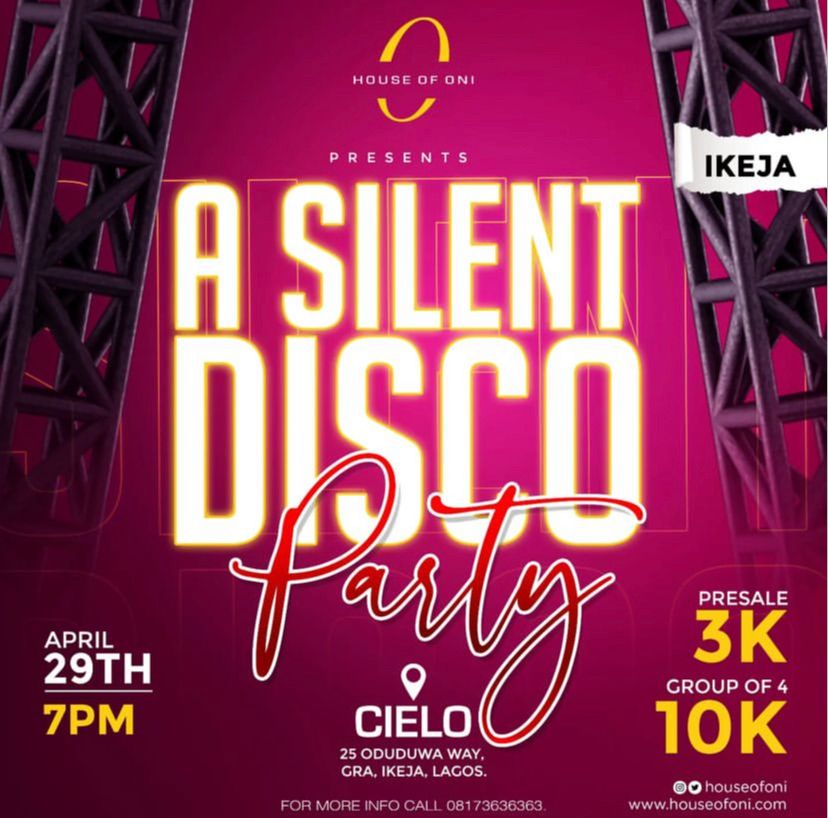 Coming to House of Oni's silent disco party is gonna be lit! So gather your friends, bring your best moves, and get ready for an unforgettable night. Don't miss out – Get your ticket via the link in bio now! 😄
Date: Saturday April 29th
Venue: Cielo. 25 Oduduwa way, GRA, Ikeja, Lagos
Time: 7pm
Entry: Presale – N3,000 | Group of 4 – N10,000
CREATIVES X MAINLAND | POP UP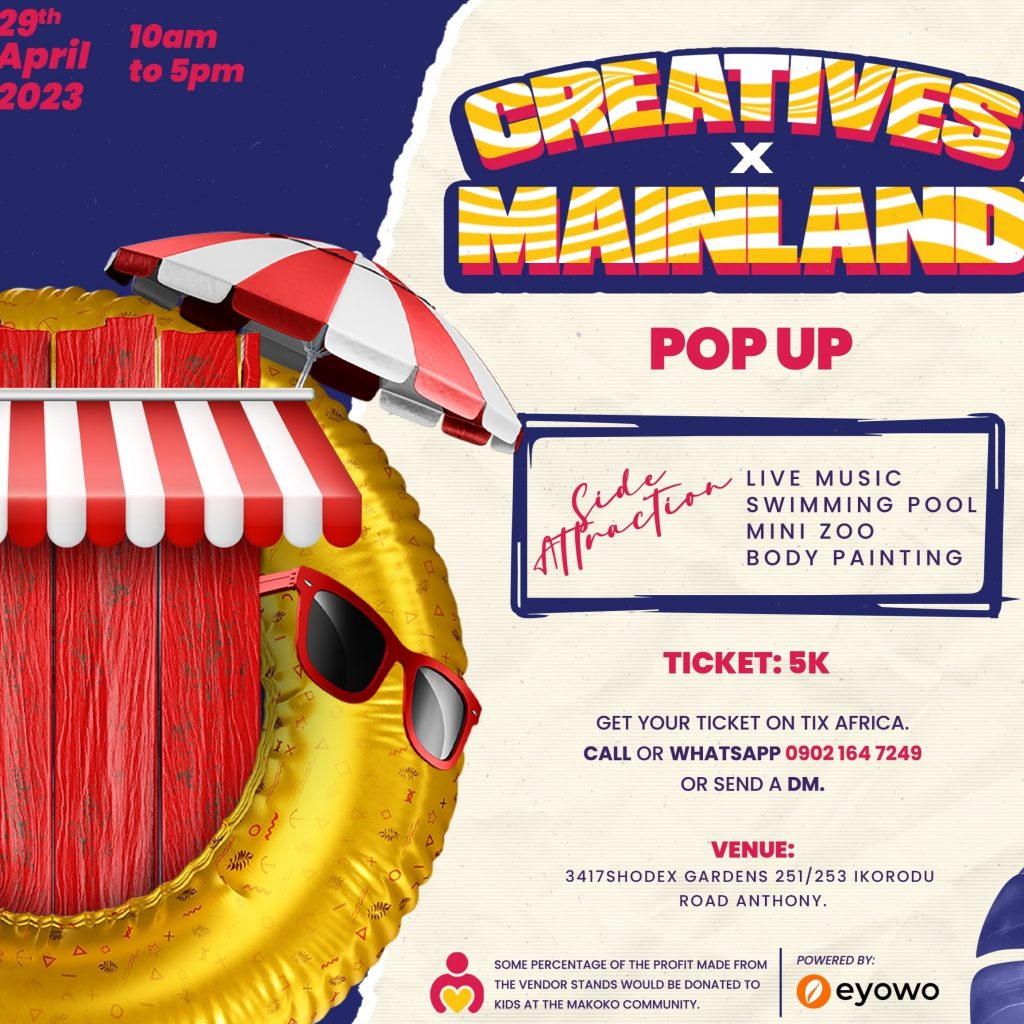 Come and enjoy shopping local brands, live music, swimming, mini zoo access.
Date: Saturday April 29th
Venue: Shodex Garden 251/253 Ikorodu-Ososun Road Lagos
Time: 10 am – 5 pm
Entry: N5,000
RED CUPS & VIBES 6.0 | SOCIAL NETWORKING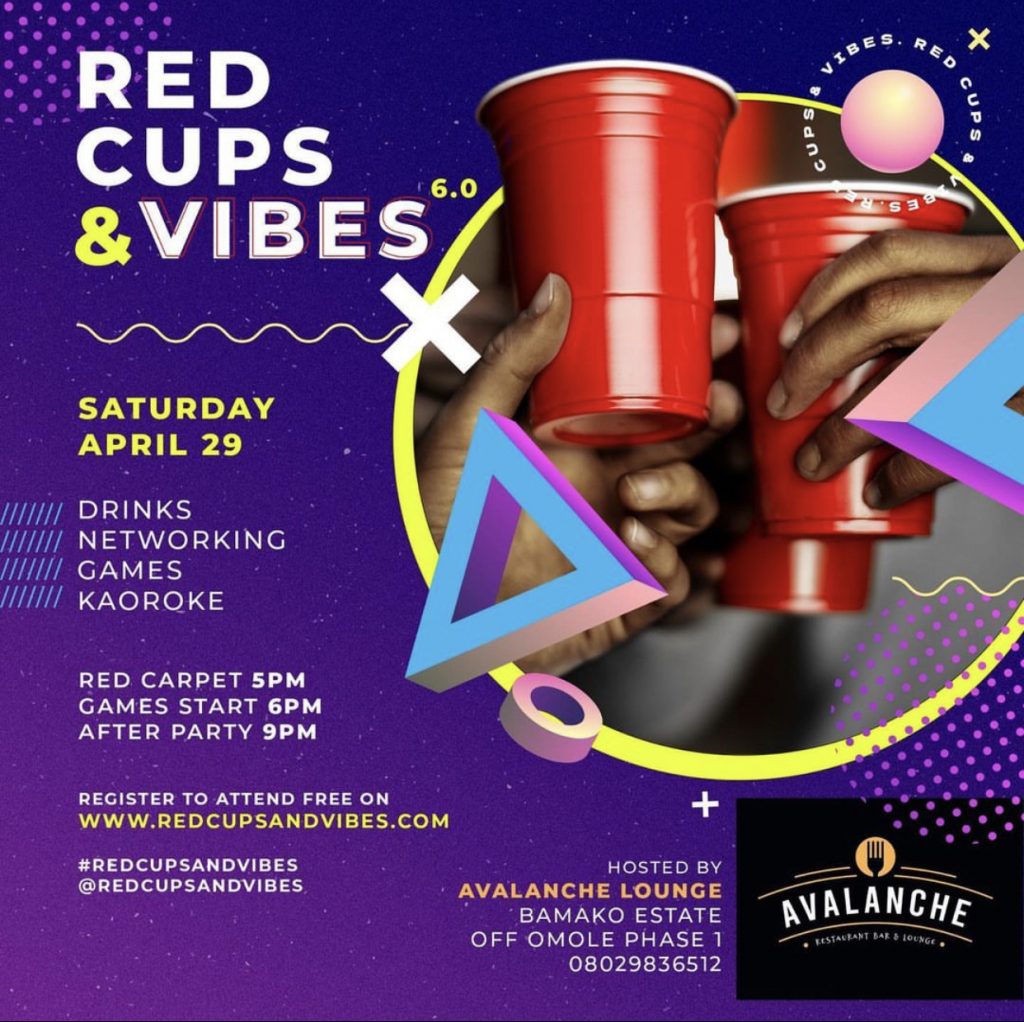 Only whiskey, brands, spirits and wines. No beers. No bitters.
Date: Saturday April 29th
Venue: Avalanche Restaurant and Lounge
Time: 5 pm
Entry: Check flyers for reservation details
ESU AND THE VAGABOND MINSTRELS | STAGE PLAY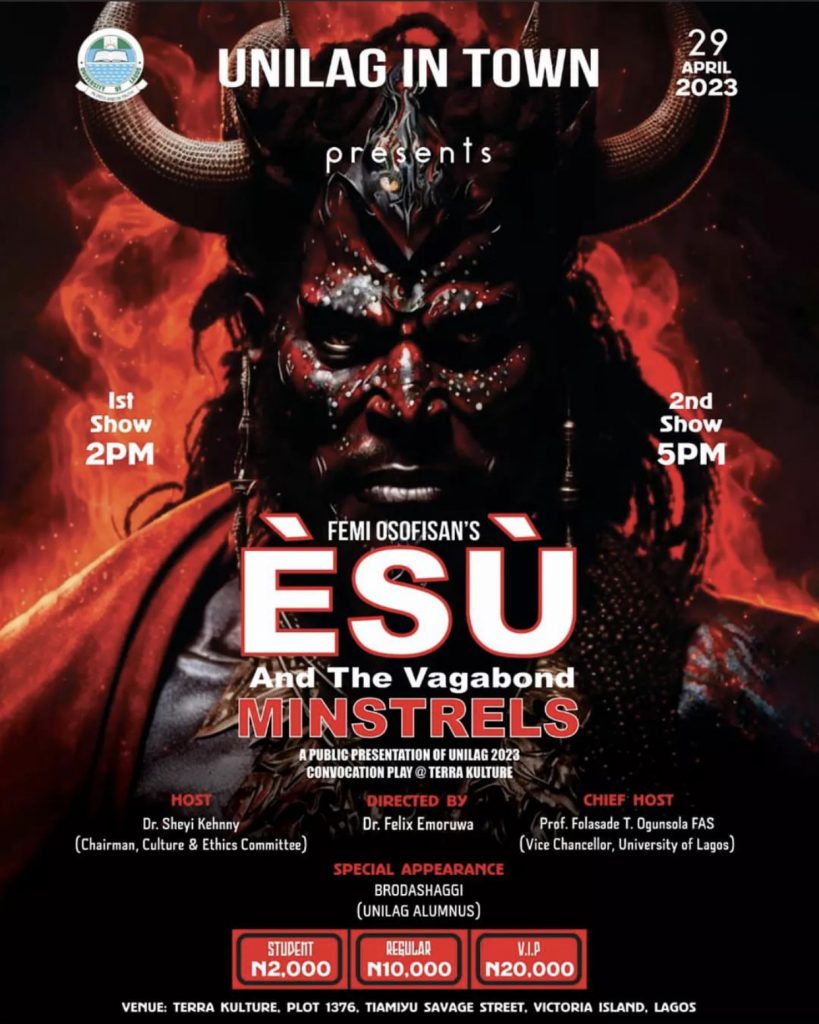 UNILAG is in town! Get ready to be amazed by their vibrant and imaginative performance of "Esu and the Vagabond Minstrels" by Femi Osofisan.This electrifying showcase of talent and creativity will transport you to a world where materialism is exposed as a dead-end street. Don't miss out on special appearances from UNILAG's famous alumni!
Date: Saturday April 29th
Venue: Terra Kulture
Time: 1st show – 2pm | 2nd show – 5pm
Entry: Student – N2,000 | Regular – N10,000 | VIP – N20,000 | VVIP – N40,000
MOVIES & VIBES NIGHT AT THE BEACH | BEACH PARTY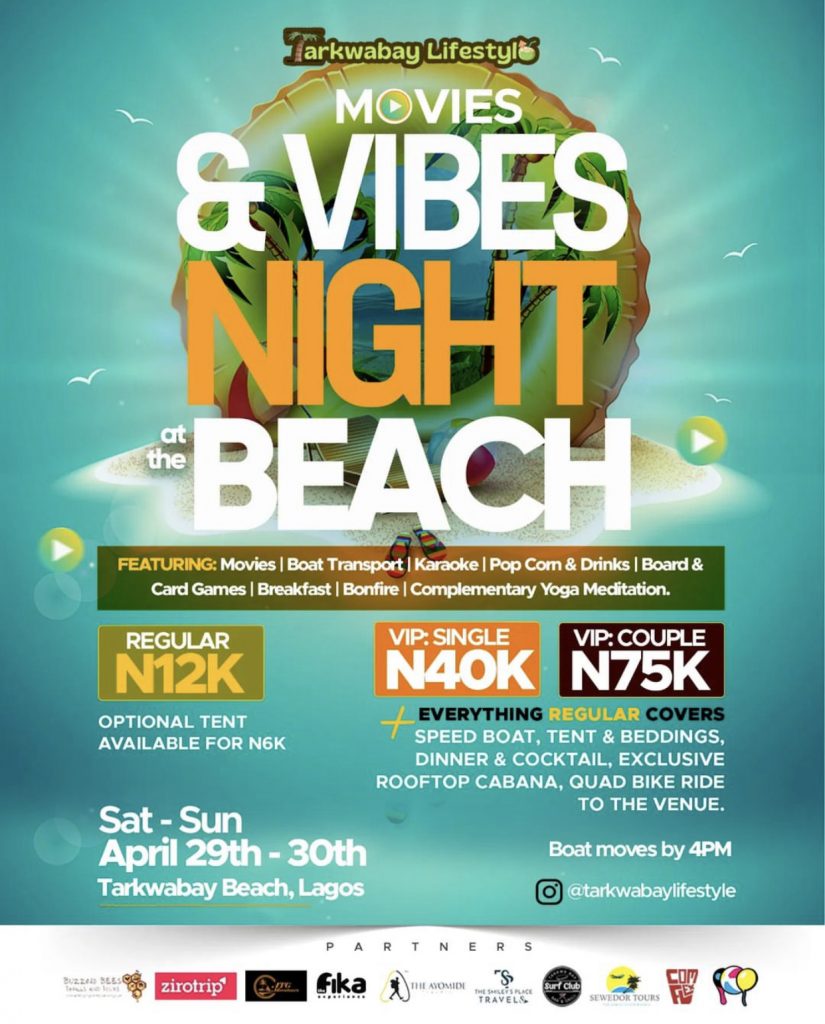 If you're not planning to fall in with your guys for our April edition of Movies & Vibez night at the Beach then you need to update your guys ASAP! This is a NO BOREDOM ZONE
Date: Saturday 29th – Sunday 30th April
Venue: Tarkwabay Beach, Lagos
Time: Boat moves by 4pm
Entry: Regular – N12,000 | VIP single – N40,000 | VIP double – N75,000
SUNDAY, 30th APRIL
SLIPPERY SUNDAY BRUNCH | BRUNCH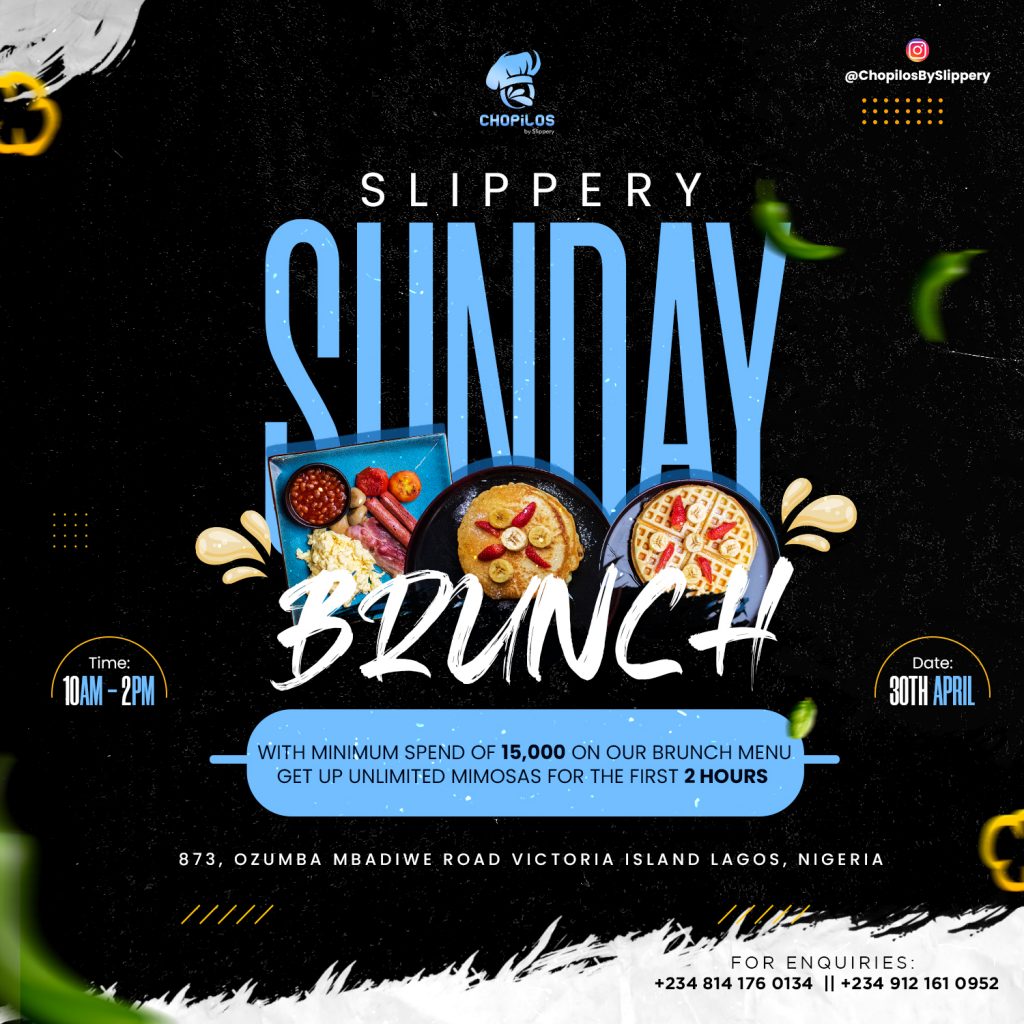 Brunch goals achieved at Chopilos 🍳🥞🥂Start your Sunday the right way with our delicious brunch menu and bottomless mimosas! With a minimum order of ₦15,000 on our brunch menu
Date: Sunday April 30th
Venue: Chopillos. 873 Ozumba Mbadiwe Road, VI
Time: 10am – 2pm
Entry: Free
THE URBAN RAVE HANGOUT | SOCIAL EVENT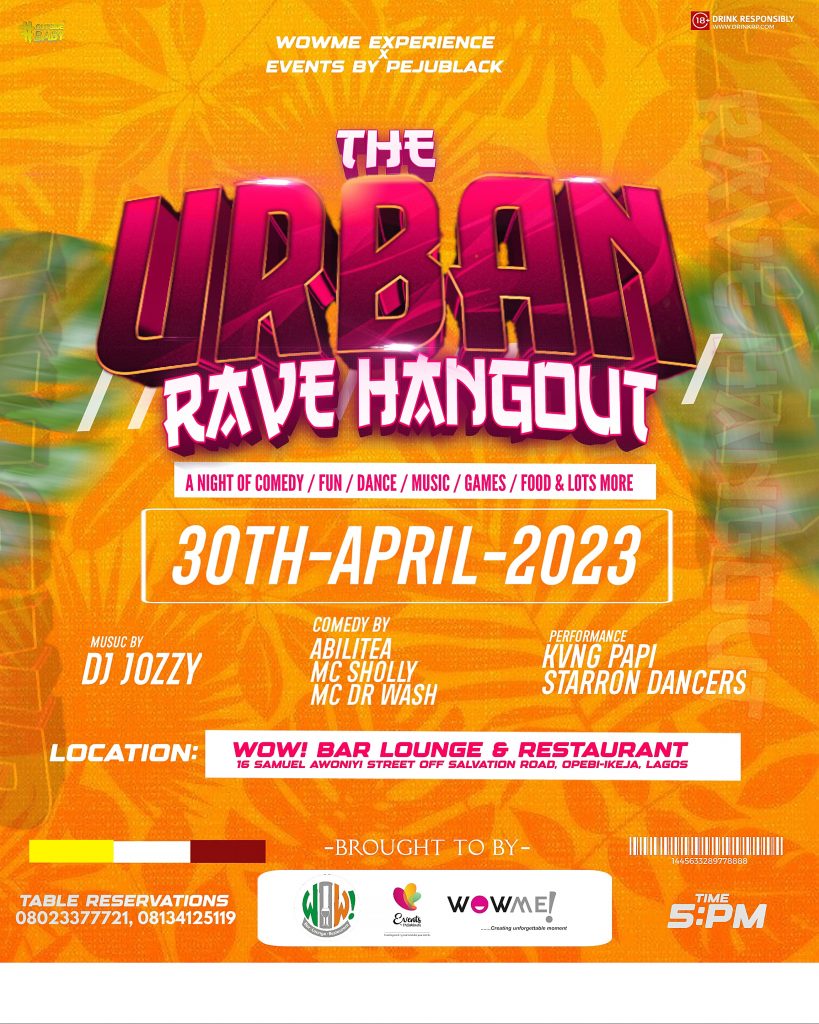 Come through with the Big Energy on Sunday, 30th of April 2023 with your friends. It promises to be a night of fun, laughter, good music, great food, drinks, outdoor games and many more.
Date: April 30th
Venue: Wow! Bar lounge & Restaurant
Time: 5pm
Entry: Free
MOVIE IN THE PARK: VINTAGE EDITION | OUTDOOR CINEMA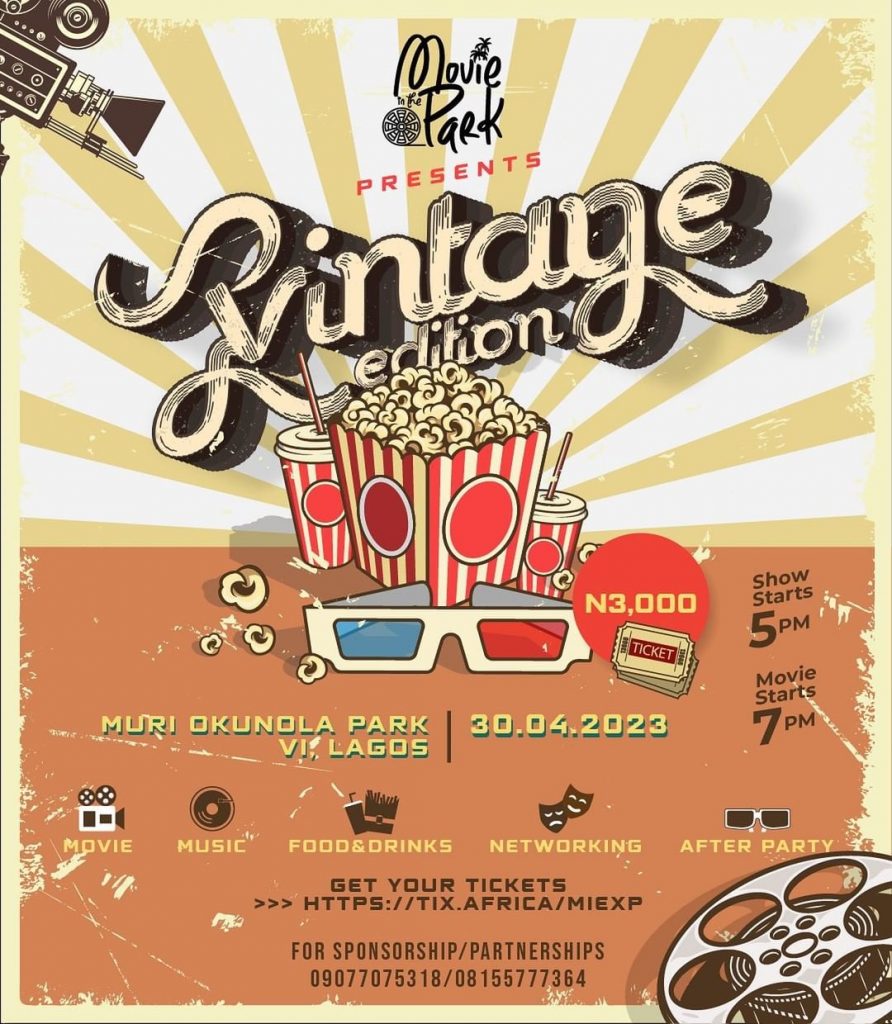 We are so pumped to go back in time with you all with the movie, music and entire experience, while we munch on the most amazing select food options. 🕺🏼💃🏽Free snacks, free drinks, free booze and of course so much to win in our giveaways 😍
Date: Sunday April 30th
Venue: Muri Okunola Park, VI
Time: 5pm
Entry: Online – N3,000
SALTY SPLASH SUNDAYS | BEACH PARTY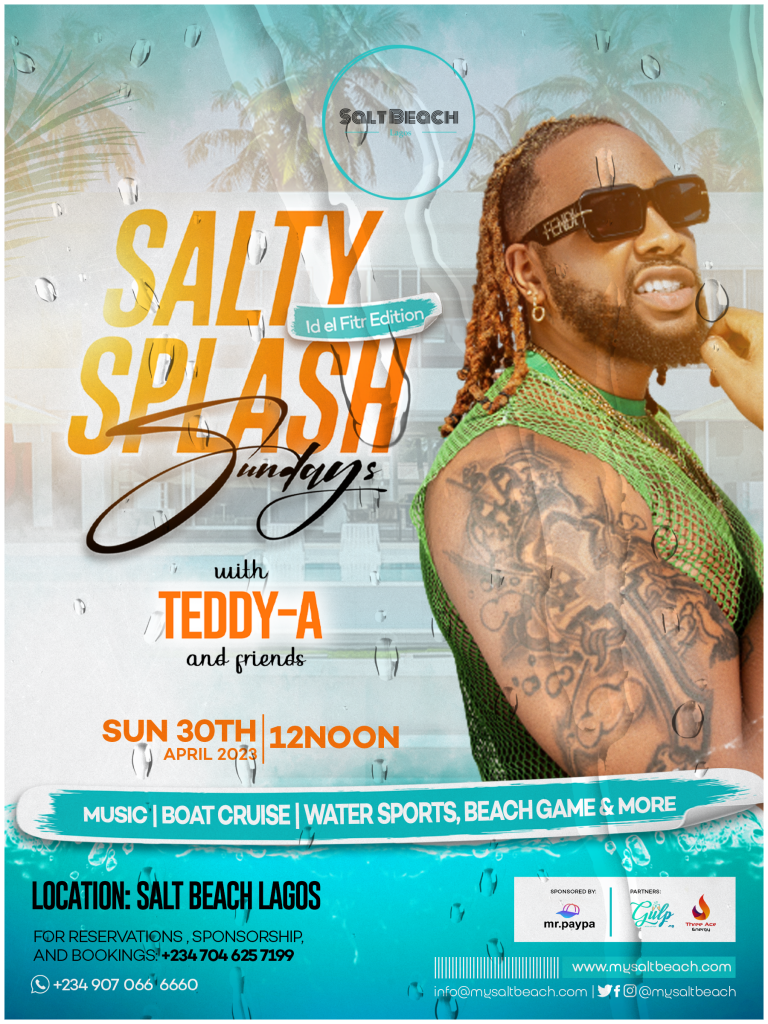 Come hangout at Salt Beach with Teddy-A and friends for a good time. Attractions include; luxury yacht cruises, belly dancers, fireworks, fashion stands, music, leisure games & activities, celebrity Djs, MCs & Hypemen.
Date: Sunday April 30th
Venue: Salt Beach
Time: 12 pm
Entry: Individual package – N50,000 | Regular cabana -N500,000 | Crystal cabana – N1,000,000 | Gold cabana – N1,500,000
SUNDAY AT ILASHE | BEACH PARTY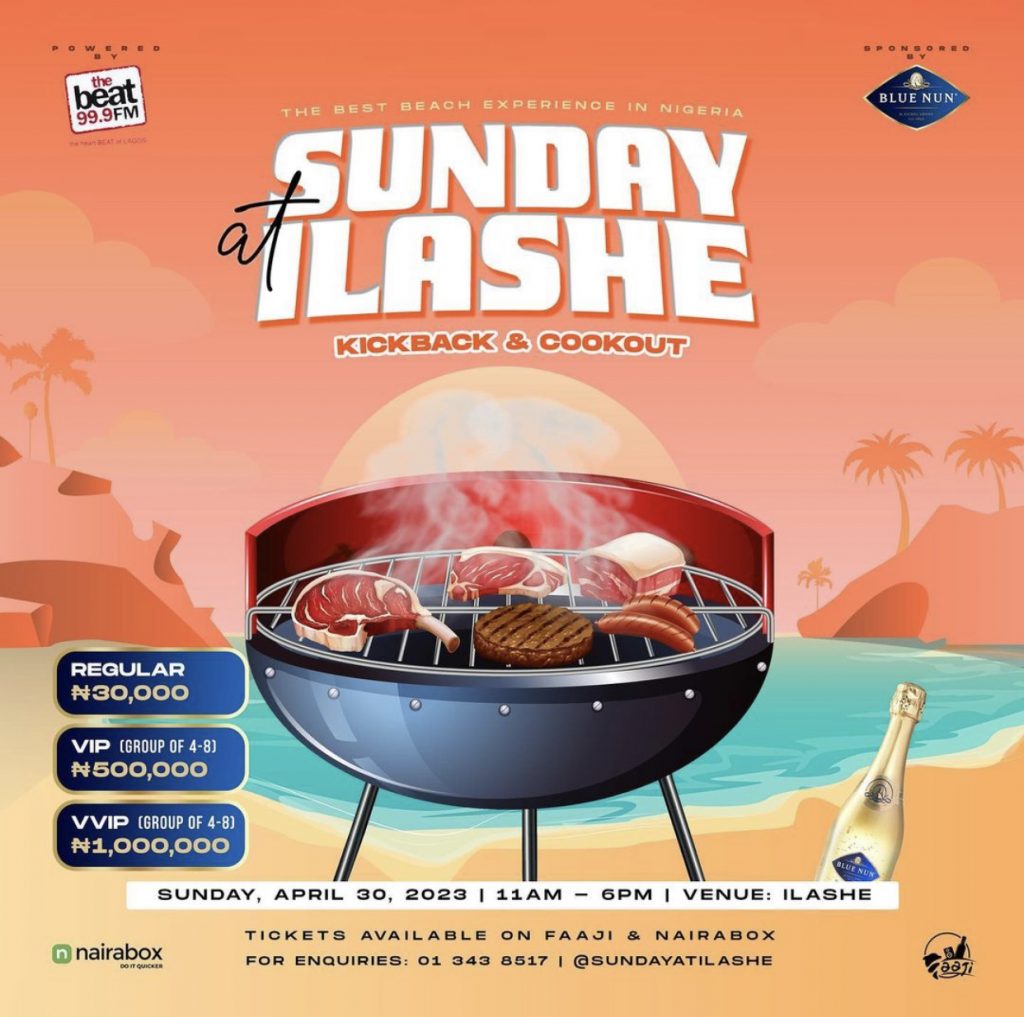 THE KICKBACK & COOKOUT EDITION 🥩🏝️Indulge your longstanding urge to unwind by the pool, eat countless Barbeque and drink sexy cocktails at this edition of Sunday at Ilashe 🤩🍸We're hosting you to an easy and relaxing beach experience to kickback and unwind after a long month 🏝There will be live grilling, fun beach challenges, in-house massage therapists and guest surprises to keep you thoroughly entertained.
Date: Sunday April 30th
Venue: Ilashe
Time: 11am – 6pm
Entry: Regular – N30,000 | VIP – N500,000 | VVIP – N1,000,000