Love is in the air, wear face mask!
Happy new month, Weekenders!
You have got to agree with me that last January was the fastest January in the history of January's. It came and went in a breeze.
We are happy though because that means January wasn't 3 months, sapa didn't get the chance to show us premium shege and we get to celebrate salary week sooner.
Now that you've received salary, take a little out and enjoy yourself. After all, na who dey alive dey get savings. 
I've compiled pocket-friendly activities that you'll surely enjoy.
Happy weekend and remember to live and enjoy Lagos.
To get your event featured on the weekend list for FREE, click here 
THIS WEEKEND IN LAGOS.
GAMES NIGHT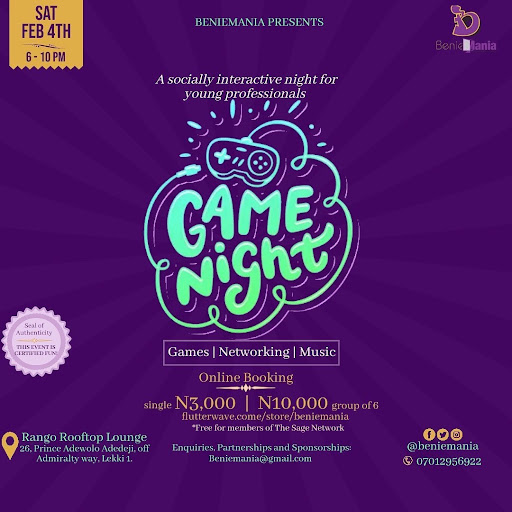 February 4th | Games night
Calling all young professionals out to come experience a socially interactive night. 
Time: 6:00pm 
Venue: Rango Rooftop Lounge, Admiralty way, Lekki.
Entry: Ticket ( Single N3,000, Group of 6 N10,000)
JEWELS OF TAKWA BAY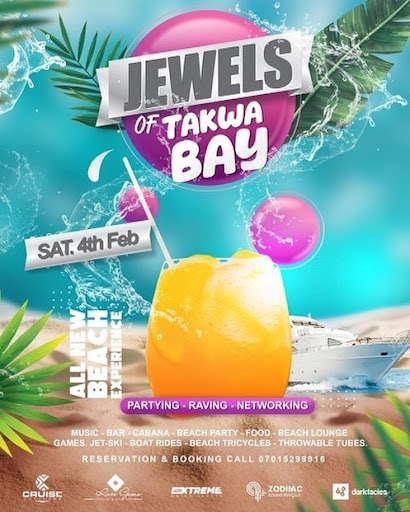 February 4th | Beach party
Prepare to jet ski, take boat rides, dance, rave, eat, drink, relax, enjoy the waves, network and live life to the fullest on this journey to Takwa Bay.
Venue: Takwa Bay Beach
Entry: Ticket (Pearl N12,000, Jasper N15,000)
AMAPIANO DISTRICT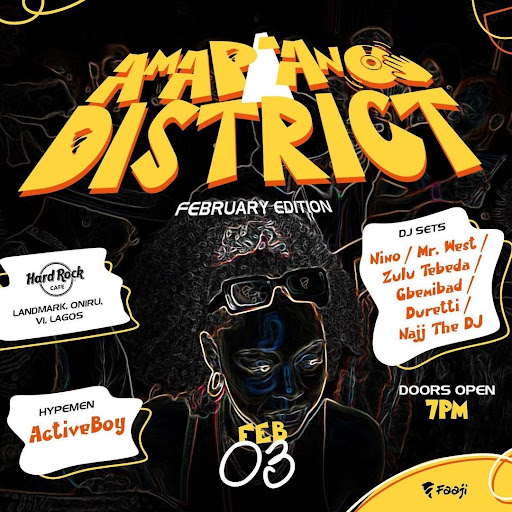 February 3rd | Nightlife
The February edition of the Amapiano District is upon us and this edition promises to be lit. Come have a blast with your favourite DJs and HypeMan Activeboyda.
Time: 7pm
Venue: Hard Rock Cafe, Landmark. 
Entry: Free
BEACH CAMPING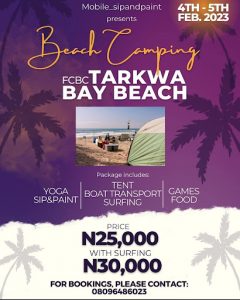 February 4th | Beach camping
Join us for an overnight fun packed event of camping, yoga, sip & paint, surfing and lots more.
Time: February 4th – 5th
Venue: Tarkwa Bay Beach
Entry: Ticket (N25,000)
LADIES NIGHT
February 3rd | Beach party
Hey ladies, round up your girl squad for a night of dance and unlimited glasses of champagnes. This is definitely the perfect way to kickstart on a fun weekend.
Time: 7pm
Venue: The Good Beach.
Entry: Ticket (Regular N4,000, Ladies special N15,000)
2 CHARACTERS UNDEFINED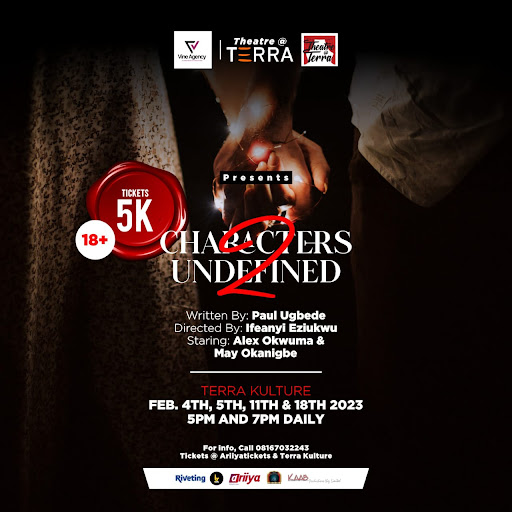 February 4th & 5th | Stage play
2 Characters Undefined is a play of you and I, the Government and the Citizens, the have and have not's, the strong and the weak and the never ending battle for arrival.
Time: 5pm & 7pm 
Venue: Terra Kulture
Entry: Ticket (N5,000).