In this edition, we're taking you behind the scenes of Amapiano District, the most prominent Amapiano-centred rave in Lagos at the moment. Ayo Olagunju, Moyo Ajibade and Femi Bamidele are the brains behind Faaji, a platform that connects event creators to their audience the parent company of Amapiano District. If you haven't attended yet, you may have heard about it from your friends, or perhaps via Faaji. If not those then you definitely caught the viral video of the talented DJ, Dope Ceaser stunning the crowd during her set at a previous edition and if you have never, heard, seen or been to any of these, this article is an expose into Lagos' most sought after event. With an impressive DJ lineup and an electrifying collective atmosphere, it's no wonder young fun seekers and lovers of Amapiano in Lagos flock to this event at every edition. We had a little chat with Ayo, the founder/ CEO of Faaji App on the journey so far and the future of the event.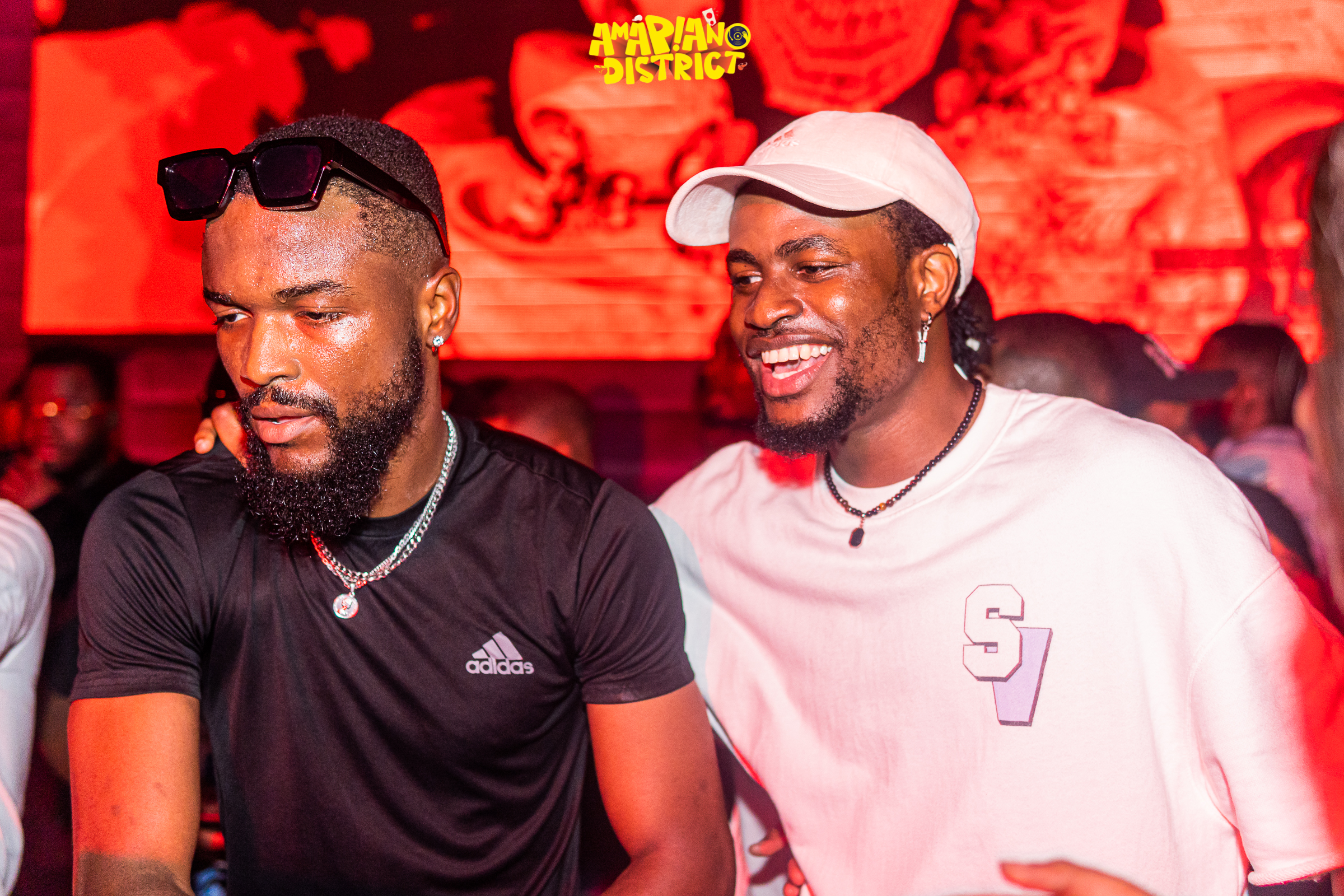 So, what inspired Amapiano District?
Do you want the truth or the lie?
Both of them, please.
Ayo: I'll tell you how it started. A lounge in Lagos reached out and they said "We've spent so much money, we've done everything but we're not getting customers, come and check out our space". After I visited, I saw everything they have including the sound system and felt like "Okay, this place looks like South Africa. It has the flag. The tiles are green, black, red, why don't we do an Amapiano thing?" I already knew that in the UK they have almost 20 Amapiano events.
20?
Ayo: 20! Wherever you are there's one and we don't have anything like that in Nigeria. And I was like, you know what? We're going to do it.  I checked out the sound at this location and it was good; the floor was shaking. I was like 'ehen!' because Amapiano is all about sound. So that's where the inspiration came from. We tried it the first time, and the turnout was good. People came to me after and were like "AY, I had fun". We did it again, got the same results and then decided we'll be doing it every month and that's how we started off.
We've been consistent with and have done over 10 editions. This next edition in August is going to be the 11th then our anniversary in September would make it 12. We've never had a flop. All of them have always pulled 500 people and above.
Period! Love it!
Ayo: No interesting story of maybe I slept and I woke up and the idea appeared.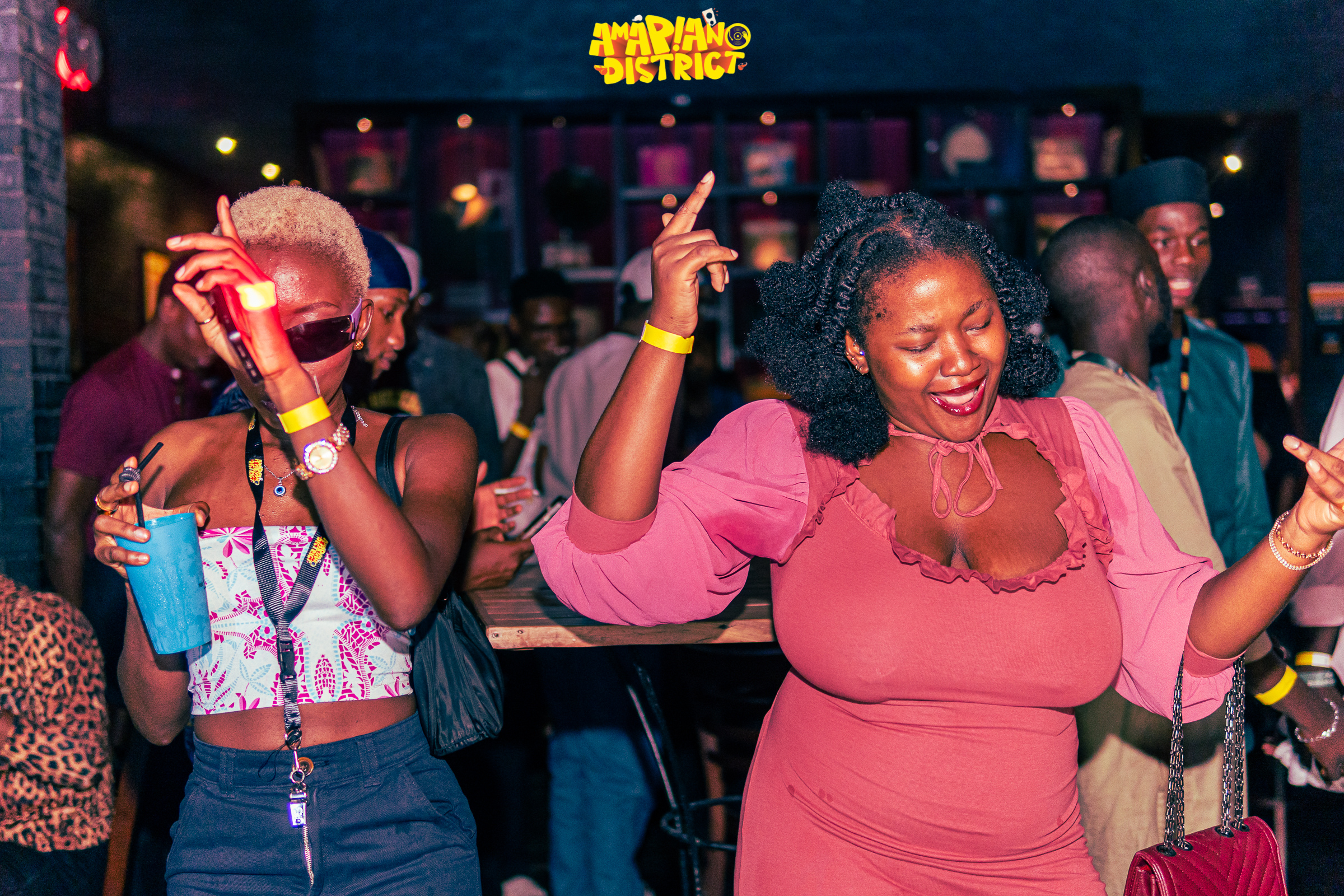 I noticed you have since changed location. What led to that?
Ayo: Good question. 2 things actually. The December edition. Towards the end of December, I and my co-founder, Moyo. I just woke up one day and I was like "Moyo, we should do Amapiano District today" Moyo agreed because it's December and we were bored. And we were just like "How far, design" and we were done with a poster in like 2 hours and we sent it to all our email lists. You would not believe that the location was about to tear down that night. 
Are you serious?
Ayo: So, that showed us that we had built something that already has organic demand. I'm a businessman. One thing I don't do is increase supply if there's no demand. So it's when I saw that we could pull off two editions in one month with about the same crowd number that I was sure we had high demand. It informed the decision of getting a bigger venue and because of that we didn't do anything in January. We needed to expand because we were getting complaints. The problem with that is the people that want to spend at your event don't get to spend as much because of an inconvenient location.
Yeah, it will be uncomfortable. They won't stay long.
Ayo: Exactly. And that's why we decided it's time for us to dream bigger. We're taking it beyond Nigeria so we wanted to take this risk first. So that's how we came here (Hard Rock Cafe). And I remember when I told them (Hard Rock Cafe) I wanted to use their space and they were like 'Who are you?'. I said 'Ah, don't worry, you'll figure out who I am'. And people who have asked about us know that if you don't meet Faaji, Faaji will come and meet you. That's how we moved here. We did the first one and it was full. At first we were wondering how we would fill this place up. It's too big. Now, it's too small for us.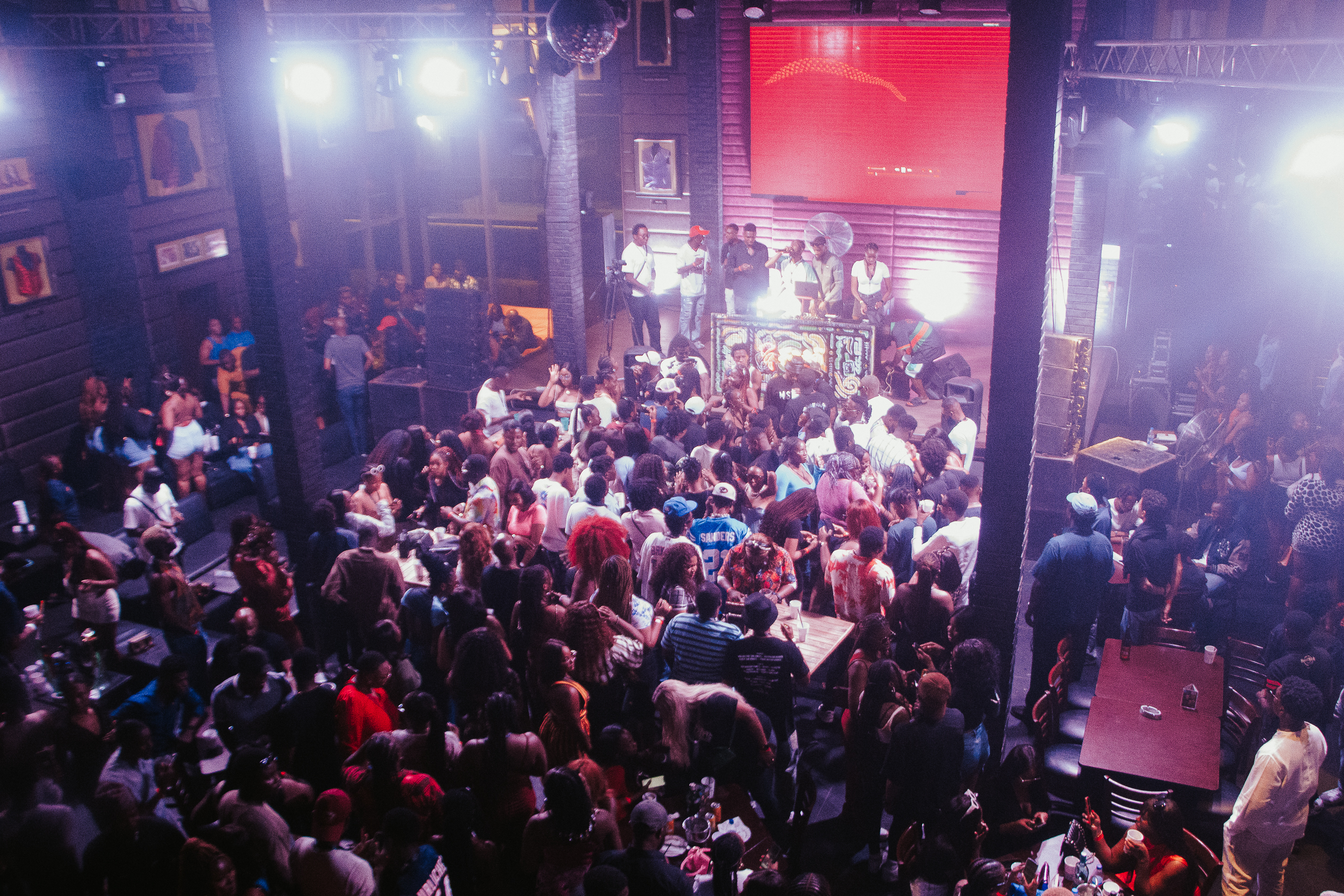 Woah. People definitely have good reason to keep coming back.
Ayo: Of course. Every edition is different. It's not the same thing because we work with themes. Which is why we prefer to use the inside space. We're going to change the location soon sha.
Ah. to where?
Ayo: I'm not going to let you in on that. Exclusive gist.
Fair enough. At least you've hinted.
Ayo: Yeah. A bigger and better space but it will still be the same theme of enclosure and intimacy.
Can't wait to see that. On to the next topic; what were the initial struggles when you started?
Ayo: I never made money. For the first 5 editions, I never made any money. My focus was on quality. The thing is, you just have to be mindful. Amapiano District for us was a marketing ploy for Faaji. It was not survival, we were not trying to make money from it. So it was a marketing tactic. 'How do we attract people that (for a lack of a better word) fuck with the things Faaji would love without having to spend too much money?'. So, we were spending money initially. By the time we bring DJs and do all the setup, our cost would be around N600k/ N700k and now it costs us about N3 million. I never made money until 5 months later. Everything we made was powering the hypemen, the DJs, the experience.
We are very particular about the experience. When we started working with Hard Rock, I told them I didn't need their sound because I work with professional sound and light engineers to deliver the experience that I want. I bring my people to come and set up. The experience is very important to us. I don't want 'I came and I didn't have fun' because we believe in referral. That's the marketing because you bought the ticket. If you didn't buy a ticket and you didn't have fun, go back home but you paid and you had fun therefore we delivered. So yeah, money was the biggest challenge.
At what point did you realise that this thing you're doing is big and has the potential to be even bigger?
Ayo: I think it was the bridge between December and us changing locations. If you can wake up in the morning and throw a party that almost 600/700 people come and everyone has fun then that's…
Yeah. Absolutely crazy.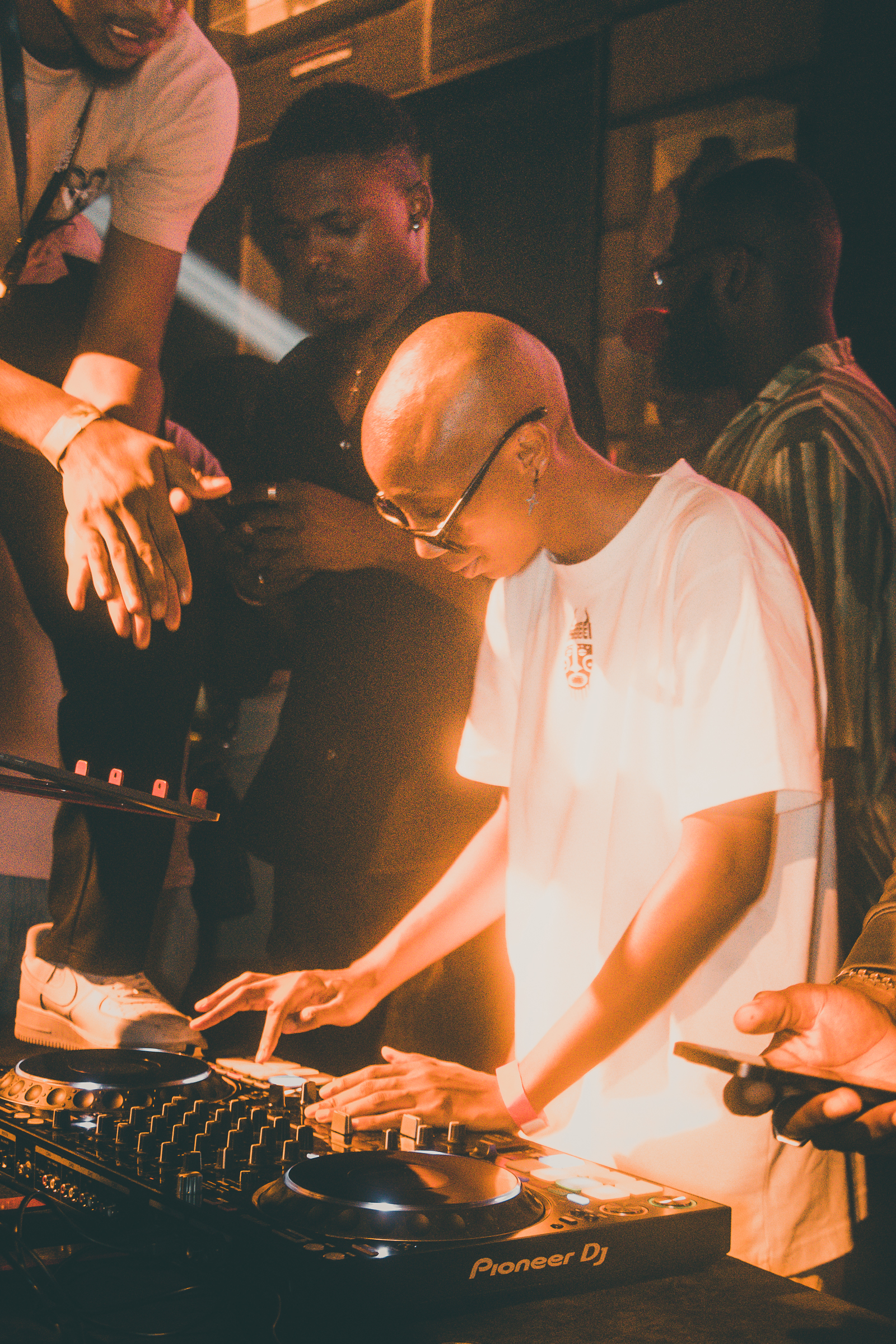 Ayo: I remember coming here and wondering how the event would turn out and when the day came, it was wild. This place was filled up. People removed their shirts, people were dancing, waving the South African flag. I even have a video. We were actually vibing. That's when I knew we had gone big. People come for the experience. It differs from other big events out there because it is very niche. It is for Amapiano lovers and a younger audience. The people that come to Amapiano District love creativity. If I bring a DJ that does not know how to mix, they'll leave. I've made that mistake so many times. You don't even understand. 
At 17th Avenue?
Ayo: No, here. It's harder here (Hsrd Rock Cafe) now because there are more people, right? And the exit is bigger. The other location has an elevator and you will struggle to get to the elevator so to go out is harder.
It was a process, can't lie. How about here?
Ayo: Here? Ah. There's so much competition. If you're not having fun, you can go to the beach, you can go to Shiro. It's a lot more pressure on us to maintain a good experience from the start to the end.
Hmm. Major Milestones. Are there any particular ones that stand out to you?
Ayo: I think one of them is the second edition we had here. We got Martell and for me – it's not ego o but…
 Go ahead!
Ayo: It's not ego but we like to always show that we're market leaders. So we don't go for any type of sponsors; we don't care how much they're giving us. That Martell statement just means we are working with the best. Martell is very up there. So that is a major milestone for us because working with Martell made people realise we are serious. At the same time, we do events in such a way that we are not over-reliant on my sponsors. For example, I did the last event myself. It cost a lot, yes but I did it myself.  Another milestone I'm proud of is – and I don't like to talk too much but we are…profitable. 
I like how you summarised it. Profitable.
Ayo: We're profitable. It's not everybody that can say they do an event where they make about 12-15 million. To make that amount of money in a night? In Nigeria?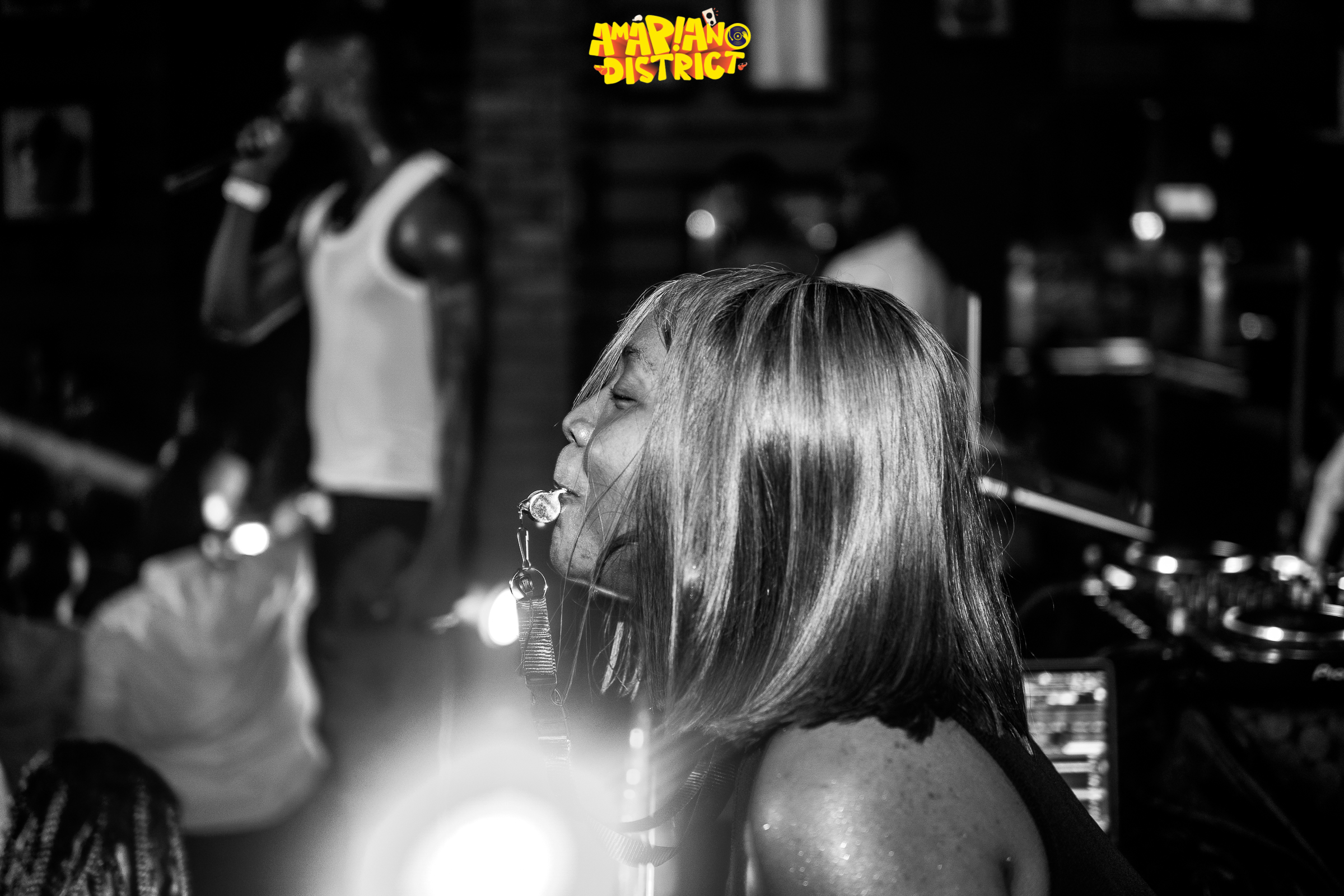 It's not easy at all.
Ayo: Yeah, it's a win for me. I hate to forget my goalpost. It's not about the money. Wherever I am, when I see people take up their phones to record at our events, it makes me so happy. You're sharing without being compelled. You're putting it on your IG and your Snapchat. The next theme is Jungle Fever so this place is going to look like a jungle. What happened with Dope Caesar is a milestone and she's coming again. And every edition, we try to increase the amount of women playing because the talent out there is a lot.
Yeah, I agree. So, for my last question. What is the future of Amapiano District looking like?
Ayo: The future of Amapiano District. First of all,  We wanted to take this to Abuja this month but Abuja is not ready. Also, because Amapiano District it's about the DJs, from September you're going to start seeing DJ competitions. 
That's very exciting.
Ayo: We're going to sieve out the best DJs in Lagos because going to hear them play isn't good enough so we'll make them compete with each other for a prize money of $1000 to the best Dj. Besides that, for these next 6 months, we want to introduce authentic SA sounds. What we have in Amapiano District is the Nigerian version and what I realised is that Nigerians don't like Amapiano straight. You can't play Amapiano for one hour for Nigerians. I tell my DJs to mix it with Afrobeats. I tell them to mix it beforehand. So, all the DJs you're seeing, I tell them their set types. So they don't come here and just play anything. I wouldn't want anything messing the experience up. Also, we're also going to start bringing South African DJs.
The vision is to expand to Africa and the UK. My partner is in the UK already so we're trying to be at Kings of Amapiano in the UK. We're trying to let people know what we are doing here. So, we want to ship it abroad because it's an international experience. You people don't cherish us in Nigeria. They don't rate us here. Give me the kind of money that I would not be able to-
Cheat on us?
Ayo: Ehen. So yeah, that's the future we see. A lot of people ask me if I think Amapiano would have a long life span and I can't answer that question but Afrobeat has had a long lifespan. I think Amapiano is late to Nigeria but I want to ride the wave before it's over. We're going to spread this to Ghana, Kenya, and the whole of Africa. I'm thinking of Ghana in December. We're going to get to Kenya next year and bring in a couple of international DJs. We're going to see a boiler room.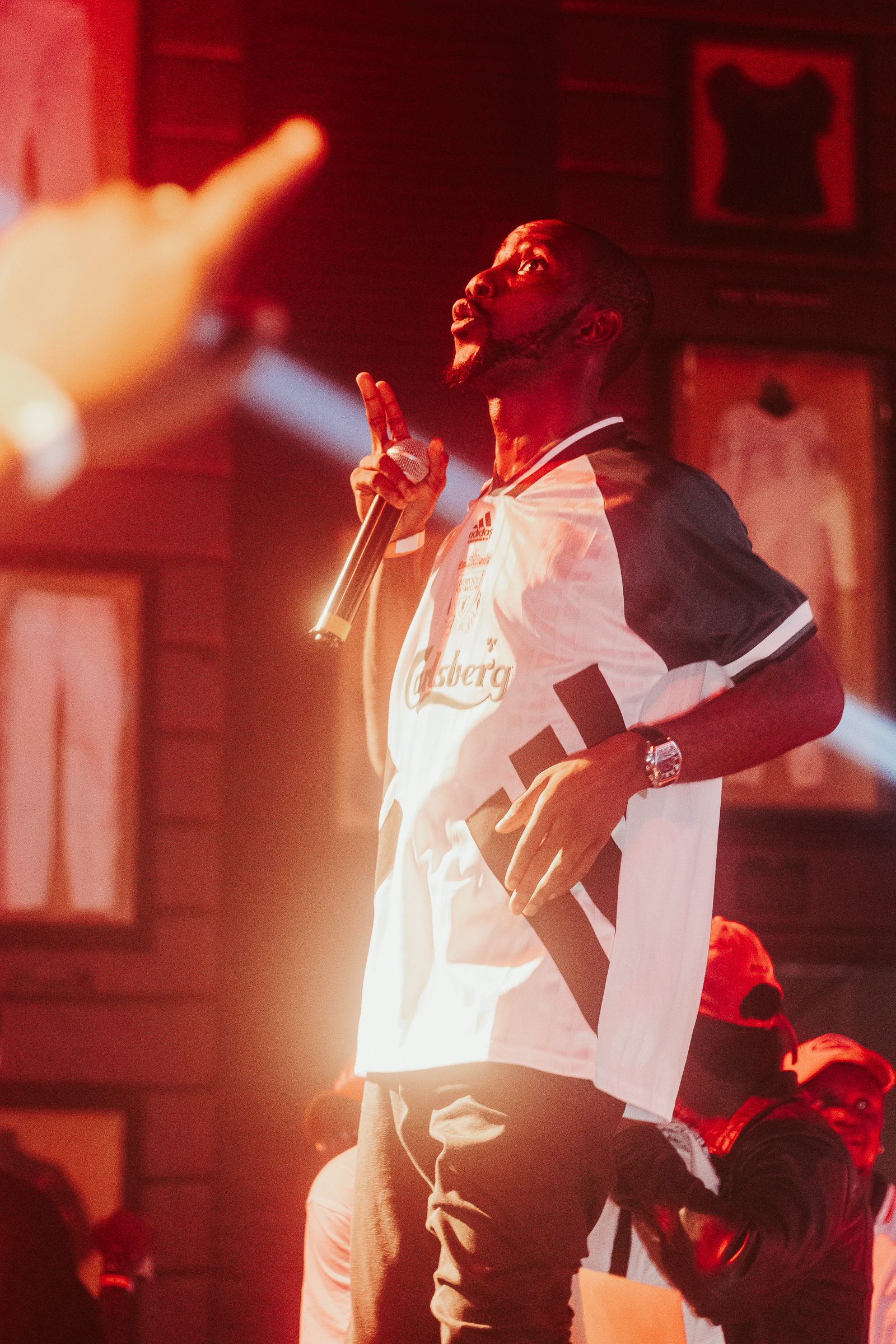 That's crazy.
Ayo: Boiler room is coming to Nigeria. Kings of Amapiano are coming to Nigeria from the UK. We're the ones bringing them. They're a lot of things happening, honestly.
Amapiano district is going international basically.
Ayo: International is the way. See the price of Dollars. Also, one thing I've realised is every DJ is unique. I want to hear what's coming out of Kenya, Cameroon and other countries. I like to hear unique sounds. My friends have been telling me to come to Kenya because their nightlife is amazing. I want to bring DJs from these places, with their unique sounds, to play at Amapiano District. Yeah, that's it. 
The future of Amapiano District is looking very bright.
Ayo: Of course.
The next edition of Amapiano District is coming up on Friday, 4th August. You can purchase your ticket here.