Meet the ultimate duo, the brains behind Sunday at Ilashe, Lawal Hardcore and Michael Sonariwo.
If you're a Lagosian and haven't heard the expression "Sunday at Ilashe..does your boyfriend know you're there?" then you probably live under a rock. Sunday at Ilashe, which has elevated beach culture in Nigeria, is a stand-out community with monthly events curated for lovers of the good life who want to escape the hustle and bustle of Lagos for a day to party at an exotic beach house on a private island known as Ilashe, which is located off the coast of Lagos.
With an average attendance of over four thousand people monthly and those numbers are rapidly growing, the event has become a highly anticipated destination for young people in Lagos, including big names across different industries at home and abroad. The event is usually a blend of the best of business if you're looking to connect and even better pleasure if your aim is to let loose, birthing the theme "Whatever happens at Sunday at Ilashe, stays at Sunday at Ilashe"—proper Vegas style.
We had the privilege to have a chat with the co-founders, Lawal Hardcore and Michael Sonariwo, to understand the idea behind it and their vision for the brand. It's a good read, trust me.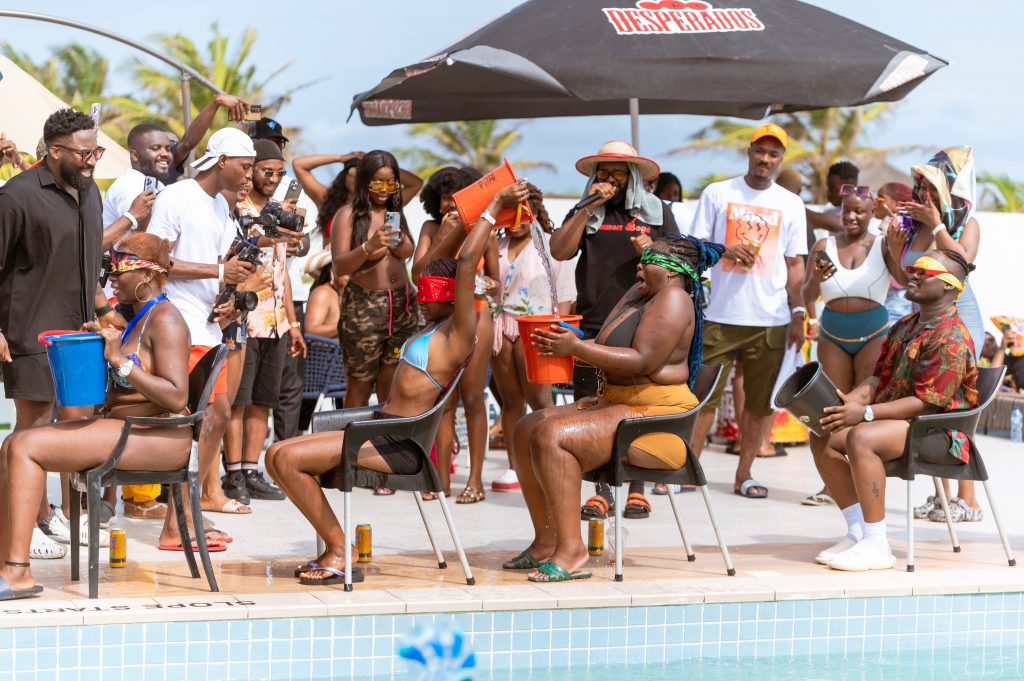 What inspired "Sunday at Ilashe," the event?
Sonariwo: I had been hosting mini beach parties in Lagos, Lawal attended one of such parties where we got acquainted. After the event, Lawal told me that we should make this an official event based on the experience we both had at that beach party.
Lawal: Michael had told me there was 'this thing' he and his friends do where they contribute some money and plan some type of getaway to a private beach house at Ilashe. I was like 'okay now, let's go' although I had never been to Ilashe except for a business thing prior to that time. When I got there, I immediately saw a business opportunity that would grow because I'm a 'growth guy'. I could picture taking the event to a larger scale with a bigger and fancier beach house because I was certain it would pique people's interest, especially those in my circle. I also knew we needed more people to pay more money for a bigger beach house, and we could possibly sell drinks and other things and also create a community around it. It's very different from any other place you could just walk into. I told Michael about the idea and the opportunities, and he was interested. So we decided to do a test run. We designed the event flyer and built some publicity around it; we charged N30k per head, got two boats, and created mad content. We were just having a good time, dancing, with great vibes, and at the end, Michael goes 'Yo, this shit is crazy' and that's how everything started.
Interesting. So, the 'Sunday at Ilashe…Does your boyfriend know you're there'. Was it planned or did it just come up?
Lawal: Michael, who is actually an artiste, went to Wintar Studios, so I suggested that he record something related to the party because I was trying to get him to be more into the event. So, around 4:00 p.m. in the evening, I was at my day job crunching some numbers when Michael called and was like 'Yo bro, you would not believe, I just created the craziest song for the Ilashe thing that we're doing'. I listened to it and it went, 'Sunday at Ilashe, does your boyfriend know you're there..' and I was like, "This is it." We're naming it "Sunday at Ilashe," and this is going to be the anthem.
Sonariwo: I entered the studio and came out with the song, and we attached the song to a video clip of the beach party we had. From that, we both came together and made Sunday At Ilashe an official event.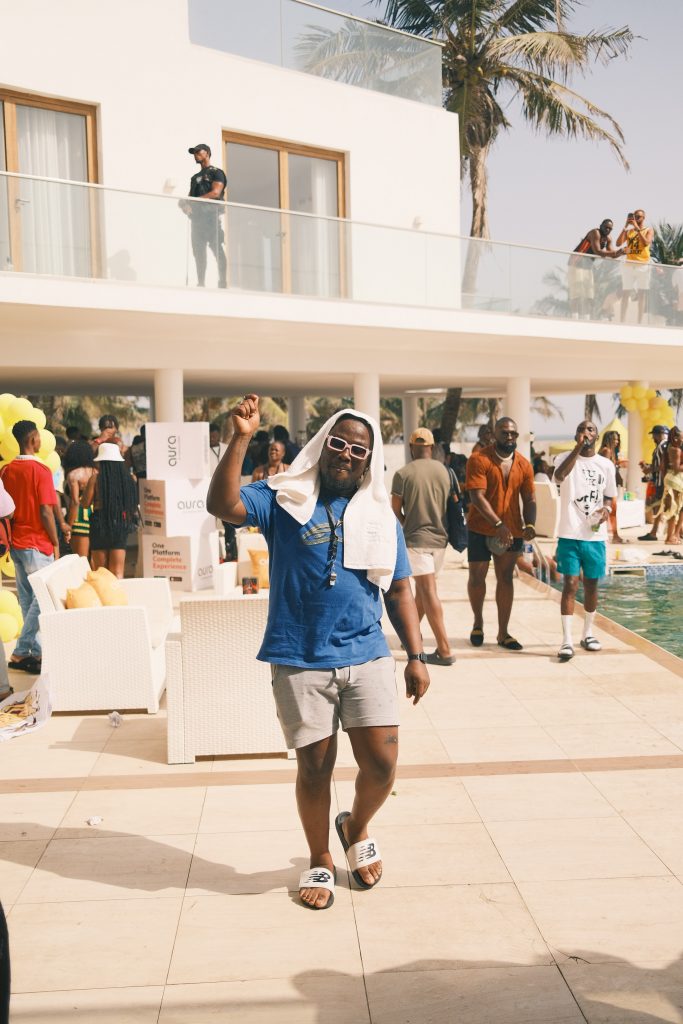 What were the initial struggles when it popped off?
Sonariwo: Like every new business, it's always about finances. But we've learned on this journey that relationships and working smart can help you a lot. Also, learning about the location itself, constantly being on the boat, travelling between Lagos and Ilashe and all the logistics involved both on event days and non-event days.
Lawal: At the very beginning, brands didn't believe in us. They thought we were rascals. First, they didn't believe there would be longevity and they didn't know we'd get this many people to attend. I remember someone telling us that if we reach a certain milestone, they'll talk to someone for us and a year later, we doubled that number. Brands didn't expect us to create a culture out of Ilashe. Now, a year and some months later, we have emails that we haven't even responded to.
So, how would you describe the journey and what are the milestones achieved so far?
Sonariwo: The journey has been a fun and adventurous ride, with many chapters in the period we've had so far. It's amazing that there are still a lot of chapters to write, and we'll keep enjoying writing them while remembering every milestone we've reached. We've now established ourselves as a premier beach event brand in Nigeria. We've had over 10 events in the last year, with over 5000 people attending so far. We've partnered with major international brands in under a year and we've seen our online traction numbers total over 5 million views.
Lawal: I'm a marketing and tech guy and Michael is an entertainment guy, so we just merged our strengths together through Sunday at Ilashe. We also have a very great team, shout to Dimeji, Tega, Daniel Vintage, Tofunmi, Bomate, Bukky, Rooboy, Jumoke, Kachi, Gbemibad, Kamil, Ramzy and Isioma. We did not want to create just any party or event; we wanted to create a culture that people could be a part of. Sunday at Ilashe is one of the greatest spots to genuinely connect with people of influence in Africa. It's way bigger than Nigeria; it's the biggest hub for IJGBs and a major beach tourism attraction. Right now, we don't even do marketing by contacting popular blogs. People just carry the flyers and hit up their friends like "What's up, are you going?" and in 2 days we can get about 300 attendees.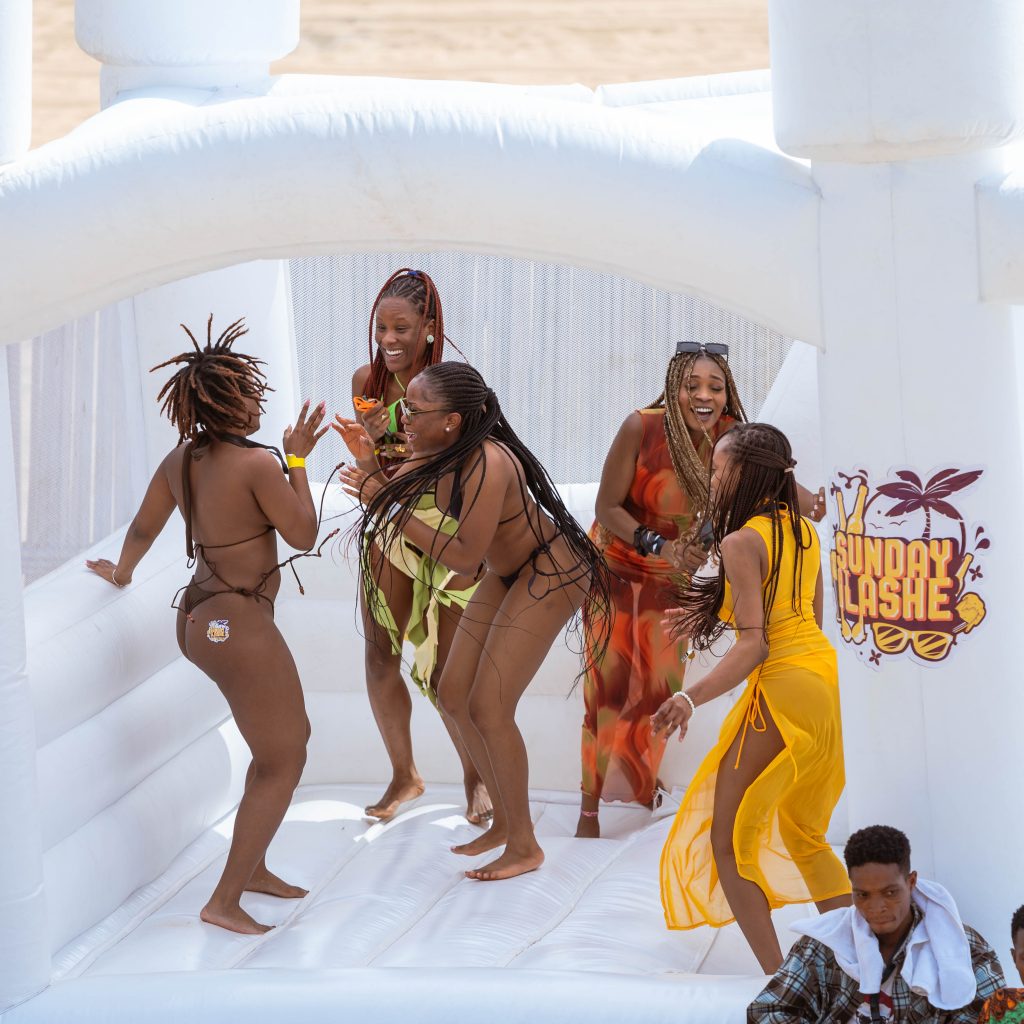 What distinguishes Sunday at Ilashe from other similar events, in your opinion?
Sonariwo: It stands out because it's a beach event that already transports you outside of Lagos and gives you the chance to attend a party with a different frame of mind. You feel free and relaxed knowing you can meet and have fun with other young Nigerians who you ordinarily wouldn't get to interact with at other events in Lagos. And let's be honest, who wouldn't want to be at a beach?
Lawal: Sunday at Ilashe is not just a culture; it's a mentality. There's so much going on in real life, especially in this Lagos, from work woes to the traffic to getting insulted by your boss, babe wahala, but the fact that on one Sunday in a month, I get to go somewhere far where none of these things can bother me is an actual flex. It's a place where there's no network connection and it feels like you're out of your reality, like you're in a dream land for a couple of hours. Some people call Sunday at Ilashe "Sodom and Gomorrah." On Twitter, people would post statements like, "If your boyfriend is at Sunday at Ilashe just forget about him and move on with your life' or 'if your girlfriend is at Sunday at Ilashe and you think you're in a relationship, hmm," To be honest, the wildest you'll ever see anybody is at Sunday at Ilashe. That boss that you think is uptight… First of all, she's butt naked and then the sea breeze is touching her skin; she's not the same person at the event. We also have some of the craziest setups you'd never expect, like ball pits, bouncing castles and more. We even have bank managers playing tug of war. Sunday at Ilashe is not an age thing; it's more of a mentality and a lifestyle. If you feel like you're a high-flying person in society and you need a day to rest and relax, you'll come to Sunday at Ilashe.

At this point, I think I'm sold. I think you guys have given a new face to the traditional idea of going to the beach on Sundays; would you agree?

Sonariwo: Yes, of course. Most people could only go to a private beach if they knew somebody personally who owned a beach house, which limits a lot of people in Lagos. However, with Sunday at Ilashe, you have the opportunity to go to any of the exclusive beach houses and just enjoy yourself without worrying about planning or coordination. That's our job.
Lawal: There were two types of people that used to go to Ilashe. The 'yahoo boys' that have lots of money to spend and they usually come with their boys, sometimes sex workers and strippers, and it's mostly misogyny vibes and demeaning to women. Then there are the rich kids that come with a couple of their friends or families and put about N20-N30k together and get a very small beach house to just chill and have fun.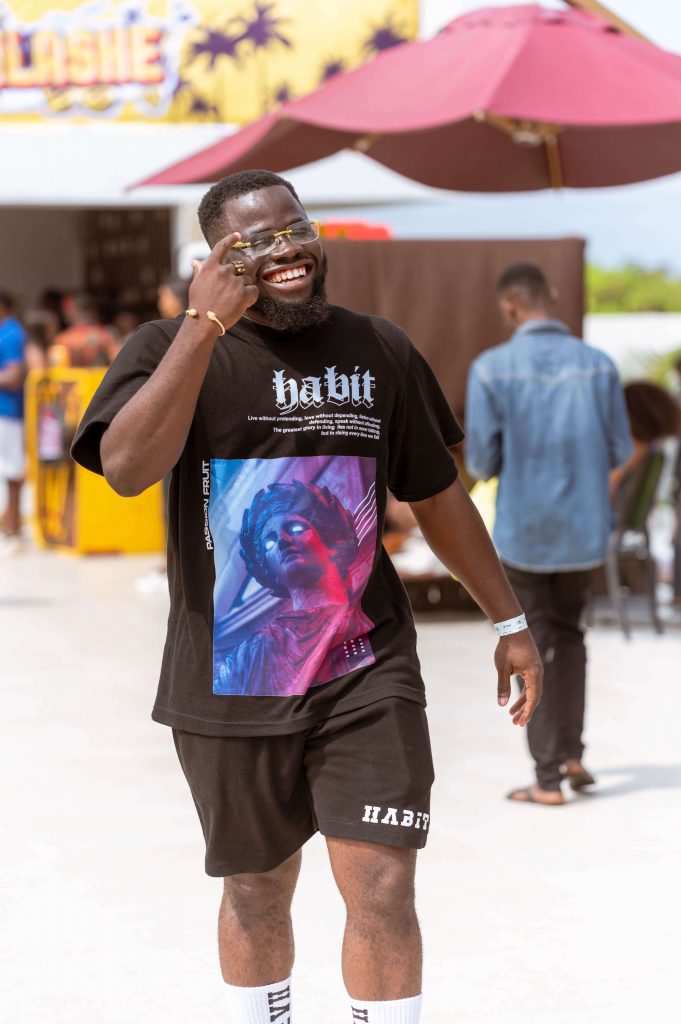 Sundays have truly never been the same since Sunday at Ilashe started, but I'd also like to know what the future of the brand looks like.
Sonariwo: The future is very bright. We have created a new subdivision under "Sunday at Ilashe" called "The Bad Beach," and those will be for our land events in Lagos at any of the beach clubs. We also will be expanding outside of Nigeria cause there are beaches across the continent, so we are excited.
Lawal: People have been asking for a land edition, maybe because of aquaphobia, the inconvenience of long distant journeys and the timing of the event. So we plan on interchanging future editions between land and private islands. We're open to conversations to the biggest beach establishments in Lagos to host the land editions with a minimum capacity of 1,000 people. We're introducing a new arm called 'The Bad Beach'. It's for 'baddies' on land. As a 'baddie', you don't have to enter a boat to get to Ilashe, it means you like soft-life without stress. It's most likely going to be a PM event.
Ouu, that's exciting
Lawal: Also, the tourism space in Nigeria is not the best. Nigeria only makes $300 million in beach tourism and we have a coastline of 850 km. The Maldives has only 644 km coastline making $1.4 billion. If the incoming government is serious about generating more foreign exchange for Nigeria, it will invest in tourism. Right now, the leading face of beach tourism in Nigeria is Sunday at Ilashe. We have plans to build some of the biggest beach houses in Lagos. At the end of the day, all of the glory and money goes to the country. SAI is being hosted in Lagos, the government can partner with us and build up beach tourism. Popular UK grime rap group NSG attended the event in December of last year. Jnr Choi messaged me in December to say he had to attend Sunday at Ilashe, so I sent him a package and he came. Outside of the fun part of it, there's the long-term impact on the country. For example, both Afronation and the host country enjoy global recognition and acclaim. Ultimately, when Sunday at Ilashe grows beyond Nigeria, the country benefits immensely.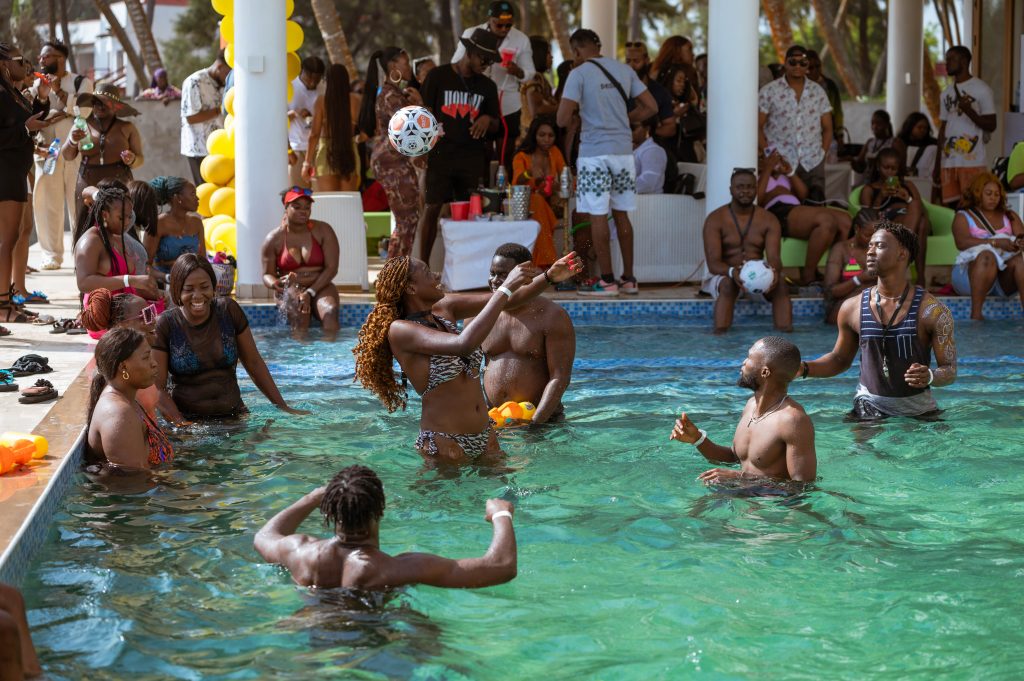 So, your next edition is themed – interestingly, 'Love Island', would you care to elaborate?
Sonariwo: This edition is going to be very interactive, with various games and prizes to be won. It's going to give people a chance to mingle even more with their friends and new faces that are there, so make sure you attend to see what we're talking about.
Lawal: One thing we noticed is that the love culture in Nigeria is a bit damaged. Love seems transactional, at least online. Michael and I are influencers and we have a certain responsibility to influence the love culture positively. We intend to do this through this edition. At Sunday at Ilashe, people are at their most vulnerable because love is no longer transactional. No one is throwing dollars in the air, there's no makeup on your face, I'm naked, you're naked. You get to interact and meet people based on who they really are and their personalities. The chances that you would meet someone interesting are also very high. Basically, Love Island is saying that everybody is going to be bare and here is the opportunity to find someone you're really attracted to. Apart from finding love, it is a perfect way of celebrating love where there's no third party or chaos around you. With sea breeze, food, drinks, games and barely any network, you're forced to talk and you can confess how you feel to them.
How about giveaways?
Lawal: We definitely have a lot of giveaways. This year we're going to start our Sunday at Ilashe Merchandise, and it's going to be fire. We have the limited edition ones within the team, but people have been demanding them. Bikinis, beachwear, visor caps, bucket hats, and beach towels will be available for purchase, and some of these items will be given away to members of our community. We are also collaborating with Transcorp by Aura, and they will be gifting some of our community members giveaway packages to Transcorp Hotels. We are also working with a lot of brands this year, so there will be a lot of giveaways announced on our socials. You should follow us so you don't miss out!
Sonariwo: Follow @SundayAtIlashe and you can check there for that information.
Alright then. This has been an enlightening chat. Thank you all for your time.
Attend the next edition of Sunday at Ilashe, happening on Sunday, March 26th 2022. Click here for tickets.