So you want to attend a wedding in Lagos but the question is, are you ready for it?
Lagosians are known for the most flamboyant, glamorous parties in Nigeria, so when two people decide to get married, it's no small feat. Particularly when the budget is an open check, they are more than willing to pull out all the stops. Now, we know some of you are seasoned wedding guests, owambe warriors even. You already know the ins and outs, the dos and don'ts.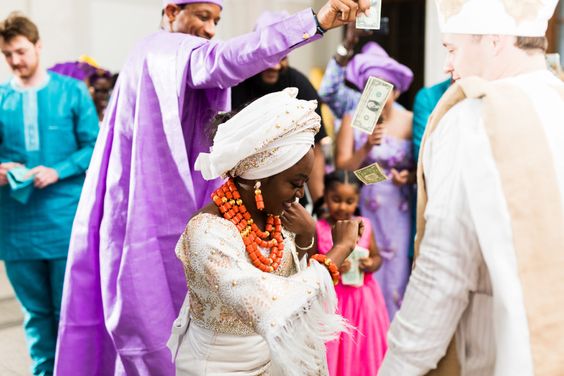 However, this guide is for beginners. If you are new to the Lagos Owambe scene, here is a list of essentials you need to know, of course curated by the Lagos Weekender for your enjoyment;
Your outfit should match your budget: Get familiar with the event dress code and event type. Knowing this will help you decide what to wear better. If you're in doubt you can always check a few fashion blogs for inspiration. Our advice? Don't go over the top. You will always find something within your budget. Just make sure your tailor likes you and that your outfit is great without having to break the bank for it.

Don't come empty handed: Don't be a stingy guest, bring a gift. Not only would it separate you from other non ethical guests, it will also make your hosts feel appreciated. You may just have secured your baby dedication invite too. For those who want to upgrade from beginners to intermediates, carry bundles of cash to spray the couple on the dancefloor. This is usually in smaller currency units like N100 or N200 and in this time of scarce notes, I'm sure your benevolence will not go unnoticed.

Eat before leaving home: You don't want to be flagging down waiters like they're okada just because they're not serving your table yet. You want to look like you eat at home and you might want the food but you don't need it. You don't have to take anything heavy; a snack or two would do.

Don't forget your personal essentials: Without giving a list, you know your phone should be charged and you should be armed with a charger and power bank because it will definitely be a long night. What might also be great to carry is a hand fan, and for the women, some touch-up makeup items and extra shoes because we can promise that you can't go through a Lagos wedding without dancing till you sweat. Remember to also be cautious with your things to avoid theft.

Don't hoard the Photographer: The person came to do their job and to capture moments so let them do that. It's not a pageantry and it is definitely not an awards show, try not to corner the photographer.

Have fun! : This is a given but please, don't forget to have fun. Interact, dance, and engage. Who knows, you might end the night making some cool friends, getting money sprayed on you, or even going home with your spouse-to-be.
Do you want to know how to romanticise your life as a Lagosian, click here